ES Short Term Trading 01-03-2011
ES Short Term Trading 01-03-2011
Let's get this party started. Here is a
volume profile
chart with
HVN
(green) and
LVN
(red) drawn on the run up of december but not including todays action so we can see what lies down below.
Click image for original size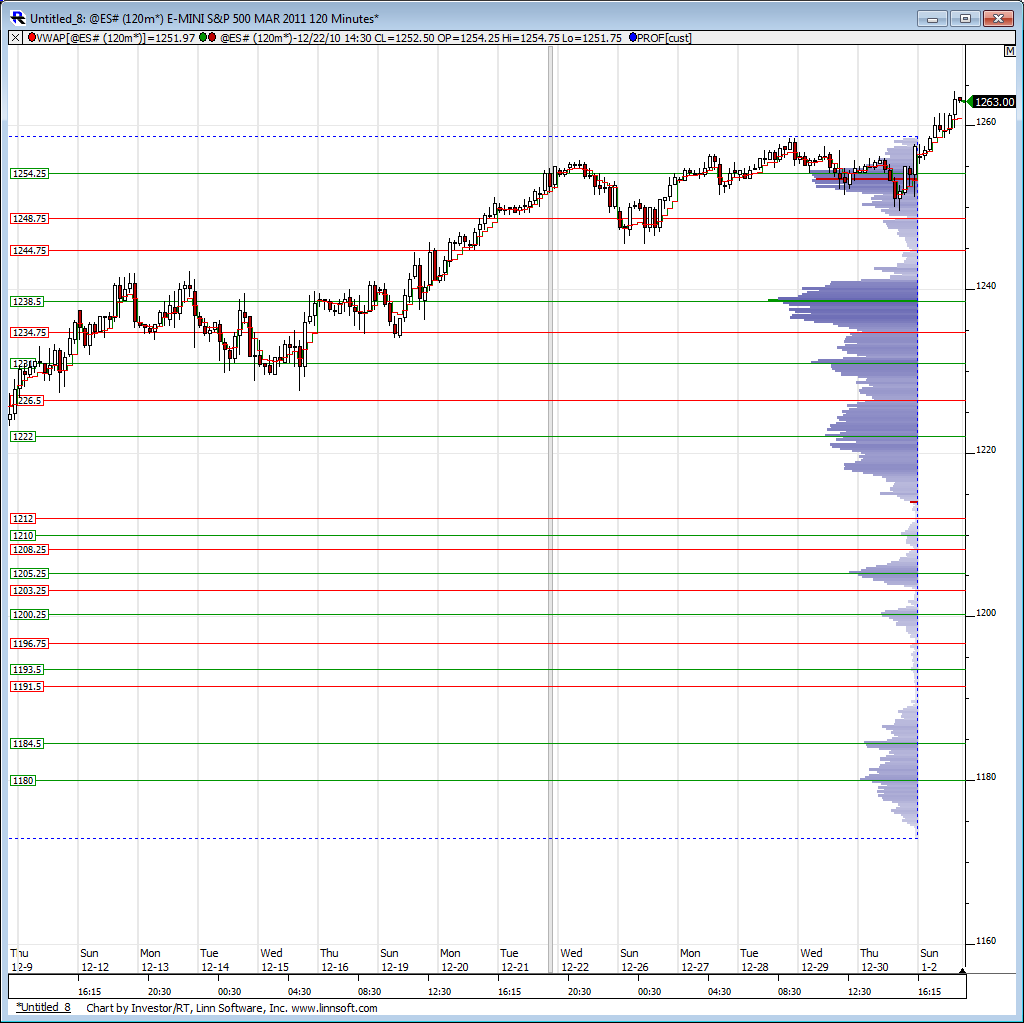 Time expired. Lunch will be over at 14:00. Will let the 1269.00 voiding point be the judge.
Either 1274.00 or 1269.00
ES
trading 1271.50 @ 12:42
shorted 71.50...looking for
gaps
on one minute to fill and hopefully with some luck a retest of HV push of 68.25...69.50 are the
gaps
!! poor volume still.....
trips
trying to form below now too...
ES
will need to move above 1271.75 for the 1274.00 to have a chance.
Moving below 1269.00 will target 1267.25 and possibly lower.
ES
trading 1269.25 @ 14:30
67.75 is final exit and 50 % back but IF I had more ammo, I would be thinking long term with this key question in mind:
How often and how far do we go when we
GAP
in
RTH
above last years HIGHS in the following year? So I'd be looking for a retest of those highs from last year and very soon...Longs beware...it may not happen today but it WILL happen!!
here it is!1266.50 is the short term projection...see above chart
those of us with our short goggles on want to see the 3:30 close below the hour highs and hour close...6 minutes to go to see if longs have any power left..
while I don't like initiating at this time of day, those of you left with runners may want to try for the
air pocket
above 64.25 ASSuming they don't bring it back out of the hour high once more
that 68.50 is the volume surge ( one minute)from earlier so that needs to be repelled some more
I hit refresh in my browser and it didn't show my recent posts...only showed the first two pages of this thread....never updated to see a third page...strange....
Originally posted by day trading



Originally posted by BruceM

anyone else having forum refresh problems??



What were the problems?