Is the pitbull Crazy?
The purpose of this post is twofold. One is to explain a trade I took on 1-12-11 in the day trading threads and the other is that I am looking for feedback on peoples ability to comprehend what I am trying to explain. I donot think I am a great communicator and at times in the day trading threads it gets frustrating at the lack of questions on things I've typed in. I don't want to assume that what I write about is crystal clear to everyone reading them.
So I'd like you to vote this thread up if you understand the reasoning for the trade and the concepts and vote it down if you don't. You may not agree with the trade and it may not even be a trade you would take but that should not stop you from understanding the reasons for taking it.
For those who can't or don't vote then please leave a comment in this thread of send me a private message with your feedback. This will help me to know that my effort at posting my trades and ideas is coming through or let me know that I'm not doing a good job explaining and need to step up my efforts at getting the ideas across.
On Tueday 01-12-11 we gapped higher and started trading above the R2 level of the day. We then started making higher highs combined with higher lows on the 30 minute time frame. Up until 12:30 we never had any bar take out ( trade below) the previous 30 minute bars low. I can almost say that we ALWAYS will make a test of a previous bars low at some point during the trading day when we trend! I can't recall from memory a day in the market that we haven't in recent years.
So at the close of bar 4 we have multiple sets of
single prints
, and a ledge which is also an area of
triples
below the market. Also an
air pocket
on the 5 minute bars ( not shown). It's also 12:30 so it is not a great TRENDING time frame. Here is the context chart.
Click image for original size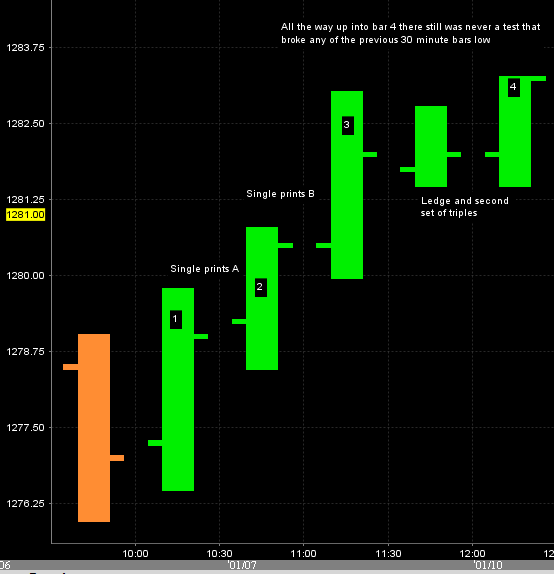 I took the entry ( for the record this was my second short attempt up here) at bar 4's close BECAUSE I knew that there was a high probability that even if the next bar went higher that it would probably come back down because you donot normally see THREE sets of
single prints
before a reaction test DOWN. So if bar 5 kept going up then a third set of
single prints
would have formed. This and all those targets below helped me take the trade.
here is what happened after: Note how we filled in the ledge, the
air pockets
and all
single prints
. These charts and post take too much time, probably too much time..so I'd like to know if you can understand them.
Thanks
Bruce
Click image for original size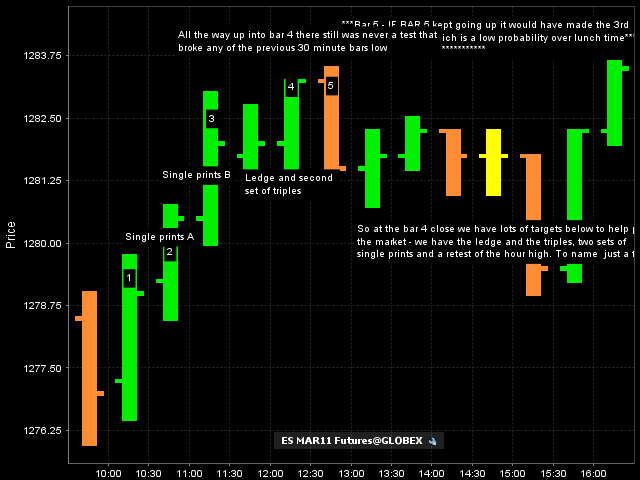 One technique that can be useful in order to augment the way one lets a trade breath is to enter the market 2-4 seconds before the close of a one minute candle and at that point "Join Bid/Offer" instead of a market order. This gives an extra 1-2
tick
advantage and prevents slippage that may occur while placing market orders.