ES short term trading 1-21-11
ES short term trading 1-21-11
Coming into the end of a down week , as expected. We are in the midst of a rally off of yesterdays low (as expected), but my bias is still negative for today....
Click image for original size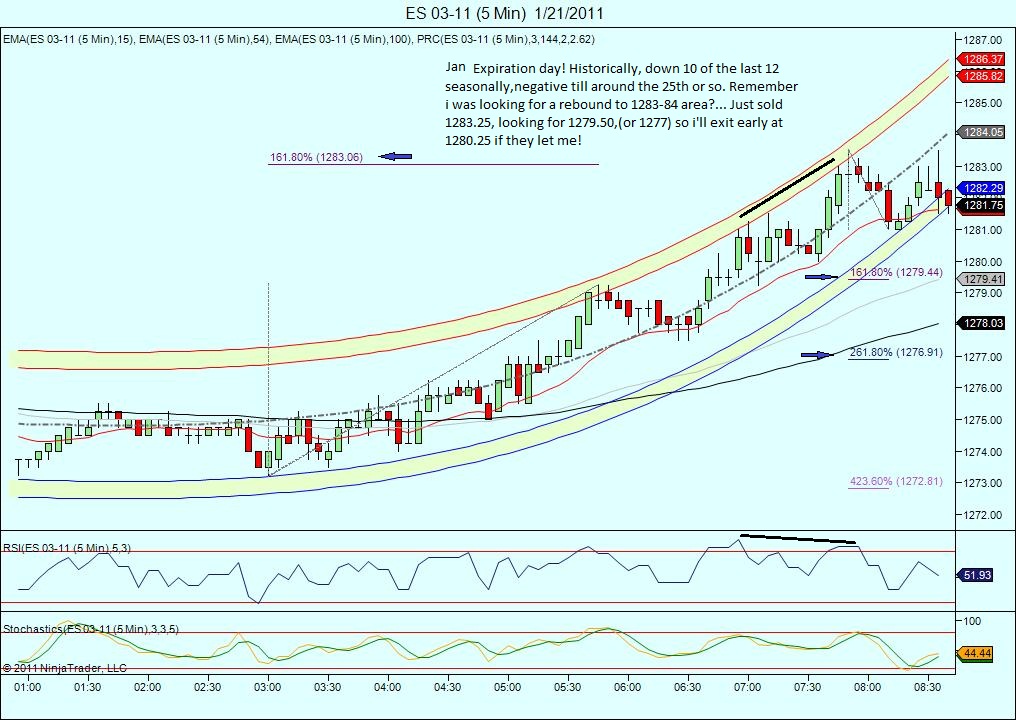 that was a real work of art Kool.....congrats on a true beauty of a trade.....many would have been afraid of that one....great stuff!!
Originally posted by koolblue

covering here!...

Yippee!!! out at 1283.50 (cause of the 1283.00 projection . 3 handles there. But before anyone thinks im a genius, how come im still down half a handle on the day? (AND FWIW, BRUCE, BECAUSE OF
MY
NEGATIVE BIAS TODAY, I WAS ACTUALLY SCARED TO DEATH!) But those are the reasons i still do this ,to be honest!
ooops! only 2 hours sleep so far! out at 1282.50, of course...sorry!
if I may be so bold is to blame it on the Overnight......at least that is what gets me in trouble....I'm not sure if you have noticed any correlation to projections and trades that work and those that don't....it would be a curious thing though....

Just throwing that out there....in theory it should all still work but without Volume then perhaps it changes things...

Outside of that, I have no idea..
So, instead of all the missing people I'm new here and...........w'll see how I like it...........
oh yeah, no sleep...that's probably the correct answer...

Curious area here as we just test the previous 30 minute bars high....and near 60 minute lows
welcome aboard.....I think we have many who just read the thread and don't give their input and that's fine too......all are welcome...!!
In general we try to post the trades and the ideas behind them...many happen as the trade unfolds but after the fact is ok too....
we're always on the hunt for repeatable ideas that work over time..
Originally posted by sij

So, instead of all the missing people I'm new here and...........w'll see how I like it...........

ideas that work...i love it (lol), but first i had to solve the problem of publishing a chart or link or...
Originally posted by BruceM

and while I'm thinking here...what happened to Paul and Phileo...? Just two of the many posters who have past through and moved on from the Mypivots day trading threads...


Last I remember Phileo was taking a JPJ trading room trial and then POOF.....he's gone !!
I see Phileo posting on Twitter now and then:
http://twitter.com/Phileo99