ES short term trading 1-21-11
ES short term trading 1-21-11
Coming into the end of a down week , as expected. We are in the midst of a rally off of yesterdays low (as expected), but my bias is still negative for today....
Click image for original size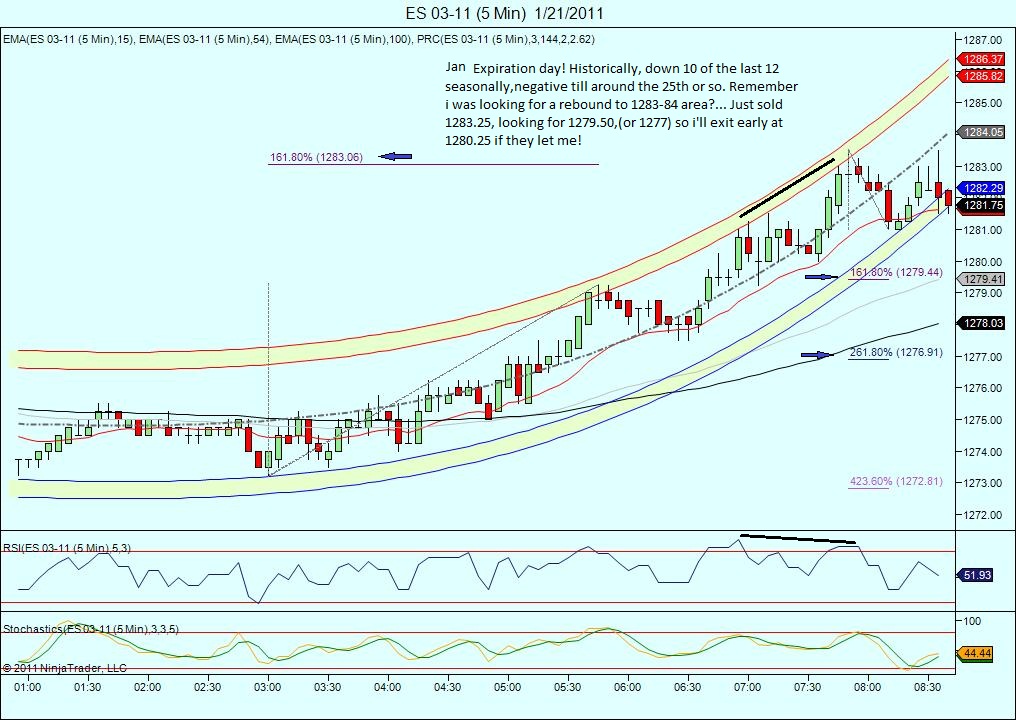 Have to run momma to work, but i'll be back soon... Order in at 1289.25 to sell ,just in case...
all
fades
will be much harder as we seem to be on track to NOT print the R1 level in the first 30 - 45 minutes at 81.50
jusr added at 87 print......
single prints
and R2 is up here that will hopefully help us a bit...air below
As long as the euro is showing strength equities are gonna remain strong. I'm watching the euro carefully for any early turn around signals.
ideally us shorts need a 10:30 close below the Overnight high....
I'll settle for the
air pocket
first.....but we may still chop inside these
single prints
from Wednesday...hope not....
air fills at 85.25 but not convinced this is the swing high yet!!
ES
is retracing a bit from 1287.00. supports at 1285/1284 areas. If the
ES
finds support above 1284.00 I will be targeting 1291/1293.
Below 1284.00 will void the objectives and it is most likely will move down to test yesterday's high at 1281.25.
ES
trading 1286.50 @ 10:10
watching
$ticks
closely...so far only a plus 750 for a high....doesn't seem to be showing real strength especially with such a
gap
and run up.....I think we are gonna roll over....down....10:30 will give a better clue
Originally posted by optimusprime

short fill @ 85.75 i'm out at 84. i just don't see it going much lower. at least not in the morning hour.
This type of post doesn't help anyone and usually annoys traders on this thread. If you're going to call an open position then please do so ahead of time with a reason. Telling us you made 1.75 points after the fact doesn't help anybody and makes you look like a
shill
.
Originally posted by BruceM

and while I'm thinking here...what happened to Paul and Phileo...? Just two of the many posters who have past through and moved on from the Mypivots day trading threads...


Last I remember Phileo was taking a JPJ trading room trial and then POOF.....he's gone !!
I see Phileo posting on Twitter now and then:
http://twitter.com/Phileo99