ES short term trading 2/22/11
ES short term trading 2/22/11
From the weekend preview:
Besides the fact that sentiment is flat to negative this week, sentimentrader reports that the day after Presidents day (Tues) has been positive only 36% of the time. They also note that the only 3 times the s&p cash had a close higher than the open (11 days in a row) ..."That's an incredible streak that has been seen only 3 other times in the contract's nearly 30-year history.
The others were 1/8/92, 8/30/93 and 9/14/95. Interestingly, each time the futures topped out during the next few days, and lost around 3% maximum during the next three weeks."... So again this week , there are good sentiment and historical reasons to be cautious here.
Add
to that the fact that the last couple days of the month have been bearish ,at least for the last 7 months or so, and Stock traders almanac reports the Dow has been down the last 9 OF THE LAST 12 times the week after Feb expiration. Of course ,so far, this market has defied most historical considerations. Remember Feb was usually a lousy month! I do note however, that recently the small cap leaders, are beginning to lag! (sp up 1% last week, nas up .9%) . I place a lot of importance on this! So, in summary, a little pullback can come at anytime now ,but a decent one is probably , a ways off yet!
Just for perspective im thinking 1310-1311 now (not necessarily today)
wow!, I told Justin Bieber not to cut his hair!!!
buying around 1314.00 for a long scalp
if however we continue beyond here(the upper band on the one min ) i like the 1320.50 area for a short scalp. thats the projection and 5 min red avg and band!....
Click image for original size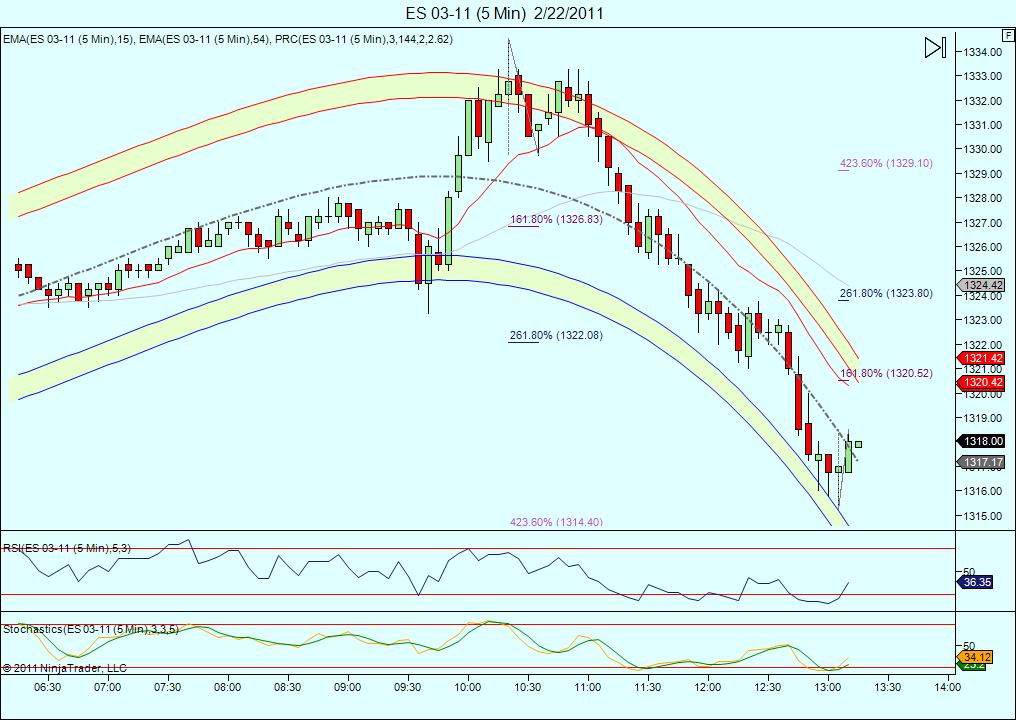 .. Hey, am i the only one trading today?!?
Nope just careful on trend days. Been away for a while. Whats up with Bruce?
Originally posted by rburns

Nope just careful on trend days. Been away for a while. Whats up with Bruce?

Hes on vacation ... down here in sunny Fla! I think he'll be back soon!
81°F | °C
Current: Partly Cloudy
Wind: W at 11 mph
Humidity: 53%
Tue
Partly Cloudy
83°F | 56°F
Wed
Partly Cloudy
84°F | 54°F
Thu
Partly Cloudy
85°F | 59°F
Fri
Partly Cloudy
84°F | 58°F... EAT YER HEART OUT!...long one es from 1314.50, 3 point stop to start...(id rather be short!...sigh)
nice confluence around 13.5-14.5 coming from the downward projections on the 30 min, 13 min and 5 min charts...ok place for a long scalp as kool pointed out
well too late in the day for me!.. one min proj is 1311.00, hourly is 1310.75.. Good luck all! c ya!