ES Thur 7-21-11
L bracket
single print
at 1316.50 from Tuesday's session formed the support price for early overnight action for Thursday's trading session. Low price dropped down to 1315.75 and
single print
was 1316.50.
Draw down
was 3
ticks
and max run-up was 1325.75 (9.25 points from
single print
) so far.
Click image for original size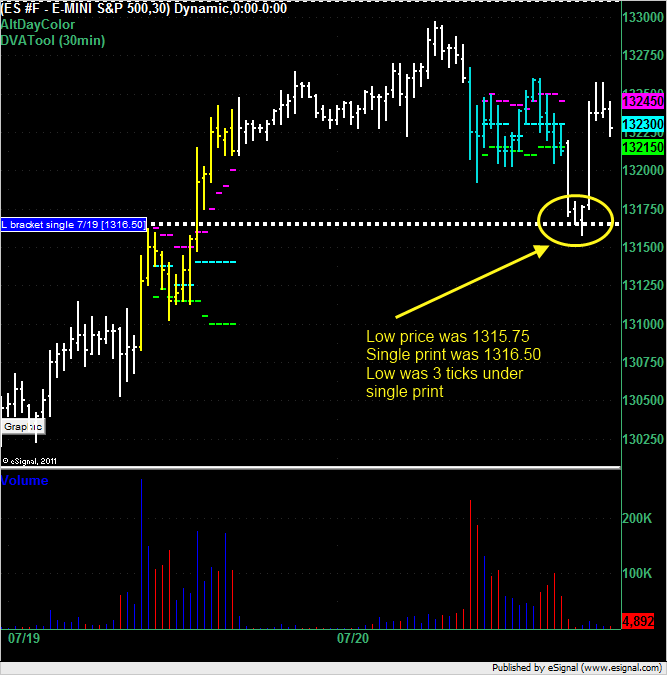 (No I did not trade this. Yes this is after the fact. As I stated a few days ago I'm going to try and point out winning and failing
single print
trades. Although this is a great example of a winning one there are losing ones as well. I'll try and point them all out. Let me know if I miss any - both winning and losing.)
short on 41 ....better shorts will be near that
gap
fill if it comes above 42.50.....but we are done with the hour range now...target is 38.50 volume
nice strong trend for longs....for now...!! any push up now won't hold now....IMHO....too much...too soon..
best spot for failure as the minimum for a C wave has been reached.
I watch internals and except for banks, look weak to me right here.
Doesn't mean they can't run it higher. Price
1337.20 and 1333 added as levels below
current 50% retrace is 1328.25
First
Low Volume Node
hit
Click image for original size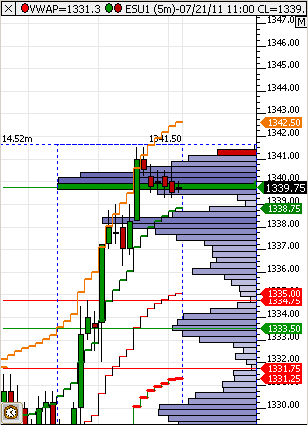 runners trying for the 36 air but we need to be careful down there as there was a
high volume node
at the 34 - 35 area...some may try to buy in front of that....
Thanks redsixspeed - appreciate the elaboration!