ES Thur 7-21-11
L bracket
single print
at 1316.50 from Tuesday's session formed the support price for early overnight action for Thursday's trading session. Low price dropped down to 1315.75 and
single print
was 1316.50.
Draw down
was 3
ticks
and max run-up was 1325.75 (9.25 points from
single print
) so far.
Click image for original size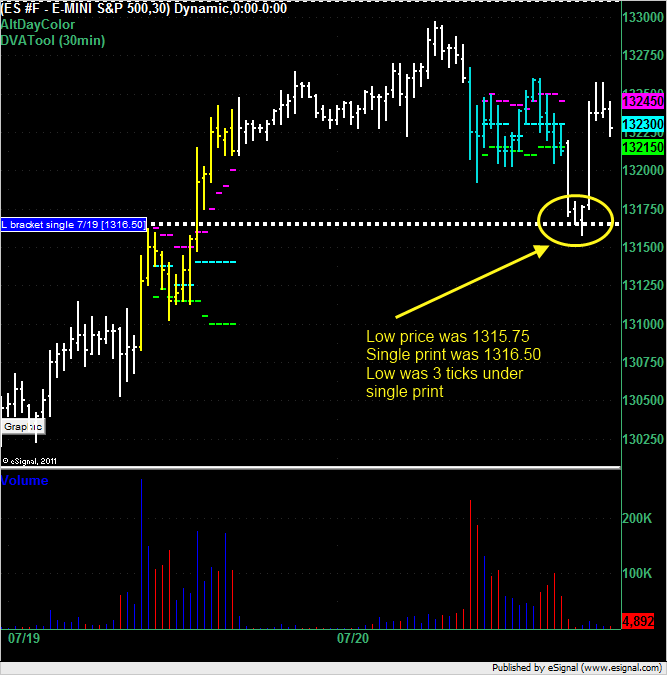 (No I did not trade this. Yes this is after the fact. As I stated a few days ago I'm going to try and point out winning and failing
single print
trades. Although this is a great example of a winning one there are losing ones as well. I'll try and point them all out. Let me know if I miss any - both winning and losing.)
Thanks for the chart and the explanation, DT

Yesterday, price tested the previous week's High (1327.75) and price was rejected.

Today, increased chances for some upside if the previous week's H acts like support.
1332 the level to use here and perfect touch off it there on the 1 min chart so far
1337 and 1340 above
so far, a classic diagonal and failure would need to break that 1315 double bottom level(diagonals create their own support)
under 1332, if so
1329.75 1324.5
Because we opened above the
value area
again, like yesterday,
Market Profile
theory states that the
VAH
(1324.50) should be a support area if we come back down.
equidistant move would go to 1350,which is also the downtrend line area from the 2 higher highs, can go higher.
not reaching it would be a failure and a warning
that's the use of the levels as having a target and the path to it are two different things.
personally,I'm watching the hour candles as this should be a 3rd wave if a diagonal
1332 key level
Thanks redsixspeed - appreciate the elaboration!