ES Mon 8-29-11
From Friday's session both of the
single prints
failed (thick dashed red lines on chart) and would/should have been stopped out at a loss. Let me know if you saw anything different for the
single prints
.
Sunday evening opening has the market trading above the
VAH
. If we stay up there and open above the
VAH
then this is a buy price if we come back down to it. As always confirm with other signals as I'm just summarizing a
Market Profile
strategy here. Way down below us is the 1131 even
single print
that's still alive.
Click image for original size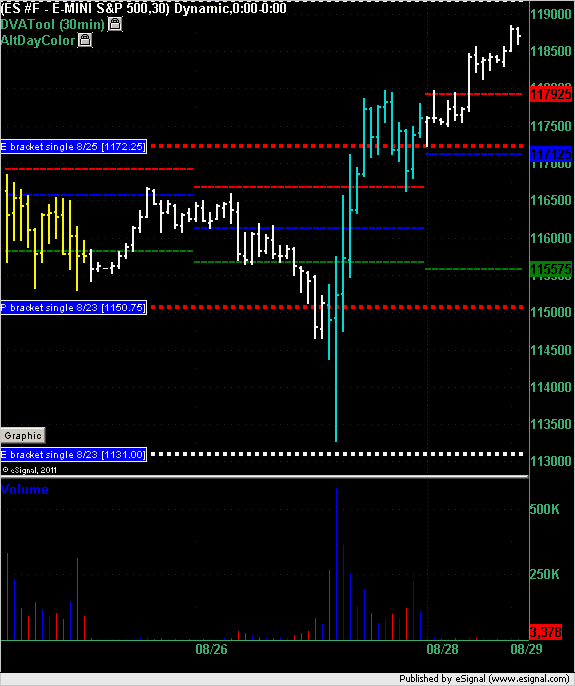 SHort 1196 (top of the
single print
). Expect market to fill thinly-traded area below. Small stop as market is strong. Note, there is
low volume
until at least noon - big traders will start later today due to weather-related disruptions.
Click image for original size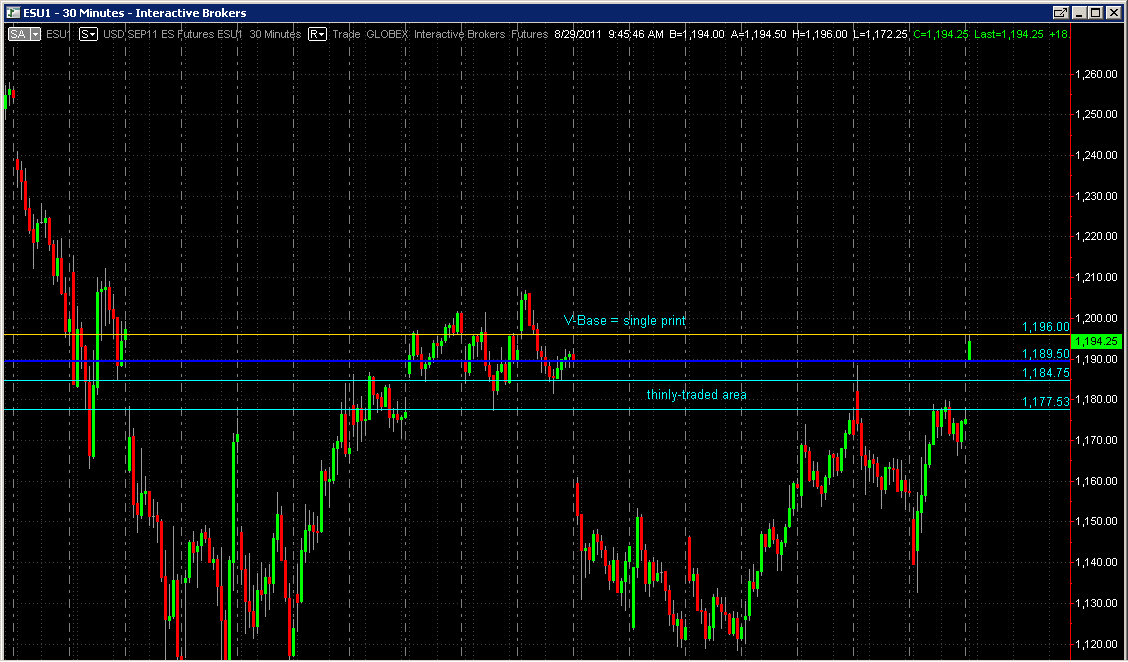 Parabolic move so far and can continue.
1298 the level to break and hold.Needs to exceed that previous high
at 1206 area.1229 targets if it can.Might not be today.
A kind market would let shorts out. Doesn't look kind yet.
1298
Low volume
retest of that old
Low Volume node
at 1201.75. SHort with a mall stop
Click image for original size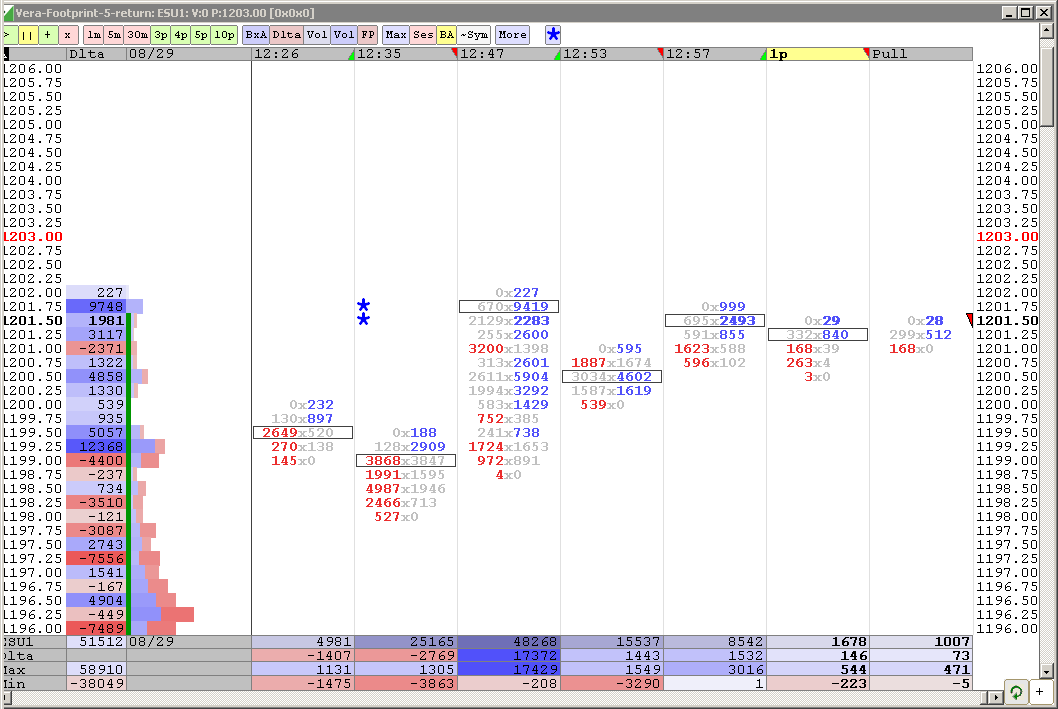 Is that a
low volume
area around 1207?
Thanks for the charts! I think a lot of readers appreciate your time and effort.
Originally posted by Lisa P

the other side - on 8/17



Click image for original size



No, I meant
LV
node at 1201.75 (green line on my chart).
Thanks for you kind words.
Originally posted by DavidS

Is that a low volume area around 1207?
Thanks for the charts! I think a lot of readers appreciate your time and effort.

Originally posted by Lisa P

the other side - on 8/17



Click image for original size






Re-entered short. Forgot to look at INDU - it hit 11500 when this volume popped up
Click image for original size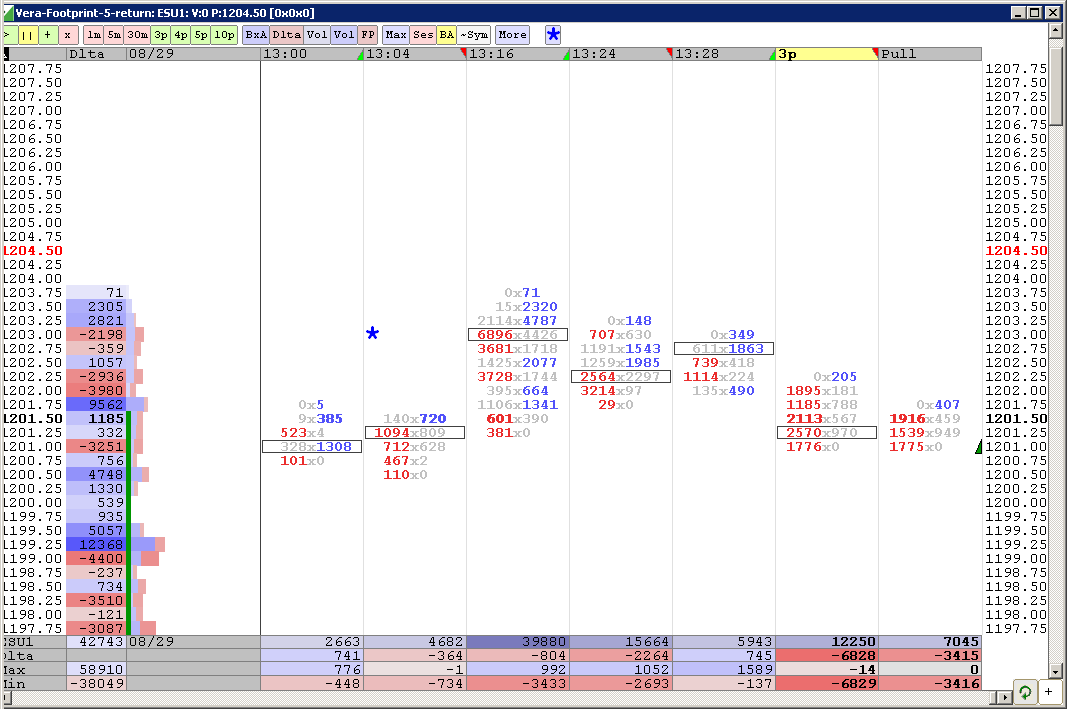 closed this trade at 1200,
low volume node
Click image for original size