ES Friday 9-30-11
Lets at least start with the correct date.....Hopefully we can do as well with this chart as yesterday. I'm just posting it now but will elaborate more in the morning. The main bell curve has peak volume at
1154.25 . The
low volume
above that is a zone in the 1160.50 - 1163 and the
low volume
below is 1147 - 1148.50. Once again turn it on it's side if you can't see it.
We also have a secondary
low volume
zone at 1143 - 1144 and then another high volume spot at 1138.25. I'm not marking those on the chart right now just to keep the chart cleaner and a better visual. We'll expand on this in the morning When we see what the overnight does.
Click image for original size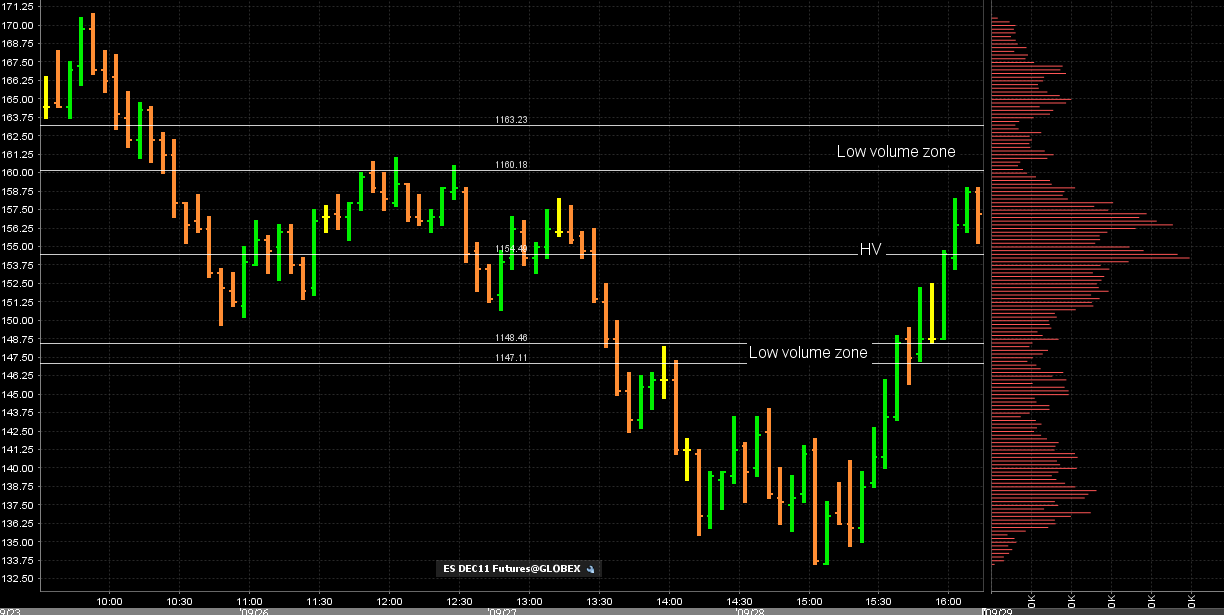 They realy are giving this 36.75 a work out
I donot have foot prints so need a little help here on this
the 43.75 was from yesterday (yes)
sorry that was a short....post report...covered all at 40.25 .the number was in post one....look at chart for that
low volume
area
"Overtrading is the worst approach in these markets; wait for your trade."

Sage advice from Dalton.
correct...look at my chart in todays thread and my comment...I went small as it wasn't preferred number
Originally posted by della

the 43.75 was from yesterday (yes)

will start looking above 47.50 if it comes for next short spot and prefered spot
on 47 even...I think I may be early..a
Originally posted by sandoxe

Is a tuff trade bc is against the trend. That's why my stop is very close. Worth a shot!

ES tested the support 1133.50 and went under it, now testing it as resistance and here we go! Long at 1133.50. stop below the just made low 1131.75 at 1131.50.

will see.

ES trading 1134.25 @ 14:54 E.T.


Below is a 1 minute chart with some comments about the counter trend trade posted late Friday.
When I entered the trade the
ES
started to make what appear to be an E.W. (
Elliot Wave
) formation, but my count was incorrect since I was expecting a 5 wave extension.
ES
did not extended and 1140 area at 1.618% Fibonacci extension was the end of wave 5. The price hit my trailing stop at 1136.75.
The idea here is to play the counter trend and then reverse, trading with the trend. I did not follow up with the reversal because it's Friday and very close to the end of the session.
Click image for original size