ES Friday 10-14-2011
Big
Low Volume
support at 1198.
Current
O/N
high traded to the
LVN
from Wed. of 1210.50. Above that is 1214-1216.
Click image for original size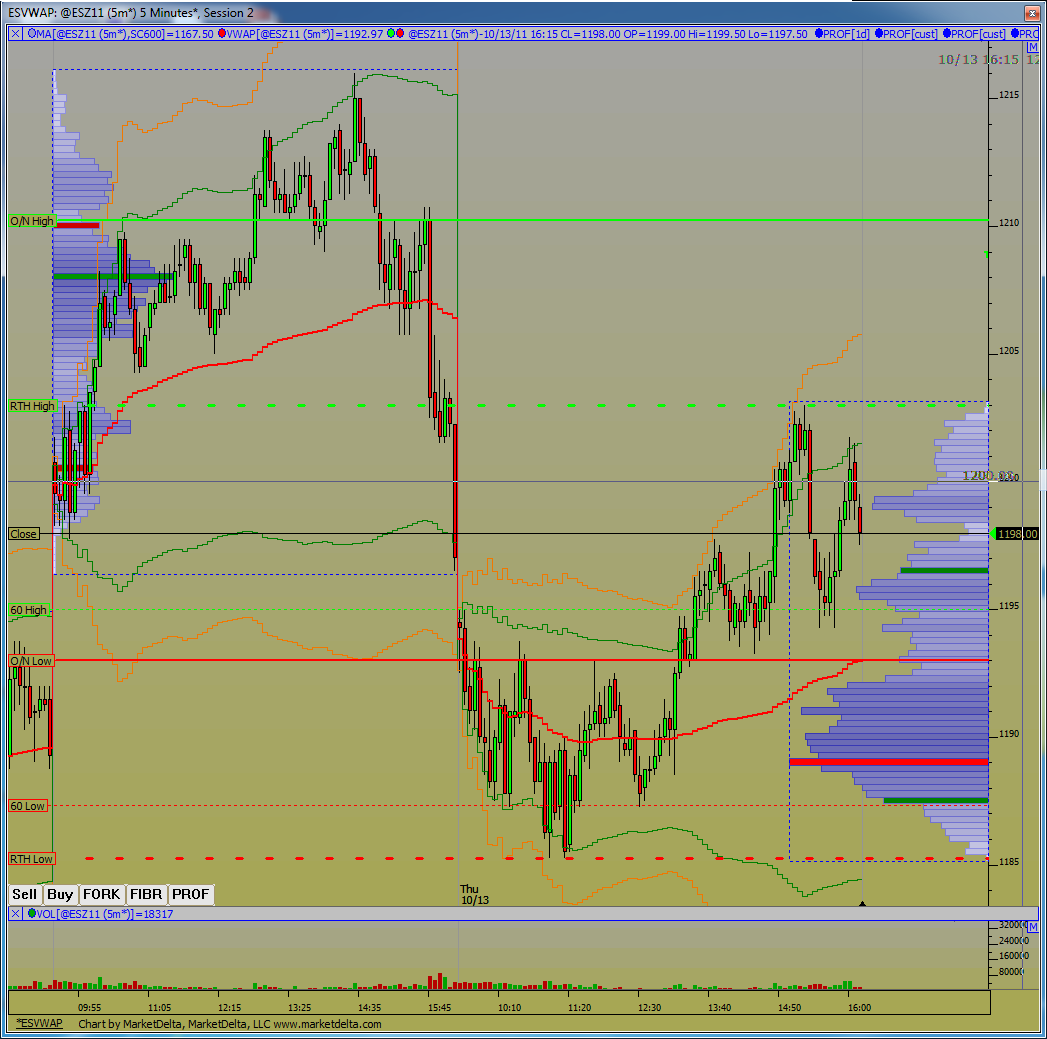 yes..just too close now that the 1214 filled....best would be to see an
air pocket
down into the 1210 to but into..
air pockets
that form above longer term brackets...like this 1216 have a lwer probability of filling in...still great but just lower
as per yesterday this area is being worked on prity good so they are exsepting this araea
I've seen this many times..they get close to a key zone but the market doesn't hit the zone yet and begins a brief rally...then those that missed the long side pile on late as they chase the market but once that buying runs out it drops back down into the zone as the folks that thought they'd miss the move exit....

this seems to be happening right now and it happened yesterday...

moral of the story is WAIT FOR YOUR ZONE !!

can anyone understand that how they mess with peoples minds and money...? It's really quite awesome!!
NQ
1 min chart below looks like a dog's breakfast. No direction for now.
Click image for original size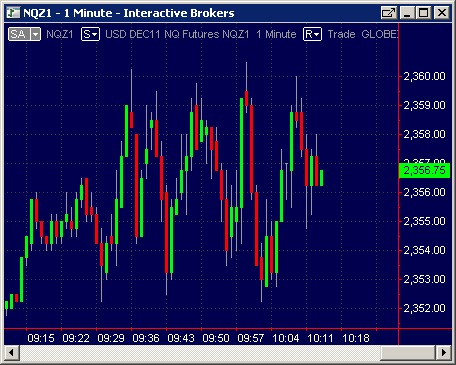 Anything below 1205 is most likely to move towards the daily support trend line at 1195.00
ES
now trading 1211.00 @ 10:26 E.T.
Below are some copied, pasted comments from yesterday's posts, and below that, today's chart with the same pivots from yesterday. In that chart you will see that, some of yesterday's pivotal levels worked well today too. This chart was also posted this morning at 03:00 (copy below) in Thursday's thread indicating we got another shot at 1216.00, today Friday the 14.
Some times you got to keep trying and trying, and if it's mean to be, it will be....
_________________________
sandoxe | 13-Oct-2011 at 5:18
AM
If the bulls still want to give it one more test to 1216, and possibly 1229 with good spike after that I'm Ok with it. Maybe today and tomorrow.
Below is the "before the fact chart" with the pivots set up for today. I'm buying at 1195.75, just above the daily trend line.
Initial stop at 1192.75.
__________________________
sandoxe | 13-Oct-2011 at 5:48
AM
| Rep: 245 | Posts: 200 | mail
That was fast. I 'm lending the market $150.00 bucks. This is getting a bit bearish now that it has moved down below the support trend line. I gonna have to have my bear hat near by.
__________________________
sandoxe | 13-Oct-2011 at 3:02
PM
I gave it an other shot above the support trend line same price 1195.75 I'm at B.E. and will seat here till it gives me 1216 LOL
__________________________
sandoxe | 13-Oct-2011 at 3:43 PMl
What did you guys do? The market was doing well. now my stop got hit at B.E. -- Had and awesome day yesterday, and today I suck!
The market still owes me $ 150.00 bucks from this morning. hmmmm I need to see my self doing better, much better.........
Click image for original size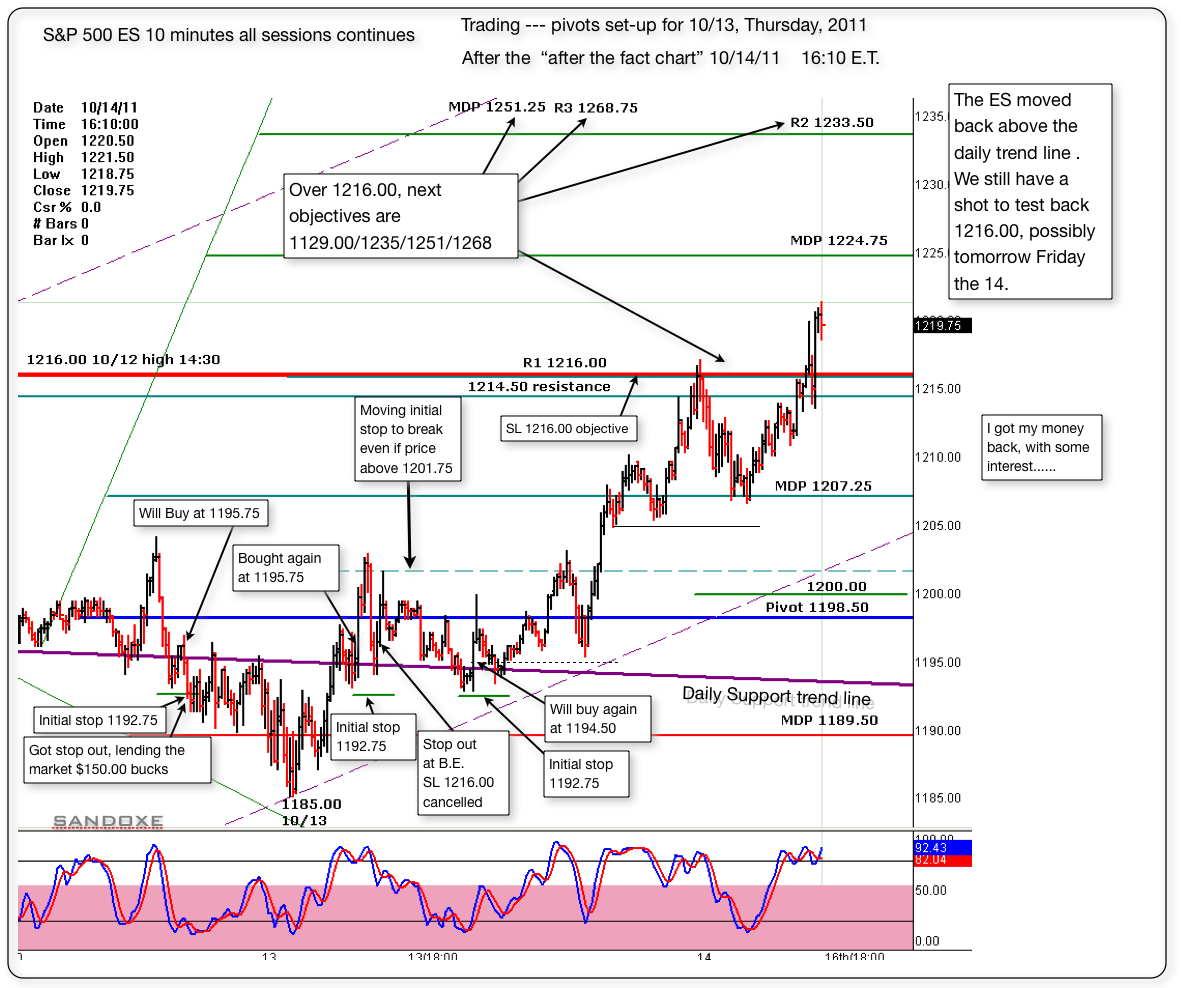 Here's the chart posted this morning at 03:00. I was a bit tire and did not put all the stuff in it and did not made a new one with the pivots for today. Just use the same. At the long run is the same thing all over again, as you saw in the above chart. The pivots worked just as good.
Click image for original size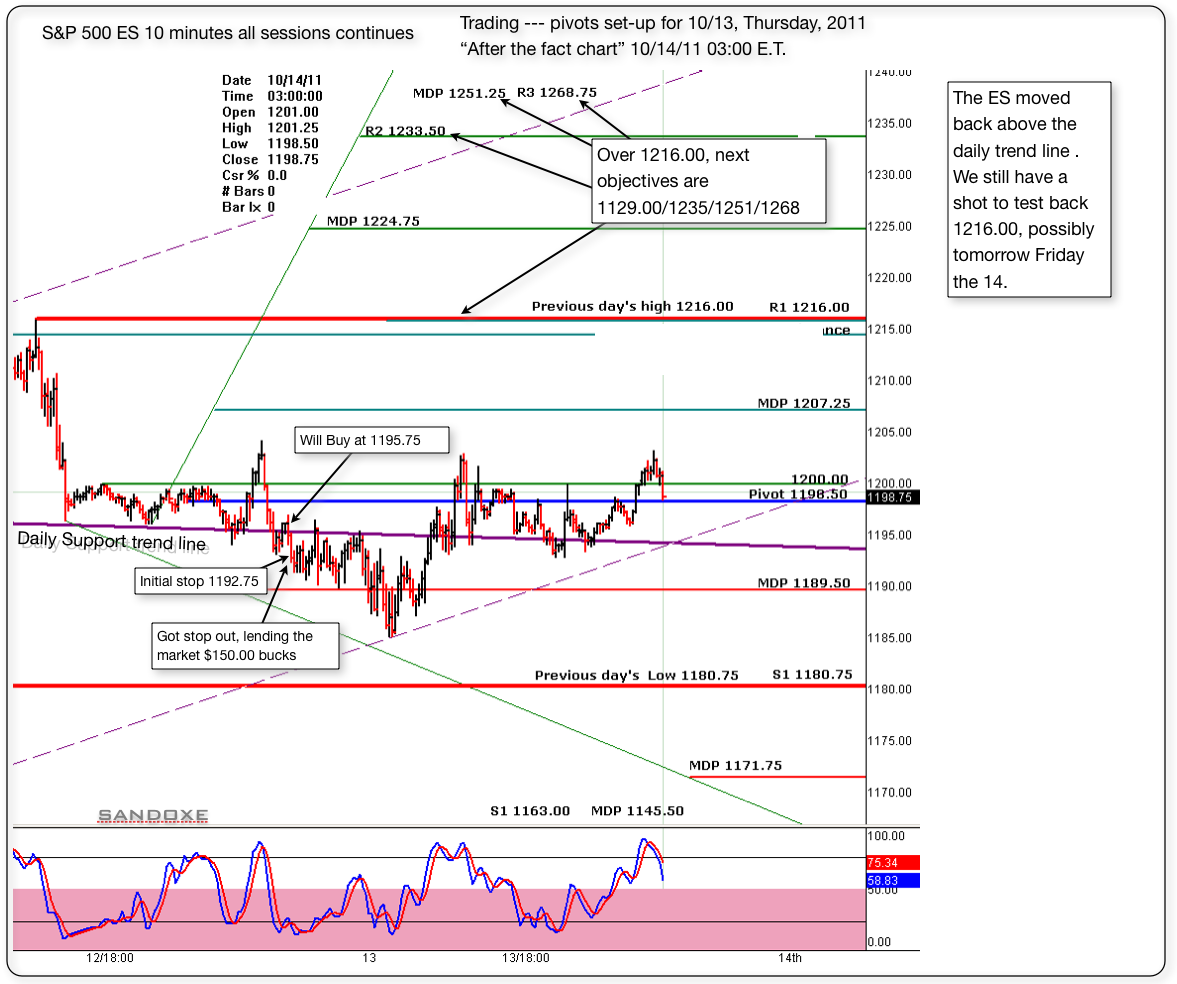 I
see
for
you
the same I see for my self: Having an
awesome, incredible, fun,
weekend,
best ever!!!