ES Trading for 11-2-11
These are the
low volume
areas where I will look to initiate, given
Market Delta
signal.
Click image for original size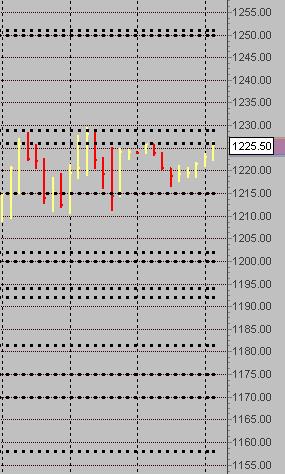 sold 31.25 print with those 900
ticks
...27.75 is target...critical area this 29 - 31.25.....will it now be resistance??sure wish I knew..
this was the
low volume
area from 10-26 and if it becomes support then they will push up into 37.50 - 40...had a feeling they would have wanted to fill it in as per
low volume
rules..peak volume forming in here now
stopped at 31.50...I have
low volume
at 32.75 from today...first hour needs to set up for me now
Watch the euro for any sign of weakness.
trying again from 31.50 short
really don't like all those stops at 32.25..especially with that 32.75 above....
targeting 29.25....that is still part of key zone..
market showing no good impulse at highs 32.25 or that double low of 27.25....it's a crap shoot for runners now...
bruce,sorry mate, i'm a bit green at this,,, what do you mean, 'all those stops @32.25' how can you see that there are stops @ that level??
damn..runners got no MOJO !!
I want just the opposite....please post MORE.....this would be typical of the fib traders when backed into a corner....they would want an excuse to not have to demonstrate over time that they can trade fibs real time. They would want to stop posting!
I've busted my hump here for years posting my trades and my thoughts as close to my entires as I possibly can. Good and bad...folks should see that the first 90 minutes are my thing and then after that my trades don't work as well. It gets ugly sometimes...So now you have a great opportunity...to either rise above and prove it can be done with fibs...or back down....
we'll see how this plays out...usually it is some "after the fact " stuff that gets posted...
I'm heading out for some overdue family vacations so won't be posting for a few weeks or trading. I want nothing more than to have a forum where there is lots of cool and educational stuff that folks can try to learn from and duplicate over time.
All methods and ideas are always welcome here but posting some lines on the chart after the fact doesn't do much.
Mp
isn't the only answer but is for me...no big deal really... I'm always looking to learn too and I'm just not learning anything about actual trading from the fib posts. Perhaps that can change.
I wish everyone the best and don't want to continue an "argument". No extra words or comebacks to me please. Lets just move forward from here. The proof will be in the posts.
Bruce
EDIT: I'm sending Sandxe a private message so there is no way to avoid this post.
Originally posted by sandoxe

Hey, Bruce, there's no need for me to post. I really thought we can all work together, but I can see that I was wrong.-. You have people here that needs you. I will stop posting, since my posts are not really for this forum.






Right now, next hours, next days, next weeks, next months and next years to come,

I

see for you

the same I see for my self:

Having the very best of luck, fun, awesome, incredibly profitable trading experience!!