ES SRs and Fibs 11/11/11
Below is a 60 minutes chart with today's session set-up. The blue (1238.50) and red line (1234.00) are my guide lines to focus on buying or selling. If the price is above 1238.50 I will focus on buying set-ups till it gets to some type of resistance to revaluate. Conversely, if the price is below 1234.00, I will focus on short set-ups till the price gets to some type of support to revaluate the trade and so on.
As always, the market has the last word and in due time will show us the way.
Right now, next hours, next days, next weeks, next months and next years to come,
I
see for you
the same I see for my self:
Having the very best of luck, fun, awesome, incredibly profitable trading experience!!
Click image for original size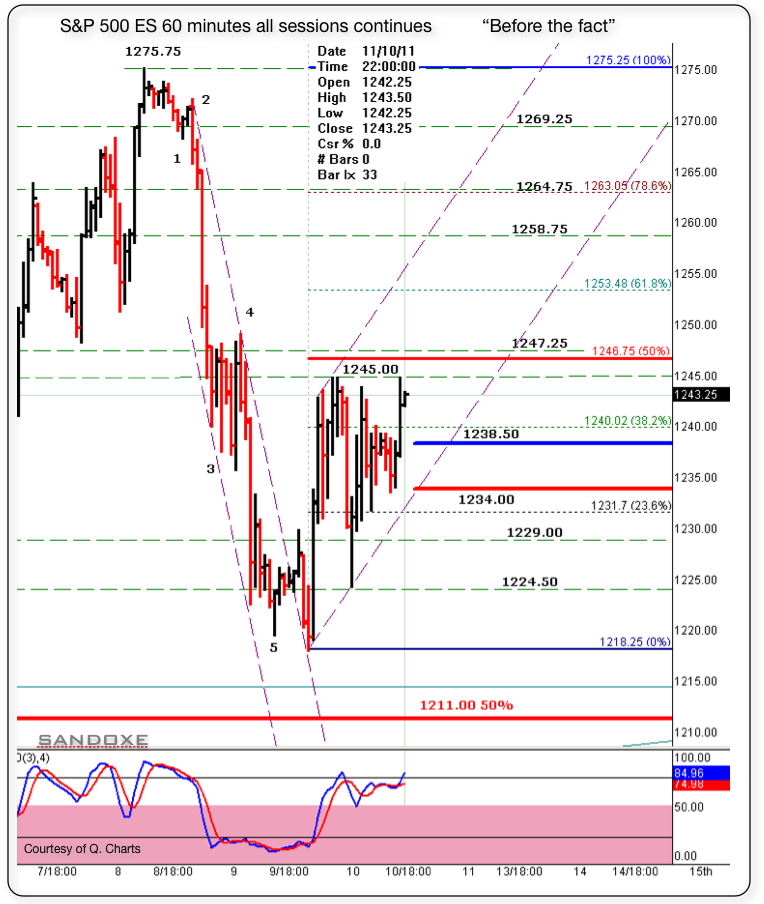 Somewhere in that 5 waves up trend. DavidS will see a 2.618%. It could be the end of wave 3 and from that top Prestwickdrive will see a small 1.618% down projection, and that will be the low of "e" . From this "e" low DavidS will see a 2.618% upwards projection and that will be end of wave (iii) of 5 and and so on........ % Fibonacci extensions will very bc every
Elliot wave
is different in length and time.
One of the MOST dependable
EW
concepts is the Symetrical triangle.
If you take a step back and look at
ES
or SPX you can see the near end of a Sym Tri.....the E or 5th piece should be a monday dip to the 1225-1230 area.....then the upside target should be around 1305-10.......
Click image for original size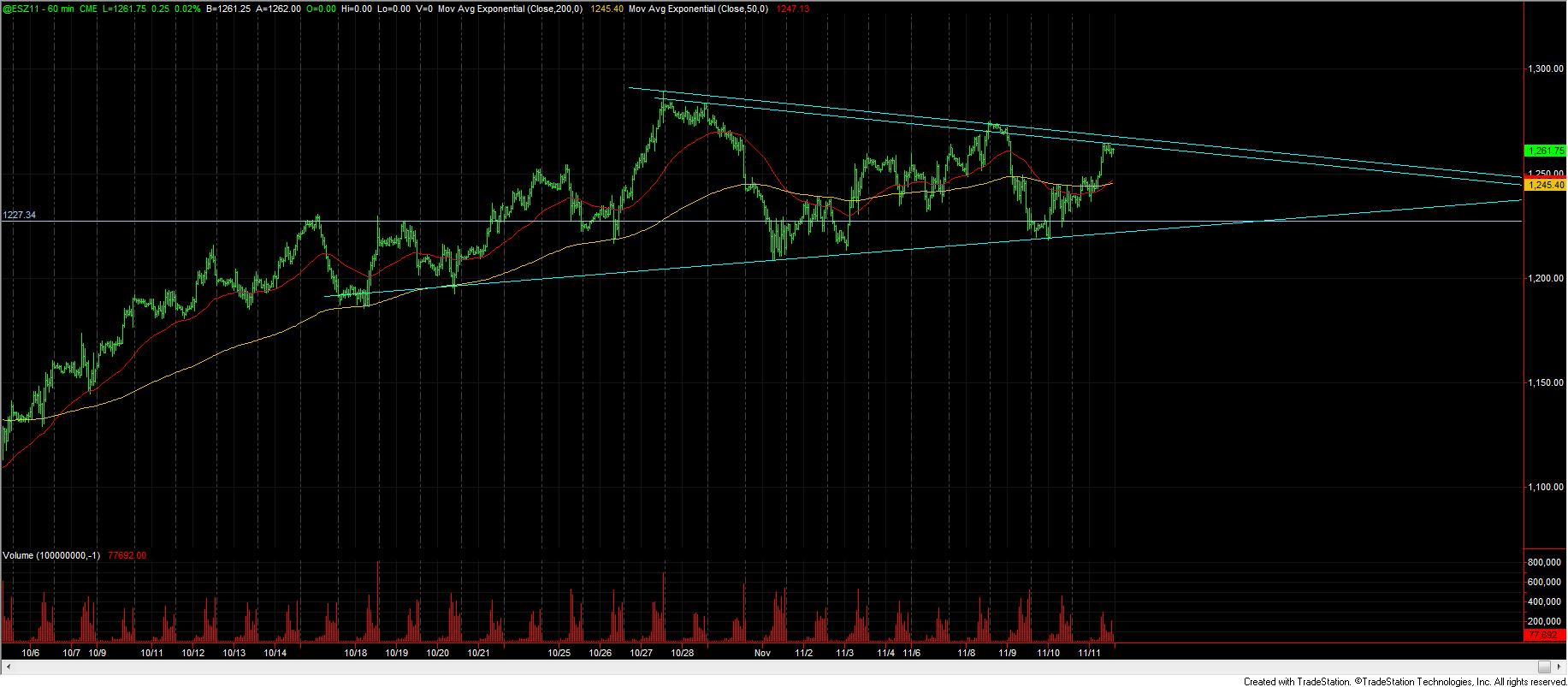 MP
traders will see that as wave 3 was unfolding a small bell was forming. Bruce usually comes out before the end of wave 3 and starts talking about going short soon. As the market makes the top of wave 3, Bruce goes short. Lorn and Della will have posted some charts and comments saying that they also see the Bell curve that needs to be filled. They go short too, they battle through the a,b,c,d,e, and make mucho dinero. Then they pull out just as the market hits the low of "e" and the small bell curve is filled. Then Lisa post about increase of buy contracts coming in, Lorn posts a chart and points out a small bell curve formed by the price in the way down, Lorn is bullish, -- by now Bruce is also saying he is buying soon! Prestwickdrive has a small 1,618% projection and DavidS has a 61.8% projection from a 60 minute chart that coincides with Prestwickdrive 1.618% 3 minutes chart projection. Those projections are the top of wave 5. Every body bought as they said they'll and every one made out very well!
Thx Vasuki. I hope he has more than one broker acct.
Originally posted by vasuki

Sandoxe just to let you know Don miller may have lose over 2 million in his MF GLOBAL account check his web site has a lot of info about the litigation and so on.