ES SRs and Fibs for 11/18/11
ES SRs and Fibs for 11/18/11
In the chart posted yesterday I had an objective at 1205. The objective was basically done today (The low was 1206.50) Did got zigzag few times in the day session but made it Ok at the end.
Below is the 60 minutes chart with the set up for night and day trading. It's possible that will test that 1205 again. Failure there will have 1198 as next objective, below that 1185 1.618% Fib ext.
Will see, and as always, the market has the last word and in due time will show us the real deal in dollars and cents.-.
Right now, next hours, next days, next weeks, next months and next years to come,
I
see for you
the same I see for my self:
Having the very best of luck, fun, awesome, and incredibly profitable trading experience!!
Click image for original size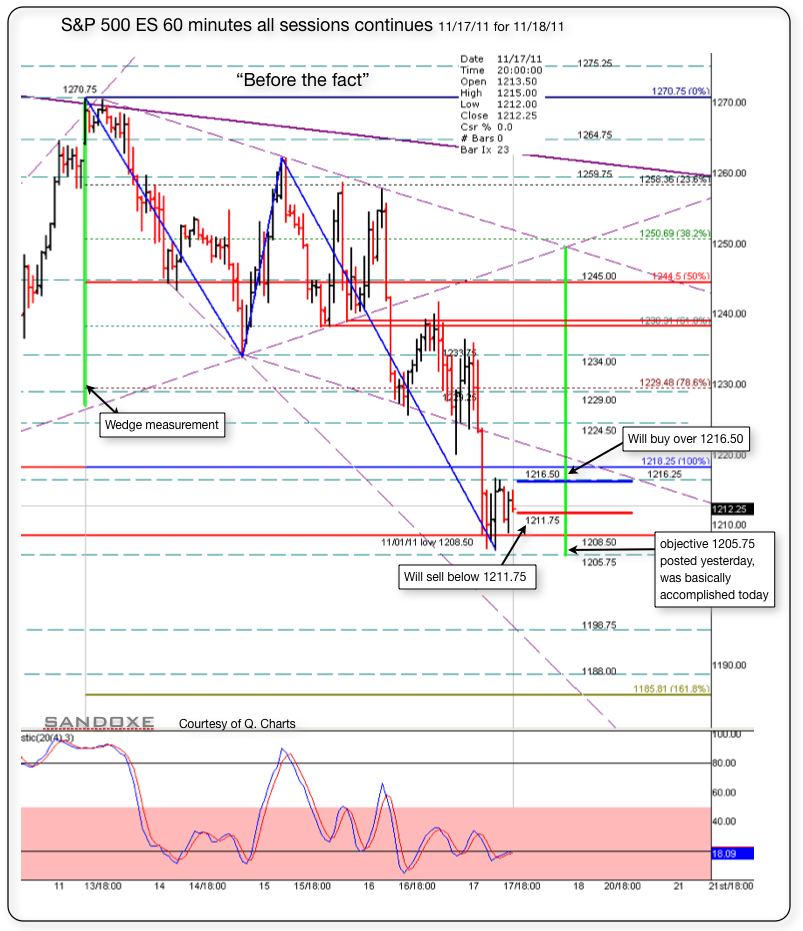 Originally posted by sandoxe

Is gonna take a bit of time to get there vasuki,
Every down impulse is being counteracted to hold the speed of decline. Much money is coming in just to keep the market at bay....

it depends on if es goes above 1218,then shorts will get scared and cover to push it up
Here's your 1218.00 Vazuki.
1218.00 is 78% retrace from the small down leg seeing in your 2m chart. 78% is the kiss of death to this small up surge. If the bulls are for real, then it should overcome it and move up and above 1221.00 If fails? 1206.00 here we come and possibly 1198.00
ES
now trading 1217.75 @ 13:42
Now, look at your
NQ
2m chart. did exactly the same....will see. in due time will show us the way.
Thank you everyone for sharing your way of seeing, it was an outstanding week!!!!

I see for you and yours, the same I see for my self: Having an awesome, fun, enjoyable, weekend!!