ES Thursday 12-8-11
Contract Rollover
today !
In the 'old' Dec contract I have:
HVN
's at 1264.00 , 1257.00 , 1254.00 and 1249.00
LVN
's at 1259.75 and 1251.00
Click image for original size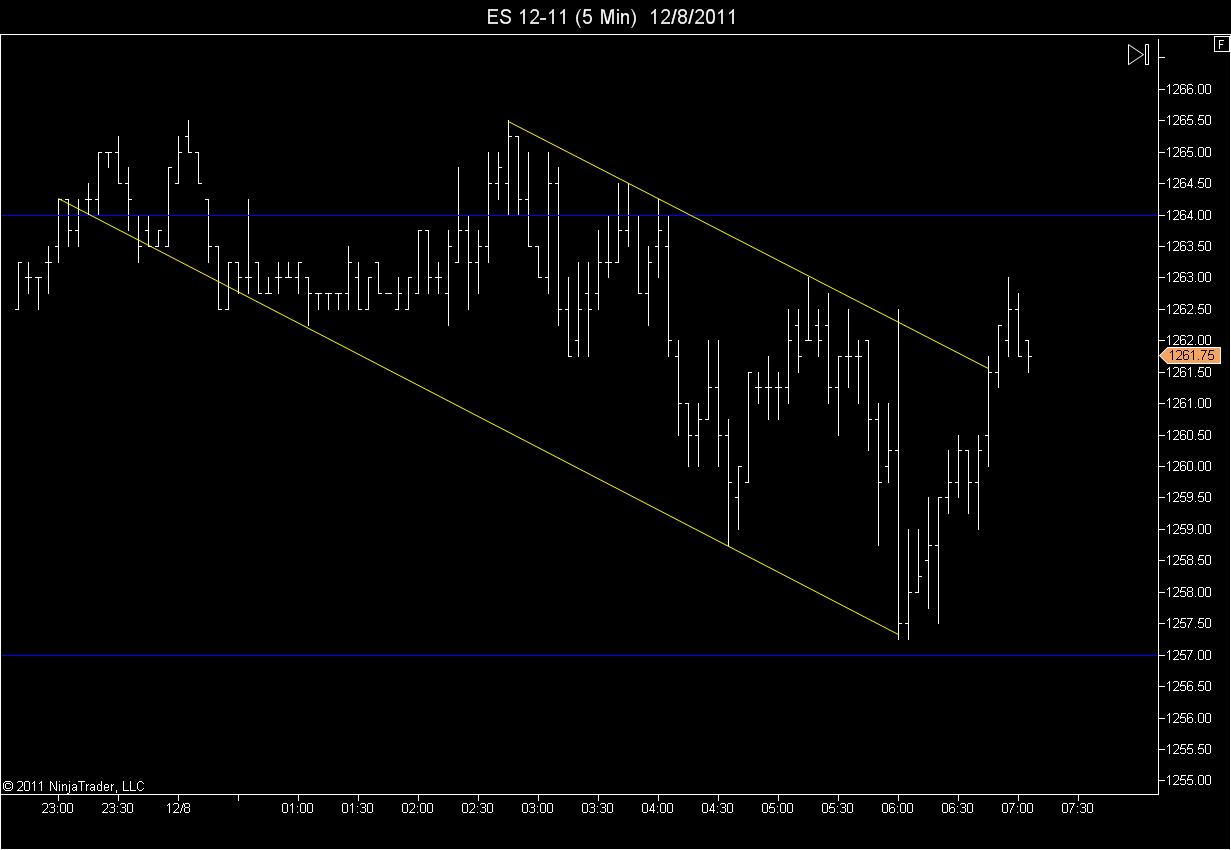 Are you sure its not next friday
I have a zone from 71.50 - 73.50 for sells against so attempting those now....chart later....failure here will try for the next volume area at 77.75 - 80.50 and is my next area to watch....


They are trying to break it out of the bracket which goes fromn 68 down to the 43 area.
here is the bracket I am wacthing and they seem to be trying to create value higher so sells are higher risk in general. This may be a true breakout. I beleive they want to let the S&P travel a certain amount of range each week and so far we have only seen a 25 point range or so. Not much so I would expect that to expand before the close of Friday. Trying to figure out WHEN that will happen is the tricky part and breakout trading is not my strength.
I've quickly labelled the bracket high and low and the peak volume for this bracket.
Click image for original size
went flat at 66.25...looks like I missed a big chunk of the selling but this is overnight so I donot have ammo to trade for longer targets....if I had more contracts on I would have tried to target the peak volume from the overnight at 1262....and then the 56 - 57.50 area as the overnight low is there......

these ideas always look easier in hindsight!!

I'll post the reasons for the sells later when I get my IRT charts fired up...
big selling came after merkel was on the tape saying there is no big bang solution for eu crisis and at the same time ecb president draghi announced the ecb is not gonna be buying more bonds, sthg that was idely expected (or hoped to use a better word)
that so far is obvious failure of a breakout. The ideal breakout trade would not come back and hold inside the bracket extremes so once below the 66 - 68 then all bets are off for that.

Many feel a false breakout of one side of a bracket will go and target the other side of that bracket which would put the 1243 area into play. That is a bit long term for my day trading mentality but it may be fun to watch for.
it stoped dead in i tracks near 60 I went back on my
TPO
found 70 was the high back early nov
it woulsd let me go back firther
depending on where we open my plan is the following:

1)Buy into the 1248.50 - 1251 zone with an open above that zone and use 56 as the ultimate target.

2)sell into the 59.50- 62 zone with an open below it and target the 1256.

3)Donot initiate in between 1251.50 and 1259. too much volume there..wait for the zones..

buy into the 43 - 45 zone and sell into 66 - 68.....targets to be determined..


hitting buy zone 48.50 - 51 as I type so will try small longs down here in overnight but small size....
peak volume from Wednesday was 48.50 and we have that
LVN
that
PT
mentioned at 51...so the volume pushed it up and away yesterday to form the
LVN
....that is a good zone!!
are we at march contract (H) now or still in dec