ES Monday 2-6-12
Here's what I've got for my
ES
MAP of
PASR
ZONES using a 30min chart of 20 days of data coming into Monday's trading. The Red lines are potential significant levels with Magenta lines as semi-significant. The Green line is the close on Thursday which is the
GAP
based on the opening on Friday (unclosed obviously). The White dashed lines are the Weekly Pivots (kind of a background thing to have on the chart). The Light Blue
Volume Profile
of the past "rolling" 20 days is displayed on the right vertical axis. Btw, price lines that are CLOSE together (within a couple of points of so), should be taken as an overall ZONE. The Gray background shows non-
RTH
price activity. Hope, as always, that this is helpful to some as a "MAP."
Click image for original size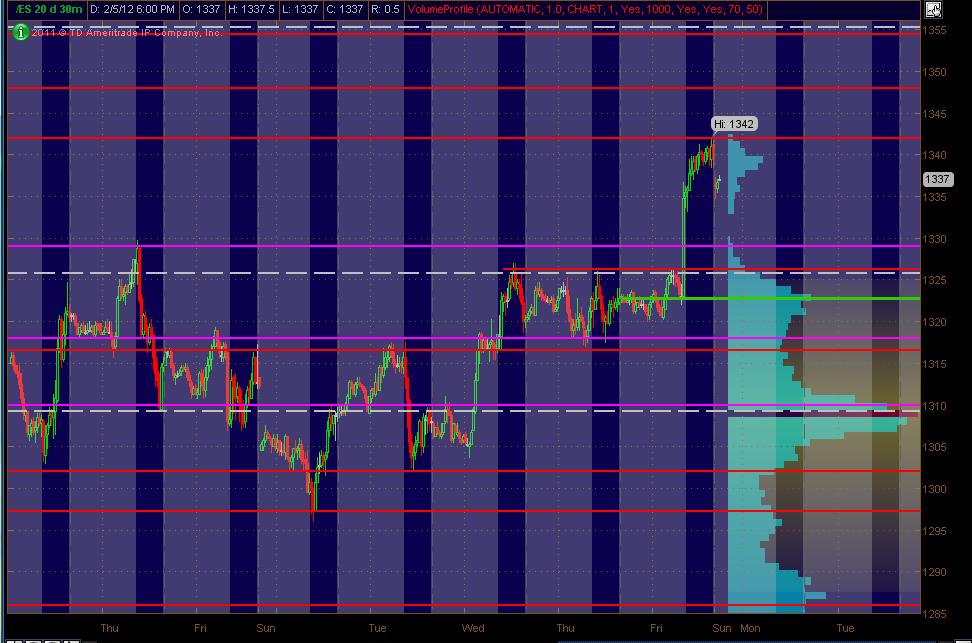 This spans roughly 100
ES
points on the chart. More scattered lines than I'd like to have typically, but here's what I'm looking at as significant areas:
1354.50-1355.25
PASR
/ Wkly Pvt / .619 Fib Extension as per mypivots
1348
PASR
/
RTH
Daily S2 / ATH Daily S1
1326
PASR
/ Wkly Pvt
(1322.75)
gap
close from Friday - the green line
1316.50-1318
PASR
ZONE / DeMark Wkly S1
[The magenta line at 1329 is on the chart and worth mentioning ... but only in passing, as I don't see this as offering much support other than being the "beginning" of an overall BIGGER support ZONE, fwiw]
ghost town today...isn't a 6 point range enough for everyone...?ha...ridiculous
peak volume was at 39.25 on friday and today it is a 37.50...so volume is just slightly lower....getting above that 39 node and holding above is bad for bears and would make fading a breakout above the weekly high much higher risk .conflicting signals but we can look at fridays
vwap
as a filter....
not even a plus 4 number yet...yikes!!
34.00 is my target let's see...
three 5 minute bars with the same high...certainly not a great way to put in a top. but hope it rolls down for u John..
36 would be half out then ride the rest to 34
they need to resolve the conflict between fridays closing
vwap
and todays at 37...so lots of problemes in the 37 - 39 now
Ok, we get the hint. End the foreplay already and file finally. From Bloomberg: "Greece's Prime Minister Lucas Papademos requested the country's Finance Ministry to prepare a document on the implications of a Greek default, Panos Beglitis, spokesman for the socialist Pasok Party said. The Prime Minister yesterday told the leaders of the three political parties supporting his interim government that he asked the Ministry "to record accurately and realistically all the consequences of the country's exit from the euro zone," Beglitis said today in an interview with Radio 9, according to a transcript of his comments e-mailed from the Athens-based offices of Pasok." And yes, the market initially rallied just after Lehman filed. It didn't last long, because guess what, it was priced in... incorrectly.
the euro hasn't even been able to fill its
gap
, so i would not call that strong
Originally posted by vasuki

when 6E is so strong i would be scared to short Es

may be my english , may be i should have said that E is not weak.
Good morning Bruce I appreciate if you could share with me your entries , Do you enter Market or limit?. no rush whenever you have time