ES Tuesday 2-7-12
a look at what I'm using this morning...35 - 33 is important support ... a break and hold below there targets 29.75 and then the 25 area with 22.50 as a bigger volume magnet...
above I have 38.75 - 1340...then will use Fridays highs and overnight highs
yesterday was inside Friday so we need to monitor for potential breakout trade more than usual
basically we have the same levels as yesterday..small ranges still in play so numbers are close by!!
Click image for original size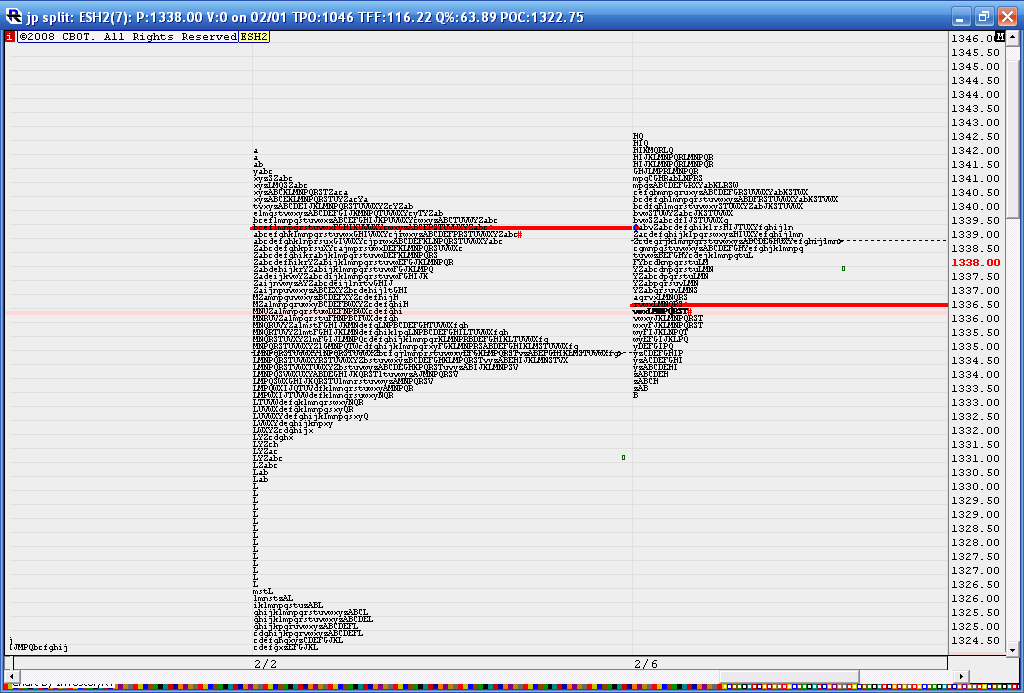 trying longs off 32.25...higher risk as we are under that 34 node of volume ...6 lower lows into the minus 4 - 5.5 zone
trying to get 34.50...ahead of the actual peak price of 34.75..they need to digest that
O/N
low otherwise this is gonna be a
wash trade
soon
flat at 35.25...just not sure they are done with that node and they might jerk it around there
Nicely done. Didn't take it thought we might get a quick retest of the low.
some charts on videos I posted yesterday show 5 minute charts and other times frames. I did that in order to fit more data on the screen. The reality is that when I want to really dial it down I will run a one minute as a
market profile
chart in order to see all the high and
low volume
areas more clear.
Just wanted to clear that up in case some were confused.
hopefully most are keeping track of where the weekly
RTH
open is..!!
some other unfinished ideas : If you are one who trades longer time frames and like the weekly pivot as a magnet price then logic would tell you that in order to achieve that you need to stay inside the range of the previous week.
That is just logical...for this week we need to stay below last weeks highs and then we also need to stay below this current weeks open in order to trade down to 25.50....
this same simple concept would apply to those who like to trade for the daily pivot tests too using the extremes of the daily bars.
Bruce, I just shorted the es @37 based on a low
volume profile
of 2 days ago, is it the same way you enter the market? if yes where is going to be your exit,? I know I'm asking to much, but you're a good guy
Thanks Bkay.....it's not always easy being a fader of extremes...the real trick is to be able to accept losses..in that case they were working on the 7th Lower low....usually it's 3 - 5 with 9 being very extreme...this was also my second try as I had a long that I couldn't post at 33 but wasn't quick enough to take profits and got stopped out just slightly better than break even...
the point is that I will be fairly aggressive in my zones and will try multiple times
Originally posted by bkay59

Nicely done. Didn't take it thought we might get a quick retest of the low.

Thanks Bruce, my problem is sometimes I think too much. That appears to have been a lower risk trade. I am playing with the one minute profile on my platform, it incorporates overnight also, but it shows it pretty clearly.
Khamore, could you explain why the short at 37.00 whenever you get a chance?
the biggest surprise for me was when they blew through the 38 - 39 area the second time...on that rally up...was SURE they would have stopped it there again......another reason I watch the order flow