ES Wednesday 2-15-12
A look at the cummulative
vwap
bands.....as I type we are building volume at 1355.50 in the overnight session .....It will be interesting to see what happens as the 3rd standard deviation off the weekly band comes in at 1356 - 57. A 4th deviation move would come in at 1360 which goes well with a weekly R2 level. For me I'm staying up a bit later tonight and looking to get short up here now. Hopefully the sacrifice will pay off.
I changed the cummulative
vwap
band to be yellow so there are no errors. This also contains Overnight data but since the
O/N
doesn't have much volume the bands don't change much.
Some good levels shaping up for tomorrows day session which would include 1351.50, 1347.25 and then the critical 42.50 - 44 zone...
Click image for original size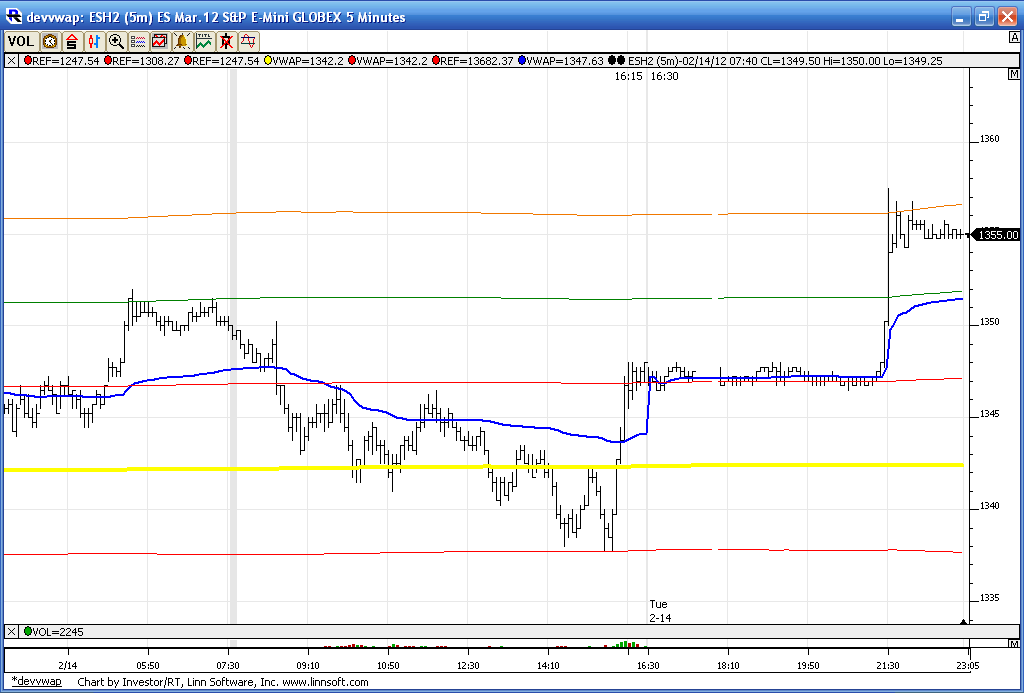 i think it will hit 1361.75 as one exit for longs before any pull back.
I mentioned the key areas last night in the post above...this video just digs a bit deeper and covers quickly why those areas exist using different methods

thanks for the update bruce, hope you didn't stay up too late with that short
Iran cut delivery of oil to 6 European nations overnight including Greece and Italy. As if these countrie need more inflation from higher gas when they are going into
recession
.
The Chinese rumor about support for Europe has gone no where.
The late rally on the Tuesday afternoon about the Greek opposition leader going to send a letter to the ECB was squashed as Schnable said today that he still has not received all the necesary paperwork from Greece.
We were confused last night about the Senate/Houe joint bill to continue the tax cuts. It may take until Friday to be voted upon but the optimism about it is a supportive factor for upside movement this monring.
Didn't take any trades and turned off at 11:45....just as well...me and the Overnight session have a poor track record
I believe this market soon will make a flush.... Dow is .27% over .30% difference than Nasdaq and
SP500
I know bruce did not mention it because it is close to some of his other numbers but 48-49 was a big volume zone from monday (which was confirmed on the
o/n session
that followed), and was not visited yesterday during
rth
...it coincided with the
gap
fill level and the -4
pitbull
...so here we are
John are you still going to enter long at 46.25? is 45.75 the high of the other day look better for you?
up until now we seem to have been filling all that
low volume
/low
tpo
area from overnight (big ellipse in the attached link); the upper and lower bounds of that area are monday's and tuesday's
o/n session
highs on one side and yesterday's
rth
high on the other
a break and run above should target that 55-56 area above while a break below should take us to that 42.5-45 area that has volume, yesterday's
vwap
and
poc
along with a
rat
number
bruce mentioned most of this info in his video earlier today but just thought the action this morning looked cool, put together with that 48-49 area i mentioned earlier