ES Wednesday 2-15-12
A look at the cummulative
vwap
bands.....as I type we are building volume at 1355.50 in the overnight session .....It will be interesting to see what happens as the 3rd standard deviation off the weekly band comes in at 1356 - 57. A 4th deviation move would come in at 1360 which goes well with a weekly R2 level. For me I'm staying up a bit later tonight and looking to get short up here now. Hopefully the sacrifice will pay off.
I changed the cummulative
vwap
band to be yellow so there are no errors. This also contains Overnight data but since the
O/N
doesn't have much volume the bands don't change much.
Some good levels shaping up for tomorrows day session which would include 1351.50, 1347.25 and then the critical 42.50 - 44 zone...
Click image for original size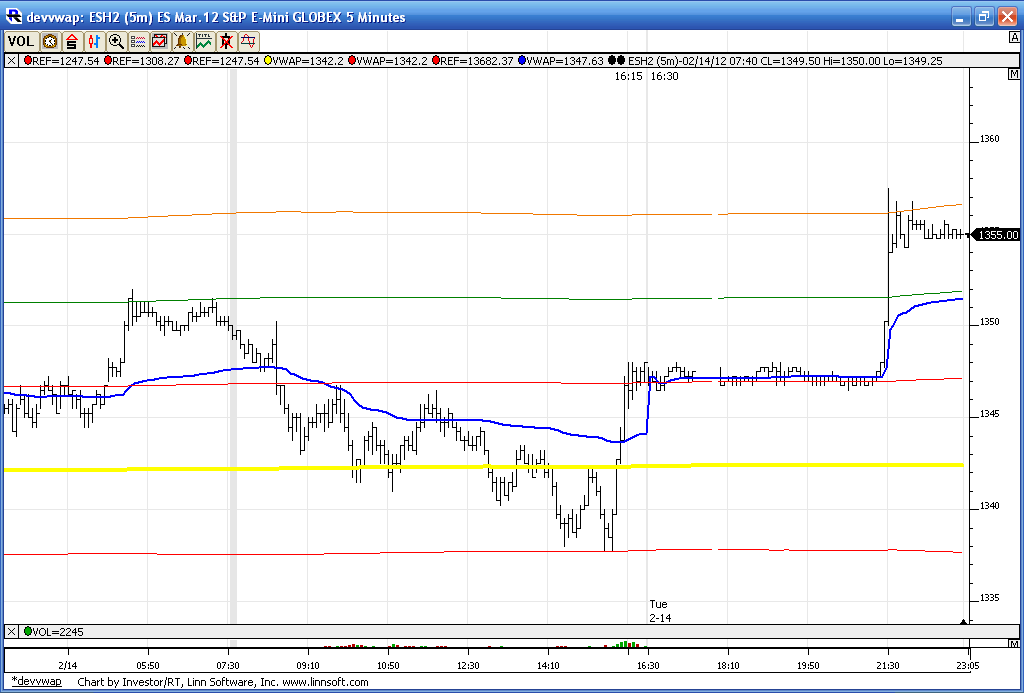 Hey it worked a little big eh:}
Originally posted by BruceM

I'm looking for reviews on Sierra charts,,,can those who use them give me the good and bad points when they have time please ? either here or in PM...

Thanks

All I can say, after using everything from
Metastock
to Mutlicharts and everything in between....
Sierra
is hands down the best. The developers understand the "how" and "why" behind trading and technical analysis and go to great lengths to make sure SC works- from the simplest chart to the most complex overlays of 'studies on studies", multiple data feeds and multiple instruments on the same chart. They work at giving the trader the most sophisticated and customizable tools available. Not to mention the most reasonable pricing in existence.
Once you understand and accept their concept of customer service; they are impressive. Their even willing to admit a mistake, though it rarely happens.
Actually, I'm a pretty big fan!
I agree completely with all of the above. I have been very satisfied with
Sierra Charts
for the past 6 years.