ES Monday 2-27-12
Here's what I've got for my
ES
MAP of
PASR
ZONES using a 30min chart of 20 days of data coming into Monday's trading. The Red lines are potential significant levels with Magenta lines as semi-significant. The White dashed lines are the Weekly Pivots (kind of a background thing to have on the chart). The Light Blue
Volume Profile
of the past "rolling" 20 days is displayed on the right vertical axis. The Gray background shows non-
RTH
price activity. Hope, as always, that this is helpful to some as a "MAP."
Click image for original size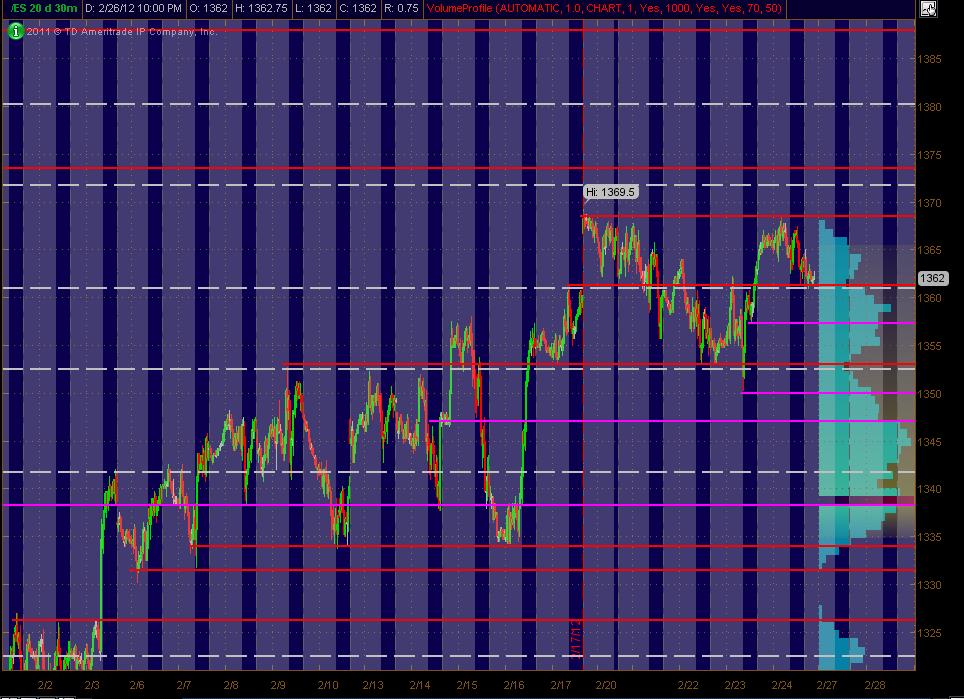 And here's the stripped down chart with Red Zones of
PASR
... the
support/resistance
without any other "stuff" to clutter up things.
Click image for original size
Hope all bank on Monday!
here's my overall plan for today early on:

starting longs at 54.25... a more conservative trader would require price to get back above the Overnight lows again to think about longs...

52 is a number to lean on below if needed
targets are 57 and 59 for me...need to resolve the
O/N
lows now...critical for us longs to get back over that
we are real close to the second
SD
band off weekly
Vwap
so buyers should be stepping up here and if it wasn't for the 10 am reports I would be adding a bit more agressively too....
band is actually at 52.75 as per
vwap
chart
Real Tricky here.
I have mentioned this before.
Gap
Guy says Chaikin watches 600
xma
of 5minute charts
RTH
only, WHY, because it is the 200 on 15minute bars and the 100 on 30minute bars
many eyes focused on that level from different short-term time frames.
that 600xma was 1356.25 this morning.
he has noted that when price
gaps
past the 600xma, (either direction)more times than not,
gap
does not fill and the 600 is a barrier.
that 56.25 represents a barrier (potential), but it also represents a potential
bear trap
for today's market because if price can work its way above today's open and above the 600xma, bears will be trapped short (could be forced to buy if 56.25 exceeded)
my vote is the
bear trap
Paul..nothing is telling me that this symetric trade has changed....60 is still ultimate target I think...will get out in front of that
well up is up..my eyesight may be failing but on my chart that line goes at an up angle...3.25 points up is not that big a deal..unless of course you are short 50 contracts!...just saying..nice night everyone
Click image for original size