ES Thursday 3-1-12
Here's what I'm seeing as
PASR
(
Support/Resistance
) ZONES for the
ES
using a 30min chart as a "map" coming into Thursday's trading. The Gray background shows the trading outside of the
RTH
session, with the Blue background being the
RTH
activity. Hope some find this helpful as they incorporate their own strategeries throughout the trading day!
Click image for original size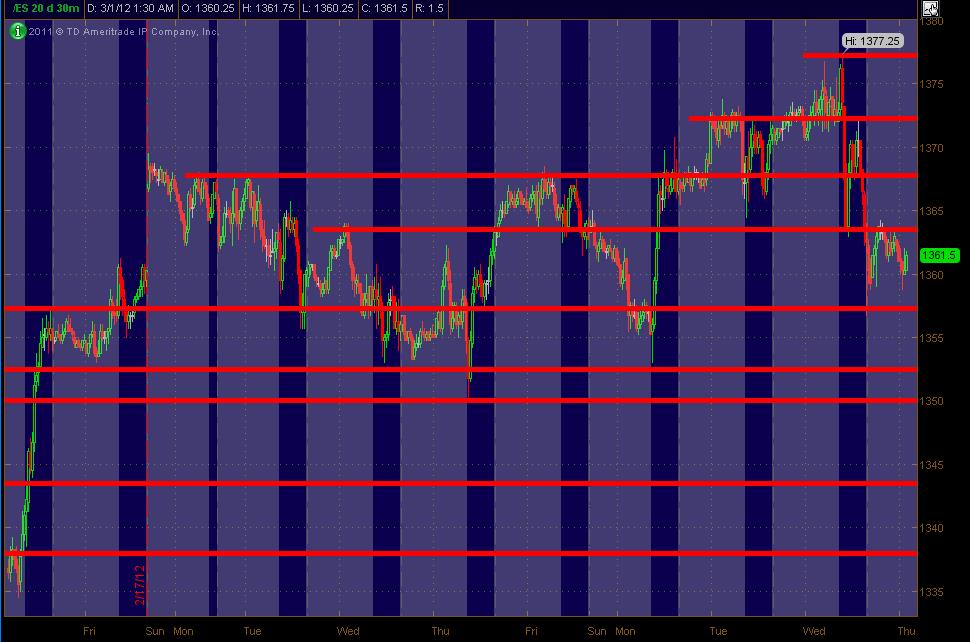 Thought I'd toss in the same chart with the White circled areas that my eyes saw to generate the above Red
S/R
lines. Hope it makes sense (not rocket science as I've always said).
Click image for original size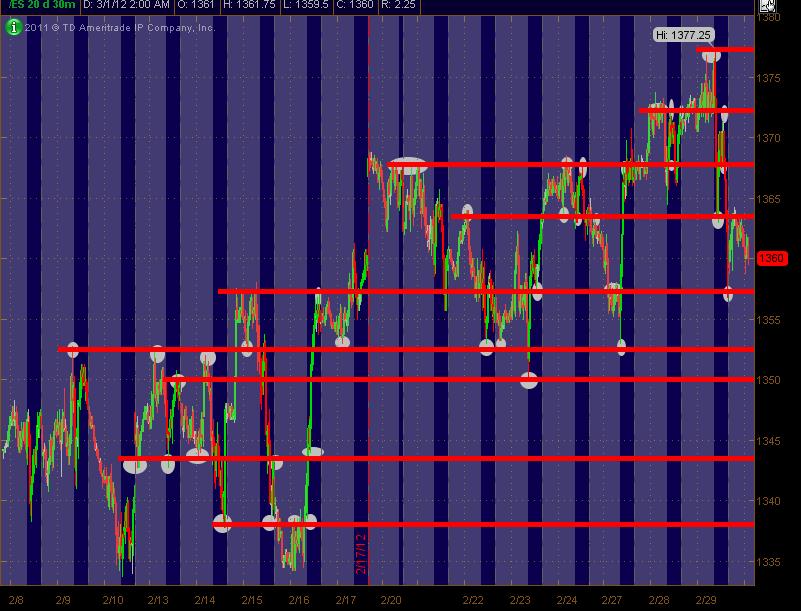 could have gone either way, but i must say i did like the entry area (72.5-73.5)...congrats anyway johnpr2010
Did anyone happen to see what the
RTH
morning High has been so far?
1373.50
I know I heard that number in the threads here.
But who would ever have even entertained the thought that 1373.50 could print....
Bruce did yesterday, Page 3
BruceM
Posted-02/29/2012 : 11:17:42 There is a
gap
in the data at 73.50 so if YOU think you have caught a good long then the
air pocket
and the
gap
in the data will ultimately act as a magnet to help pull price up..
scary
I went short at 73.00.

Used Pit +4 (72.50), Monkey's 72.25 level & Stretch 1.618 (1372.40) as resistance level.

Getting filled was just dumb luck.

Exited at 69.00. Should've held out 67.00.
I was just about to type that in Paul....these markets are so efficient..great read!
nice trades to all who posted...looking at 68 as the big magnet as per two day volume....I think we will see the
gap
fill still
look at that..right back to our 68...without me but who cares ? Hopefully anyone new or struggling should study Nicks chart and think more about CONTEXT...read the work of Bret Steenbarger here
http://www.traderfeed.blogspot.com/
if you doubt what anyone says here than maybe after much review you may realize that many good trades start with the TARGET in mind FIRST. It isn't always easy to trade for final targets but often you will be able to take a piece out of the journey back down ( or up) to magnet prices