ES Thursday 3-8-12
here is how my
low volume
numbers look on the down side. Above these I would be using 72 and 77 . Not shown. most interesting area is the BAND of
low volume
at 53.50 - 57.50.
We have a weekly open and weekly pivot at 1366. We have a daily r1 level at 56. Virgin
VWAP
at 69.25, 62.25, 50 and 44 ! Using March at least until noon
Click image for original size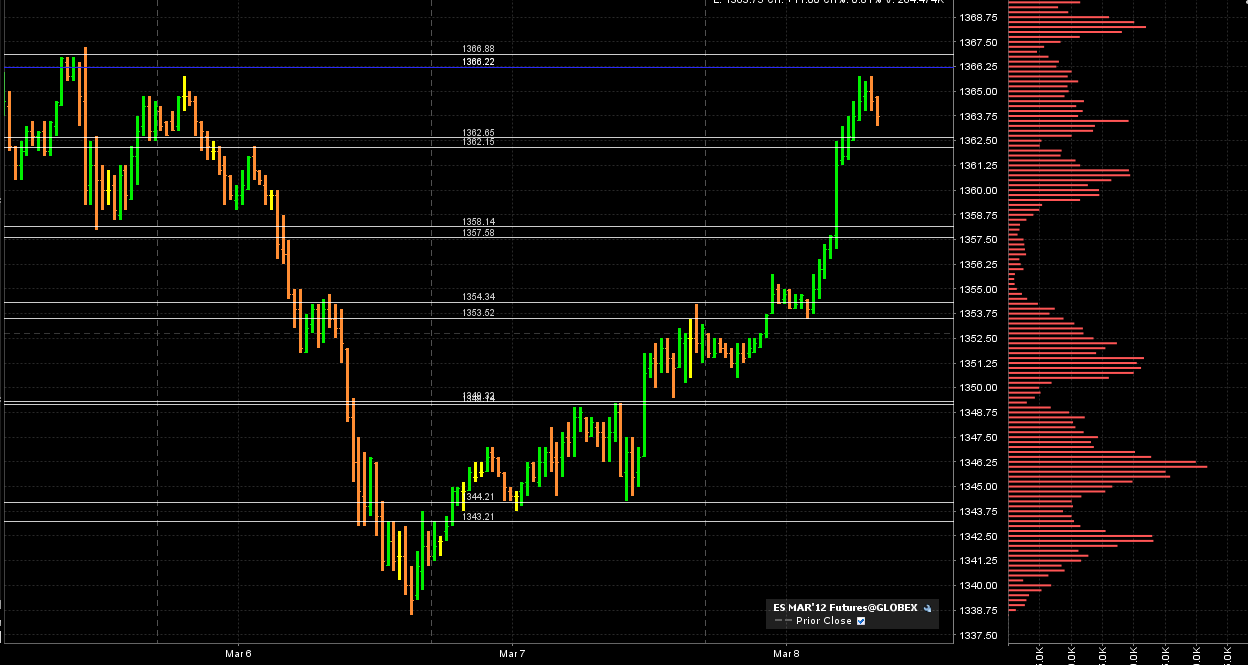 Once we get the 8:30 reports out of the way we can dial it down and as
RTH
opens we will have the completed
O/N
range to verify our numbers.
Originally posted by Jedi



Originally posted by vasuki

jedi, but the problem with Cl is that it is very choppy and moves in every direction.




CL is almost always choppy but like anything else, its how you read it.. today, most of my profits came from 20 tick scalps - other days, I try to hold for more.. That's a whole different topic but the concepts are ALMOST exactly the same.. With CL, I rely less on vol and more on ATR as guideposts...

Don't get me wrong, I use vol actively, but
ATR
is important in
CL
due to its volatility where as I don't use
ATR
in
ES
here, you see that traders are no longer shorting this and the downside risk is increased.. It will take new buying to move it up from here.. if it doesn't come, it means the move up was short covering .. As it stands, the move down will likely have more cuz its fading and traders are not hitting the bid..
besides the things shown and areas already mentioned, at the time I took that trade
vwap
and PVP where equal which means symetric..so look what happened when we went UP in price the same amount that we had already travelled below the
VWAP
...it was just about equal..even steven
then we had that nice PVP flip which made the skew to the down side
If I had to pick one way to trade at these bigger volume nodes it would be with volume divergences off the 5 minute..not perfect but a help
Nice trade Bruce! See, this is why I keep reading this forum.. Bruce's approach is completely different from mine and yet I'm always amazed how well it keeps working... We're often on the opposite side of the trade but both trades keeps on working..