ES Thursday 4-5-12
gm all.... the numbers i got today are:
1386-87.5 1399-1400.5
1381.25-83 1403-5
1375-77 1409

good luck today

duck
well i cancel order cause 5 min bar is lower than frist at 93.50
That is disappointing Duck and one reason I'm laying low but here is a chart I had my 5 year old generate. He likes all the drawing tools but I had him type in and generate the weekly pivot numbers and pivot splits for the weekly
RTH
session and then he snapped them on his chart.
Most won't use these because they are too simple and we love complex. Also many feel that pivots don't work. Like everything else we need context and confluence. Interesting this week how we go through at
least two levels each day
. So will they trade to take out the 1395 today and make it a perfect track record today or sell off to go down to 80.75 ? Or possibly do none of the above and just consolidate ? Just some ideas for those who try to hold for longer targets.
Click image for original size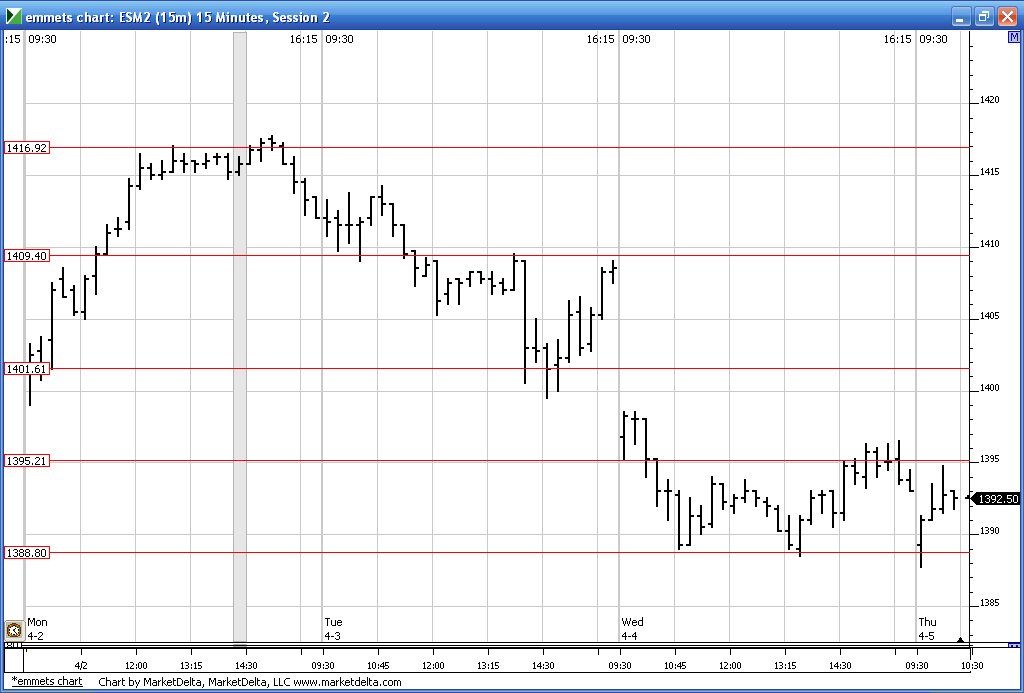 Originally posted by Edwa

Short 93 PB

Still have that 93 short?
Bruce,
I want to hire your son.
I checked
Gap
guy's free e-mail today, he called yesterday an 'extreme'
gap
,
HOD
couldn't even print at previous day's Low .
He looked back in history for similar unfilled down
gaps
while price was above 200
sma
of daily, this has happend 41 times over the past 10 years. Not a very big sample size, but get a load of the next day performance (next day = today)
he assumes you take a position At The Open
13 times, market has gapped down, all 13 (now 14 with today)
ALL
have filled or were profitable by end of day.
28 have gapped up, 21 of those filled (or were profitable by end of day) that's 75% profitable.
I'm not trading anymore today but I'd be careful up in this 96 - 97 area especially with that ledge down below and volume at the middle of the range today. I think they want to know about 92.25 again .

symetric trade comes in up at 97. That puts the volume in the middle of todays highs and lows.

Hope all enjoy the long weekend!
nice trade john..bruce you are starting them young..good job too..paul thanks for the stat on
gaps
..looks like i baited few people to post there thoughts..i thank everyone..if you are wondering if i did any trades..my computer crash..so took a walk to cool down..more than likely i will sit the day out..
everybody have good weekend
duck