ES Thursday 8-30-12
Watching 1402.50 - 1403.50 up here...critical for bulls to take that over if the buyers off the second
single print
from 8-24 are to win today
for those who are short you need to see the upper edge of that mini bell curve from the 8 - 24 session to fail in an attempt to ram it down into the 1397.50 price...as a fader I am trading against u still..
all us buyers are trying to come in here at 1400.50....if we start getting 1.5 - 2 points below there most will be forced to cover which should in theory help the sellers push it away...I'm not planning to stay long too far below 1399.50 as I don't want to get run over and would rather just take the loss
Bruce,
Does this look anything like the Vprofile you mentioned?
This is from
IB
, I take pictures at the end of
RTH
session.
Click image for original size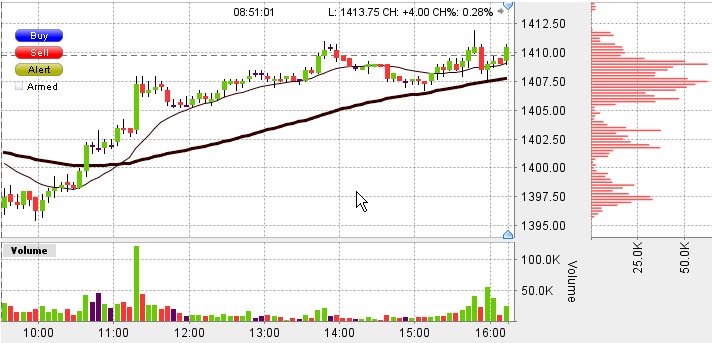 here was my logic on my second long today that failed.....losers are instructive...especially when they are somebody elses...
this explains my bell curve comments above..
error on my video as I say I am trying toi take "short " at 97.50...that is incorrect ....I am looking for longs down there knowing that last weeks
RTH
lows may be a target still for the short traders
trading and posting....is tricky stuff !!
M-T-W Price failed to close above 50% of last week's range.
Natural target is the Low of last week (now that 1399 has failed to support prices.
Low of last week was 95.50. within 3
ticks
would be 96.25.
I'm not saying it will happen, But that would be the natural target.
us buyers are not getting rewarded again and this classic stuff...staying long under 97.50 is high risk us buyers are covering at a loss....I took a point and got stopped.....feel this may roll down to last weeks lows soon
will try one more time above 97.50 on the long side...the mood changes fast sometimes at key prices
it is usually tricky when we trade in the center of ANY bell curve...that is why I prefer the extreme edges and the
low volume
areas...
97.50 is the center of an older
vpoc
before it shifted on 8-24 !!
congrats to shorts...starting longs at 95.25...with 97.50 as the target
taking something at 97.25 as developing
value area low
is here...and right in front of that 97.50..will try to hold one for 98.50 and then last at 99 even but may be wishful thinking as that 97.50 may get in my way
Point well taken...buyer would definitely have given up for 92 to be seen
!