Tues 5-7-13
here's what I'm looking at today

the biggest challenge we face is that this is not normally a good time to put in a high...so we need to be careful...also 1.5 times the
IB
comes right into the 23.50 - 25 area I mentioned on the video
any
fade
up here will first target that 30 minute double top we broke away from at 1618..
I'm not trying anymore up here somebody can come along in this
low volume
and push it fast and quick in any direction THEY want.
I like the idea of the eventual 16.50 target but we have started to one time frame and this is just a bad time for this trade
so this is my long winded way of saying that it is NOT ok with me to trade any type of size up here on this and best to look for ideal entries only !
The idea of putting trades on in
low volume
areas and outside of Value is very sound but I prefer to do them with established areas..not so much developing ones...like this one now
That L2ST course is such a good match for me because the instuctor - Kam on the videos really enjoys responsive trading like myself. While the ideas can be traded both ways ( trend or fading)he prefers selling/ buying outside of value with the expectation of price to revert back..
Sound familiar ??
see that 12:30 - 1 pm bar on the 30 minute and how it broke out of the mathcing tops at 1618 even on two different 30 minute bars...?
That seems to me like a logical retest point and on it's own it forms a HIDDEN
air pocket
- so that is an
air pocket
that formed inside the days range and not one that formed on the highs or lows of the day..
My plan is to wait and see if they can push up into the 23.50 before thinking about shorts again,,,by then there might be an official
single print
to work with....
a slow grind can drain a fader...it's not worth it until we see some good volume come in
either way 16.50 - 18 is a price zone that goes on my radar !!
if my key zones ( 1616.50 - 1618)are gonna have any chance of re-printing today then this trend line will need to break down in order to gives some potential trade ideas on the short side
Click image for original size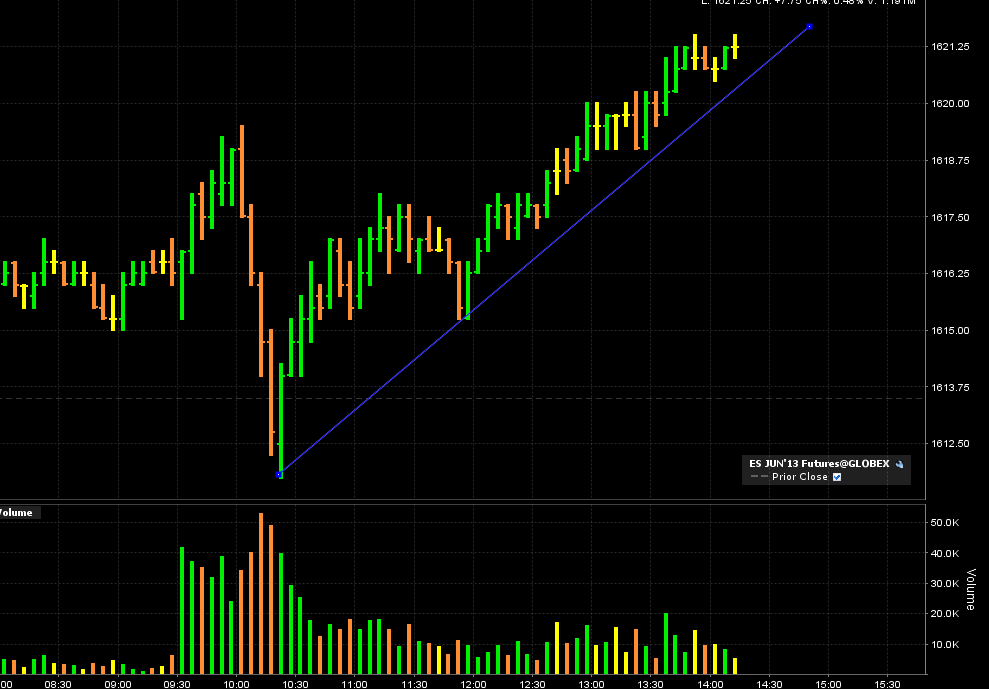 Man it looks like i missed alot of action the last couple days. Been in Denver on a business trip. My numbers from here are such for tommorow:
My outlooks is obviously bullish, so my main buy areas are:
611-614. This area includes:
- Yesterdays low
- 5 Day
VA
Hi
- Last weeks Hi
- Tommorows S1
621--624. This will be my target, ill be very curious to see if we can push through the high's with any conviction.
This range includes:
- Yesterday's hi
- 5 Day hi
- Last weeks R1
- all time high
One of my favorite intra-day scalps is to short/long against overnight inventory to correct to yesterdays close. Depending where we move to in the overnight that could be a good quick trade as well. I like to see it move at least 20% of prev. days range, which isnt hard with av range at around 12.5 pts for the 5 day
If we can open inside of yest.
VA
im definately looking for those buys around 1611-13.
BTW i was pretty bummed out when monday didnt give me that island i was looking for.