ES Thursday 11-21-13
here's what i have
staying above 80-82 is a big step for bulls to resume the uptrend...the 84.5-86 area is being tested as i type so i think after the open i will wait for either 80-82 or 88.5-89.5...the latter is the composite
vpoc
of the whole balance area from 74.5 to 99.75 so will watch the reaction off that zone carefully...if the reaction is not strong, i will look for a buy off the 84.5-86 to look for yest highs and more importantly 96.5 nvpoc
beow 80-82 we still can have a reaction in the 74-76 area with strong support below that zone in the 67.5-70 and 64-65
good luck
Click image for original size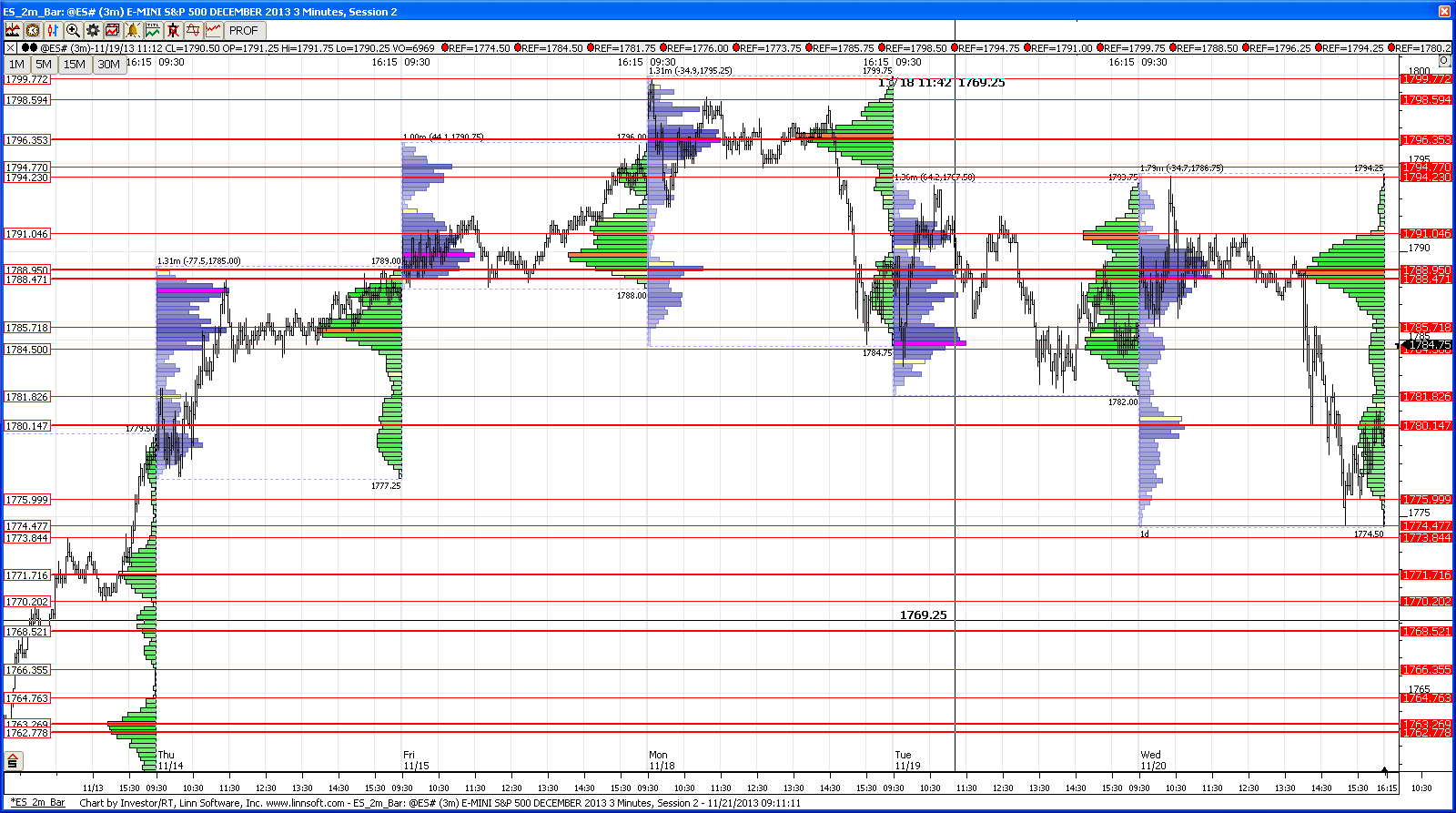 i am gonna take that as a joke...and if it is not, then u better check your compass....dude
so, after the open we did not quite get to my 80-82 area so was not on board for that long...we did go test that 88.5-89.5 area and at the time we had the
tick
completely above zero so the short was not the easy trade there...still u got 3pt or so reaction down into the 84.5-86...i mentioned earlier today that if the reaction off that 88.5-89.5 was not a strong one i would be looking for longs in the 84.5-86 area looking for yest highs and 96.5...well taht part has worked well, and here we are testing almost the bottom part of yest selling tail with a decent chance of testing yest high and may be that nvpoc at 96.5
if u did catch both the short off 88.5 and then the long of 84.5-86 then kudos to u !
Originally posted by NickP

here's what i have

staying above 80-82 is a big step for bulls to resume the uptrend...the 84.5-86 area is being tested as i type so i think after the open i will wait for either 80-82 or 88.5-89.5...the latter is the composite vpoc of the whole balance area from 74.5 to 99.75 so will watch the reaction off that zone carefully...if the reaction is not strong, i will look for a buy off the 84.5-86 to look for yest highs and more importantly 96.5 nvpoc

beow 80-82 we still can have a reaction in the 74-76 area with strong support below that zone in the 67.5-70 and 64-65

good luck



if u caught that long off 84.5-86 then 91.5-92.5 is definetely a scale zone
is anyone else here today or am i talking to myself ? lol
I'm listening, NIck. Your calls have been right on.
Keep talking Nick, we're listening
i am always in the background nick..good trading!! glad u didnt let that early poster get to u..
Thanks Nick for your insight...
ok, good to know guys...feel free to post your views, right or wrong
87.5-87.75 is confluence of
rth
mid and
rth
vwap
with 85 being the 24-hr
vwap
...we also have a
gap
in the data at 87.5 on all time frames i look at (1m, 5m 15m 30m) and 88.5 is dev
vah
with 89 ibh...so i 'd say if the want to pull this back 87-89 is a decent confluence of things (i prefer the back part of this range)...86 is
o/n
high too, so plenty of supp if they decide they want to push it back down a bit...will have to gauge internals and
tick
to make sure we don't step in front of a train (-400 to -600
tick
that is quickly bought up as go into that 87-89 would be ideal and
nyse
a/d not making a lower low)
as bruce likes to point out, no test of a prior bracket low yet so let's keep an eye on that as well...
Good eyeball on the 87.50
gap
Nick, didn't see it until you pointed it out. Hey look my rep just cracked a grand, there will be much celebrating!!!