ES Monday 3-17-14
I'm wondering if that was truely weakness on Friday so I can apply my " weakness on Friday leads to early weakness on Monday"..idea..with that said I prefer to be a seller and use 39 - 40.50 as a magnet price today on any trade that is higher than 1843....Ideally I want price to be at least 2.5 - 3 points above the key magnet to make the trade worthwhile.....so even though it isn't snapped on my chart, make sure you know where Fridays
VA high
is too.. ....the possible key buy point may be at 34 - 35 ...that is snapped....and will have us initiate more than 3 points away from the magnet price...
I'm also watching closely 46.75, 50.50 - 52.50 and then 55.50.....60.50 is a key
LVN
price...further down is 28 , 23-25 , 18 and 14.50...not all shown on the chart
Good luck today...hoping to pop up a video later of a key
volume profile
concept
This will be my final thread for two - three weeks as I have to get caught up on some stuff and have some vacation plans
my plan is to look for shorts after 9 a.m as long as we can still use the magnet price.....I will keep it small in
O/N
and trade harder in
RTH
.....lets hope for a good start to the week...here is my crude but hopefully effective chart with the zones I'll be working from
Click image for original size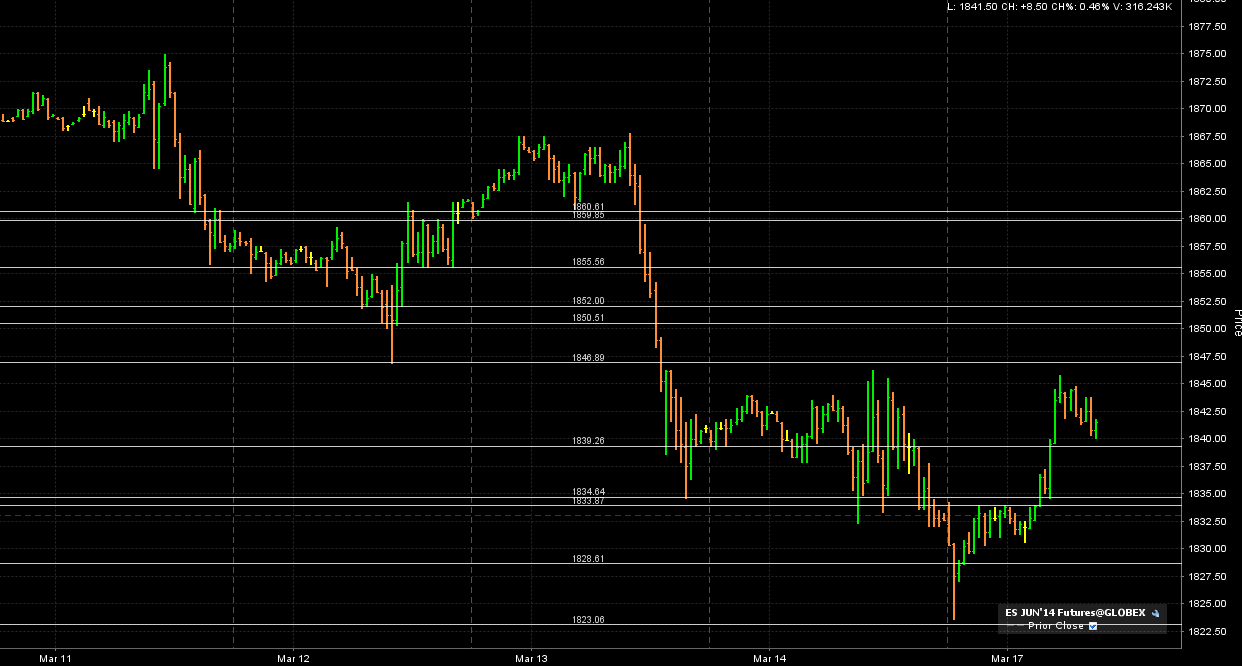 so above 44 is where I am hoping to find some short signal.... fridays
VA high
is nearby.....watch your one minute range closely today ..especially if we open out of that
VA high
....weekly
VA low
is right in the 43 - 44 area too..
gonna be using 40.75 as a target...not sure that we are catching the swing high here in On and we may need to poke above 44.75 again...hope not but it seems likely
my first shorts failed...looking again at 1850.50....damn news related moves...
meant to say 50.50 zone...filled at 52.25...not really liking this either though....we know 55.50 is above if the bulls keep it running
trying to get to 50.50....and if I can't then good odds they will want that 55.50 next
expecting 51 to reprint..so cautiously adding here
was only able to take off enough to make up for first loss......will look again at 55 zone...expecting 52.50 to retest....this is strong bull so cautious..but we only need to get one right today !!
coming out heavy at 52.75 print...just in case.....don't know if it will become support
so I'm not a tbreakout traded so I used the one minute high to take the loss on my
O/N
trade...then my first failure in
RTH
was at 46.75.....the 52.50 and
add
on to get that 51 reprint made up for the 46.75 loss....now my 55 short is profitable...that's the way the morning is going for me so far....OR breakout traders scored big off
O/N
VPOC
.....well done longs!
Nice Trade at 55.00 area Bruce lots of divergences up there from what I saw..
Good evening Bruce. I am fairly new to
market profile
and I was wondering how you enter at your
support/resistance
levels?
Do you wait for confirmation? a bar signal? candle pattern?
I'm getting good at spotting the
support/resistance
it's just when the market gets there I don't know how I should enter.
Thank you