ES Monday 12-22-14
here are how my lines look coming into monday........I have greenies at 69.25 and 63 ..then down below at 54.75 .....I think the 63 will be the magnet and probably will get hit in the
On session
on Sunday night
Click image for original size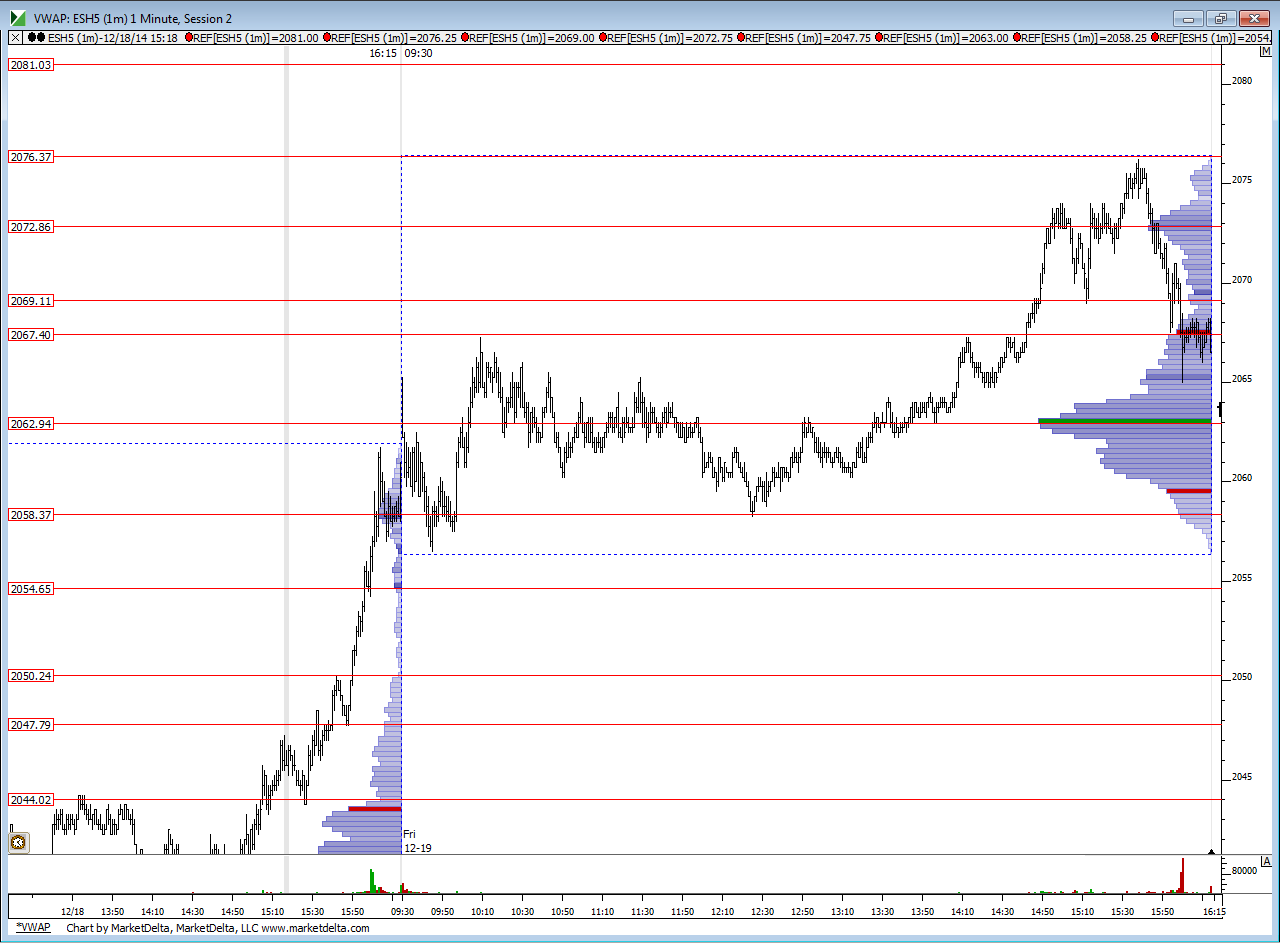 69 is magnet price for me and will also be using 72.75 in early trade..prefer short side this morning ...especially under 72.75
good call on the 69 and 72.75 Bruce
ty new kid...it's typical pre holiday trade so far...I'd really like to see them go get 63 but we can't get too greedy and hold much ...so far we are consolidating ABOVE fridays
VA high
.....so not looking great for the 63 yet..i'd like to see more hits on the
va high
the
PP
or R1 should hit sooner or later. If it hits R1 at 76.25, i will be looking to short it as it is also close to Friday's highs
yes..you'll find when the closing price falls at the midpoint of the day like friday then the math has the R1 and s1 come real close to the same days highs and lows.......so we know we will have at least two sets of players at those areas...those who like the pivots and those who like highs and lows.......I'm not planning on doing much from here on
Originally posted by NewKid

the PP or R1 should hit sooner or later. If it hits R1 at 76.25, i will be looking to short it as it is also close to Friday's highs

this is a great example at how difficult it can be to trade by statistics alone,,,,,,so the pivot comes in near the 4:15 close....so will it be that or fridays high that prints when we open in between them ? ..I think we could use the open print or one minute range as a filter on these types of things....may take a few tries but we will eventually get it right
one of many problems with a day like today is the size of the opening range.....but on the flip side we have spent very little time above it's high so far....so that leads me to think it will be the pivot and then maybe that 63..
agree, that opening range threw me off and i could not get a short working from there. so had to be patient and wait for it to rotate around.
quite a sluggish day today. if i dont see you around, enjoy your holidays Bruce.