ES Friday 2-6-15
Greenies. Not much has changed from YD.

57
63.5
53.5
40
31.5/30.5
94.25/93.5
1/9 and 1/22 are critical. If we go above the highs of those days quickly, then we could target ATH. Else we are looking to go back to 1980s again
here's how I have it...hoping to
add
to this post...static chart first...todays .5 band goes well with a weekly 1.5 % band so watch 65 - 67 closely IF they can push that hard today....no Overnight midpoint or pivot test yesterday......that becomes my main focus........it's a high probability ....video has some more babble
Click image for original size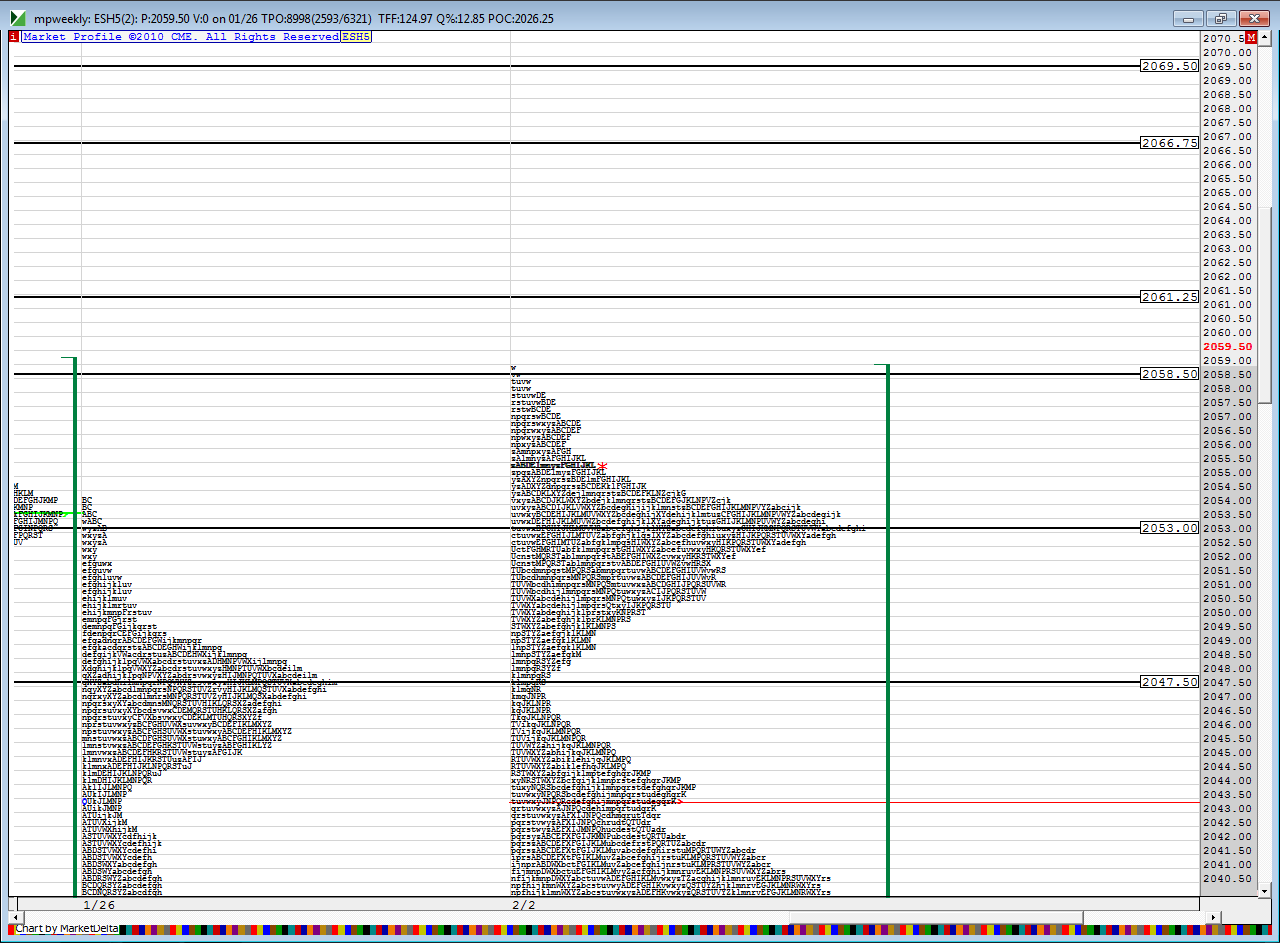 video ramble
edited this as I am in the trade but wanted to take a look at levels above and reason for my short..
.Remember...the weekly and monthly charts give you the broad picture...then you want to dial it down to the daily to refine them...with the R1 at 61.75 it increases the odds for me even further for a retest of my 61.25 again.....so in day session I will take new shorts especially if we open above 61.25..........that is a weekly high and R1 so I am not expecting a breakout today....with On midpoint below R1 it increases the odds for lower too......net/ net is I will be taking shorts still above 61.25 !!!!

starting short trades at 65 right now...going small and giving it some room.....odds favor a return to at least 61 sometime between now and 4:15 close....LOL !!!
not likely they will bust that high of 1-5 and not come back for the retest
NewKid, what about the selling tail of 1/2/15... it's high was 66.75
Paul, that was part of the initial liquidation from ATH whereas 1/9 was the first time we pulled back after the liquidation
started new shorts at 62.50...only two contracts........main plan is still to short in
RTH
but concern is they might come back to YD highs which is current midpoint without being on board in
O/N session
.....I will come all out at one tic above midpoint
I think we should all make sure we have 61.25 on our radar this morning.....%$%#$ have I mentioned that enough.....ha !!! It's a weekly high....!!! they like weekly highs......I think I need to get high...today is taping and spackling sheetrock....YECH..!!....that is an art form that I have no skills for !!!
if this is a true fake out then
Pivot point
sits at YD
POC
.....they should print two standard pivots today ...will it be R1 and r2 or r1 and the pivot.....?
daddywolf, see the attached picture. i was referring to today's
MP
chart. Look at periods H and I. I came within 1
tick
of H's low and rallied back to out of YD range. It tested the critical 61.25 level, made sure there was nothing there and came back to repair that poor low in the K period. We were in the J period when I wrote that post.
Click image for original size