ES Wednesday 9-16-15
Good evening to all. Today we broke out the previous 3 day balance area (9/10, 9/11 and 9/14) and are approaching the 4 day balance area high (from 9/9) of 1978.25. We saw a breakout of the 3 day balance and we closed above it. We did not quite reach 1978.25 today but that along with the 1992 high from 8/28 are the next reference points if we are to break out of this larger balance. We have so many balance areas inside one another that sometimes we can get lost but it is imperative to keep them in mind from a larger point of view. If we do get above 1992, which I do not think can happen before
FOMC
, then there is a lot of place for it to move above. On the other hand, if things break down from here, then 1925, 1898.25 and 1831 are in sight. Stay flexible.
Greenies: 1923, 1934.25, 1940.5, 1943, 1947.25, 1959.25, 1968.5, 1977, 1995, 2012.5, 2053
Click image for original size
Profile:
Today was a 3-distribution day as can be seen in the chart below. The
POC
was in the center distribution and the
VPOC
in the top one. Again, these tend to get cleaned up over time and not necessarily right away. Look where the high of the day is: right to the
tick
of the selling tail from 9/9. The market closed all the remaining distributions from 9/9 perfectly and sold off. This is another indication that it is primarily the day time traders playing right now which also means that such references work very well. We shall see in which distribution do we open
RTH
tomorrow and if we can sustain today's momentum into
FOMC
or if there is liquidation prior to that.
The
split
profile simply shows how today was a trend day up.
Click image for original size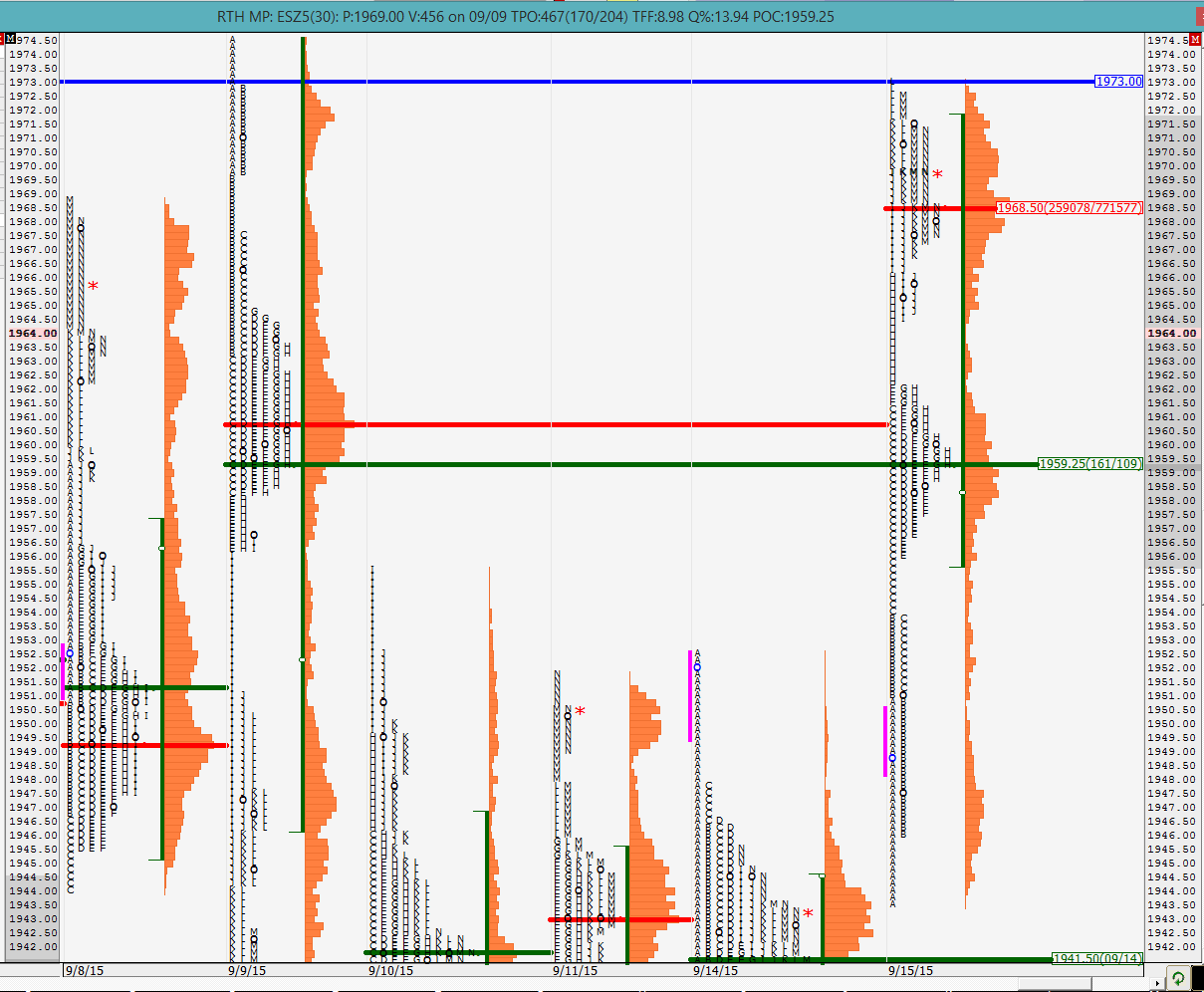 We shall come up with a plan in the morning depending on how the
O/N
plays out and where we open. Remember, that tomorrow is the last full day before
FOMC
. Good luck to all.
The
O/N
action so far is pretty balanced with it being more short than long but I am not putting much into it. Of more interest is the fact that the
O/N
high could not exceed YD's
RTH
high as well as that the low could not get out of the top distribution. All the
O/N
action was in the top distribution which should bode well for the buyers but we shall see. Keep an eye on the references and trade off of them. Good luck to all.
Click image for original size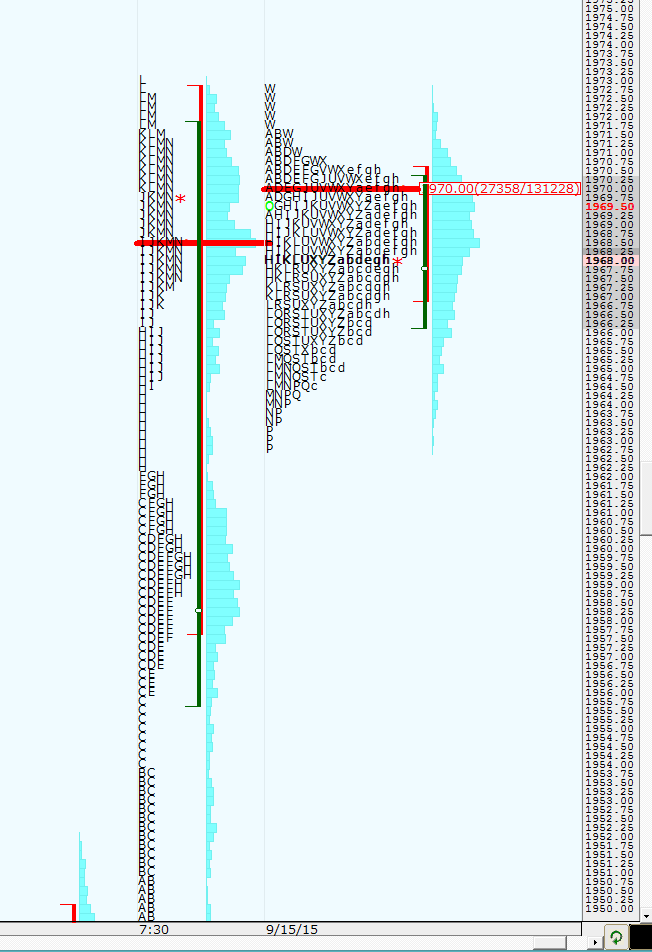 breaking out of YD's and
O/N
highs. target would be 9/9's high at 78.25 if the breakout is sustained. we could just look above and fail as well. need to monitor closely
VWAP
is 69.25 and as long as we stay above it, it should be fine but not much lift so far is concerning
In case we get to 78.25 (looking shaky right now), then this is what lies above it. i cant see the market breaking out too far out of 1992 before tomorrow so possibly some
fade
opportunities might lie above there
Click image for original size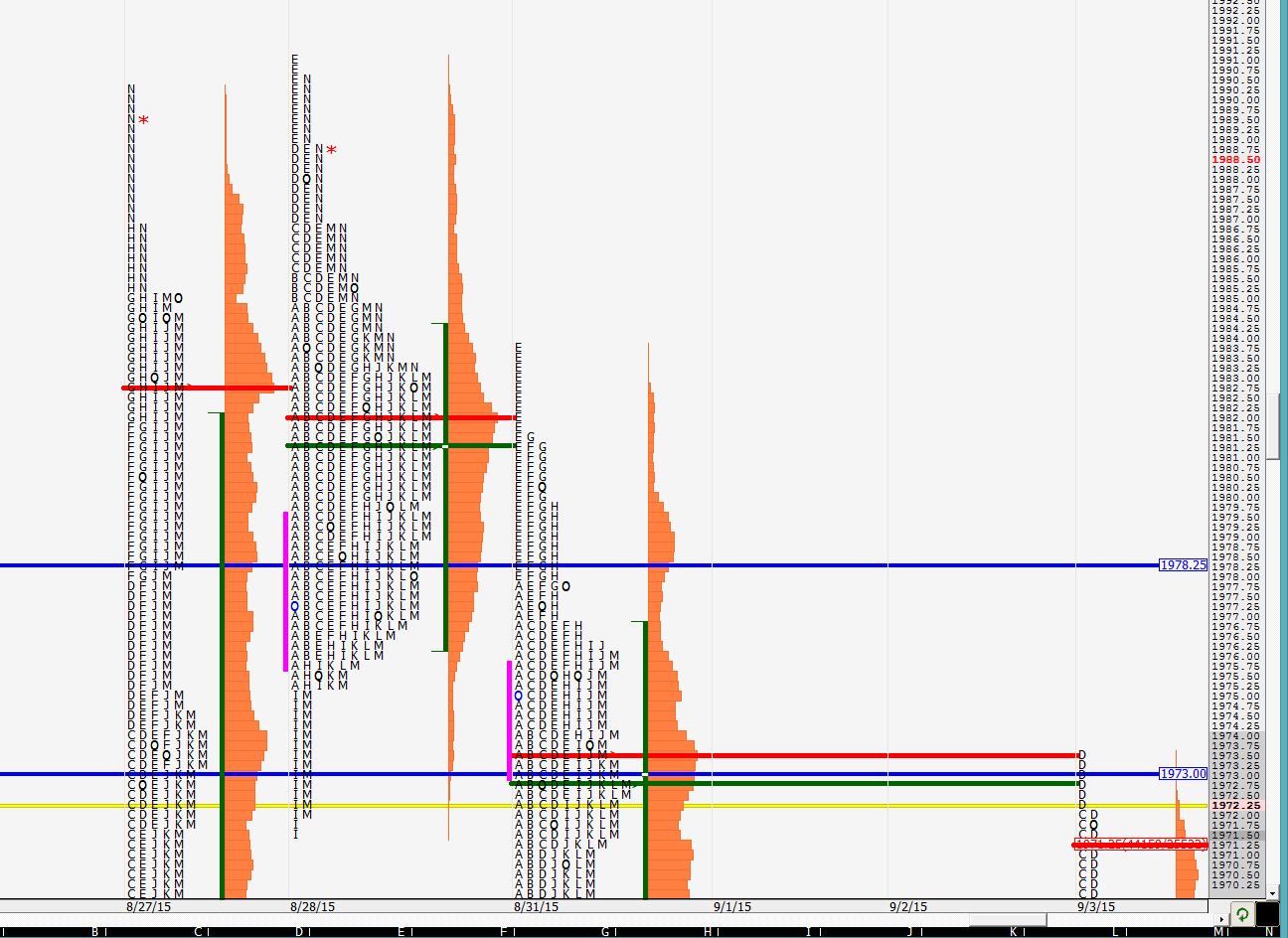 looked above ONH and failed. likely going to ONL now? who knows, I am running cold right now!
its been more of a play the edges kind of a day rather than look for breakouts. i should have known better considering tomorrow is
FOMC
we are spending more time and building volume inside YD's top most distribution. this all bodes well for the buyers so far
we have now reached 78.25. i was just too early on it in the morning :)
i dont think my charts have transitioned well. we are at the
VPOC
from 8/21 on the Sept contract. I need to look into my charts. I hate rollovers