ES Tuesday 5-10-16
Confluent numbers
Daily R2 and Monthly pivot at 2064, On
POC
at 65.50
Overnight high, Weekly SITYS number and daily one
SD
band at 69 - 70.25...so short
fades
need to be cautious as they may push it up to the SITYS weekly number today
Yesterdays highs and R1 at 58 - 59.50...also Aprils close is 58.75
1/2
SD
up today is at 2062 so aggressive traders could sell that in overnight with expectation that the 64 - 65 will slow down price IF it keeps pushing up in
O/N
...59.75 should be initial target on shorts if doing so
here is current Overnight against Yesterday...I will edit this to include a few other
price action
charts to further confirm areas
Click image for original size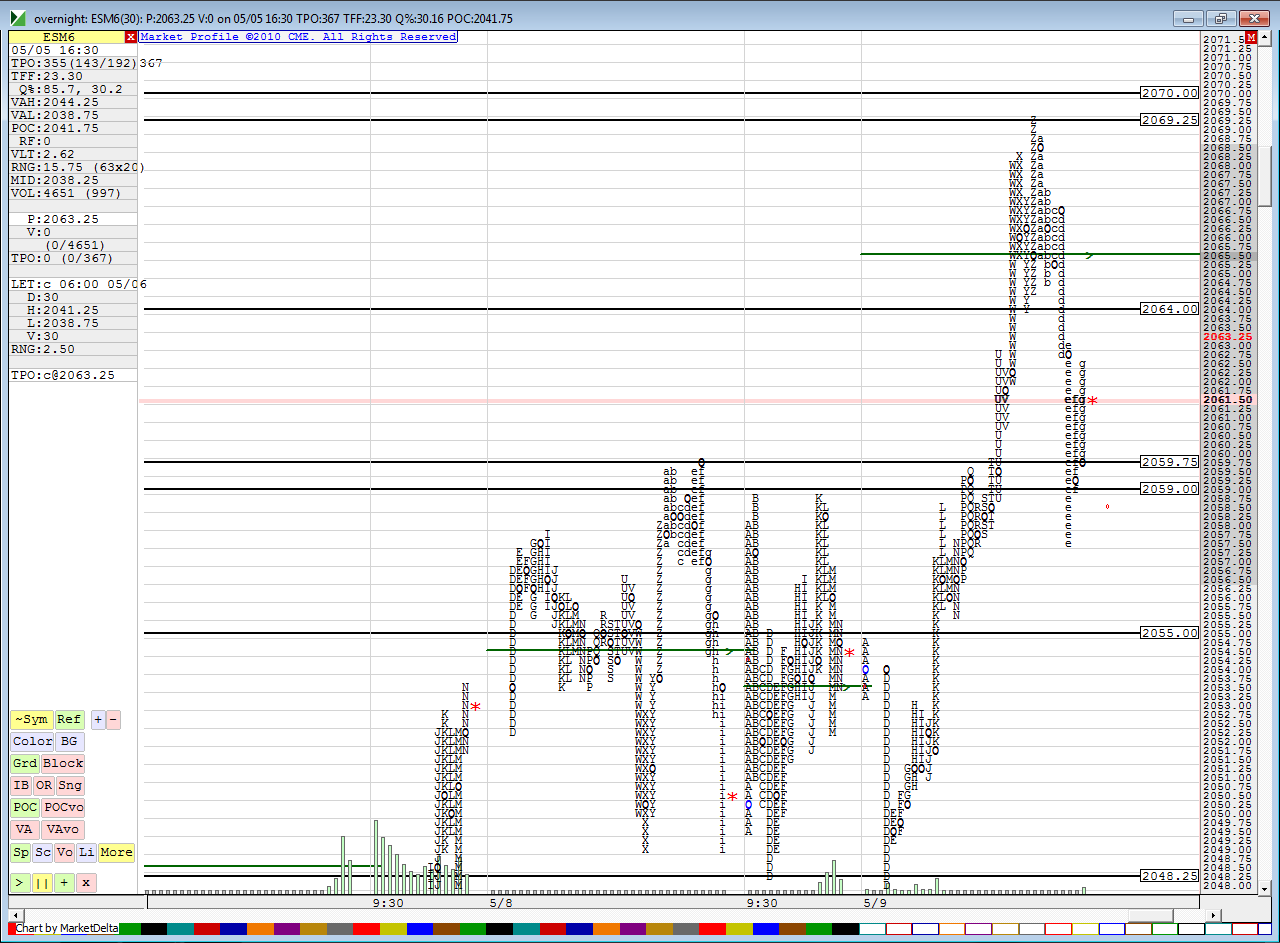 ok, this is last Monday...note the Low time at 2070 and high time at 65.50 ( chart says 65.61)...I also drew lines at the lows in the 62.34 - 63.34 area...this helps confirm overnight prices to me
Click image for original size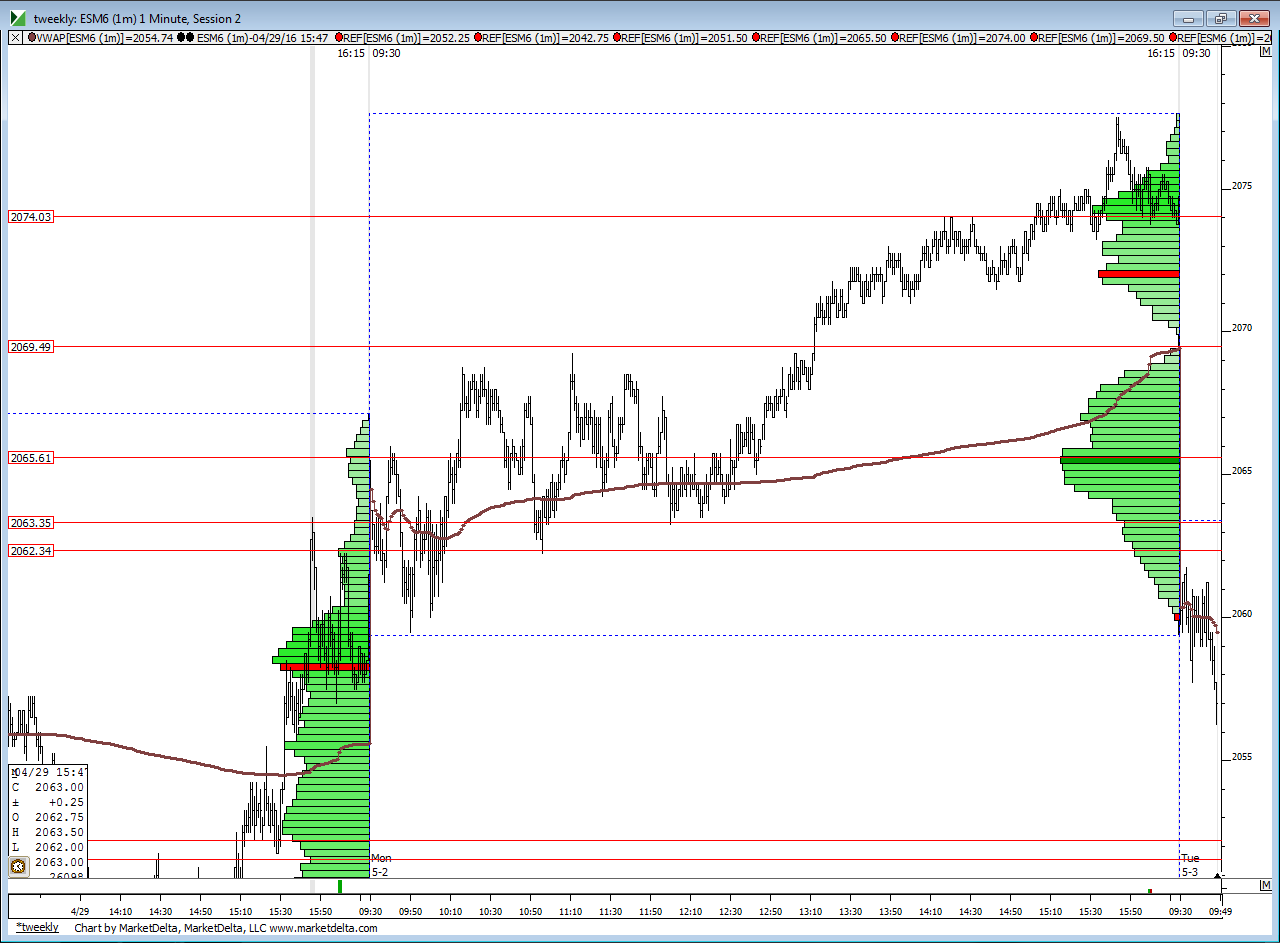 all out at 67 ..may try again if we get outside one sd band and Overnight high ...double high with overnight high has me thinking they need new highs
also weekly SITYS number sits above 2070
they blew through and left low time today at the
POC
of 65.75 from 5/2...many will be trying for that ...I have "issues"...and conflicts for holding to that hence my all out exit
gonna try to find a long off the 65.75 - 66 if I can...I am not a good trend trader but that On high is tempting me to get long
Glad to see you have been posting here Bruce. Also, NewKid as well. I want to pull the trigger so bad but the shift I work prevents it during the morning hours. I will follow your post Bruce and enjoy seeing you take a chunk or two out of the market. Keep it up bro..

sharks57
thanks Sharks for the good words......
Originally posted by sharks57

Glad to see you have been posting here Bruce. Also, NewKid as well. I want to pull the trigger so bad but the shift I work prevents it during the morning hours. I will follow your post Bruce and enjoy seeing you take a chunk or two out of the market. Keep it up bro..

sharks57

If we had traded PAST the overnight high first then I would have faded and tried for that
POC
retest below which was also todays R2 but since we dropped back BEFORE taking out the
O/N
high I got Long for that break...a subtle but important distinction...that's it for me.....you folks have a great opportunity tomorrow as it seems the overnight midpoint will not be tested today which increases the odds for a retest tomorrow....I won't be around to trade for it but hope it goes there for ya tomorrow
weekly SITYS number has hit.......Newkid....Dr. Brett was the first one who posted stats on Overnight high or low and we were stealing it from him and posting it it here on the forum before ft71 was on the scene....just trying to make sure Dr. B gets the credit..( he also gets credit for inspiring the On midpoint idea)...nothing against FT71 or anyone else....we're all thieves and take what we can....I actually don't like trading for the Overnight high or low most days.....it's a tough and well known reference....gotta run...have a great one !!
confluence 74 - 75.75 if anyone is trading ....only 16 % chance we close OVER 70 and about 6 - 8 % chance we close over 78 today...
one time framing
can't go on forever