Es Friday 5-20-16
a quick pic of the lines I'm using...confluence with R1 at 45 area and pivot number at 33.50....working on a video to go over some other things and weekly bar info..so I'll edit this for anyone who wants some other ideas and video ramble...but for now my plan is to sell in 45 - 48 area and to also sell in the 50 - 52 area ( R2 and a
VA high
is up there). I f you get the 45 area short then I would scale at Wednesdays close just in case.
Click image for original size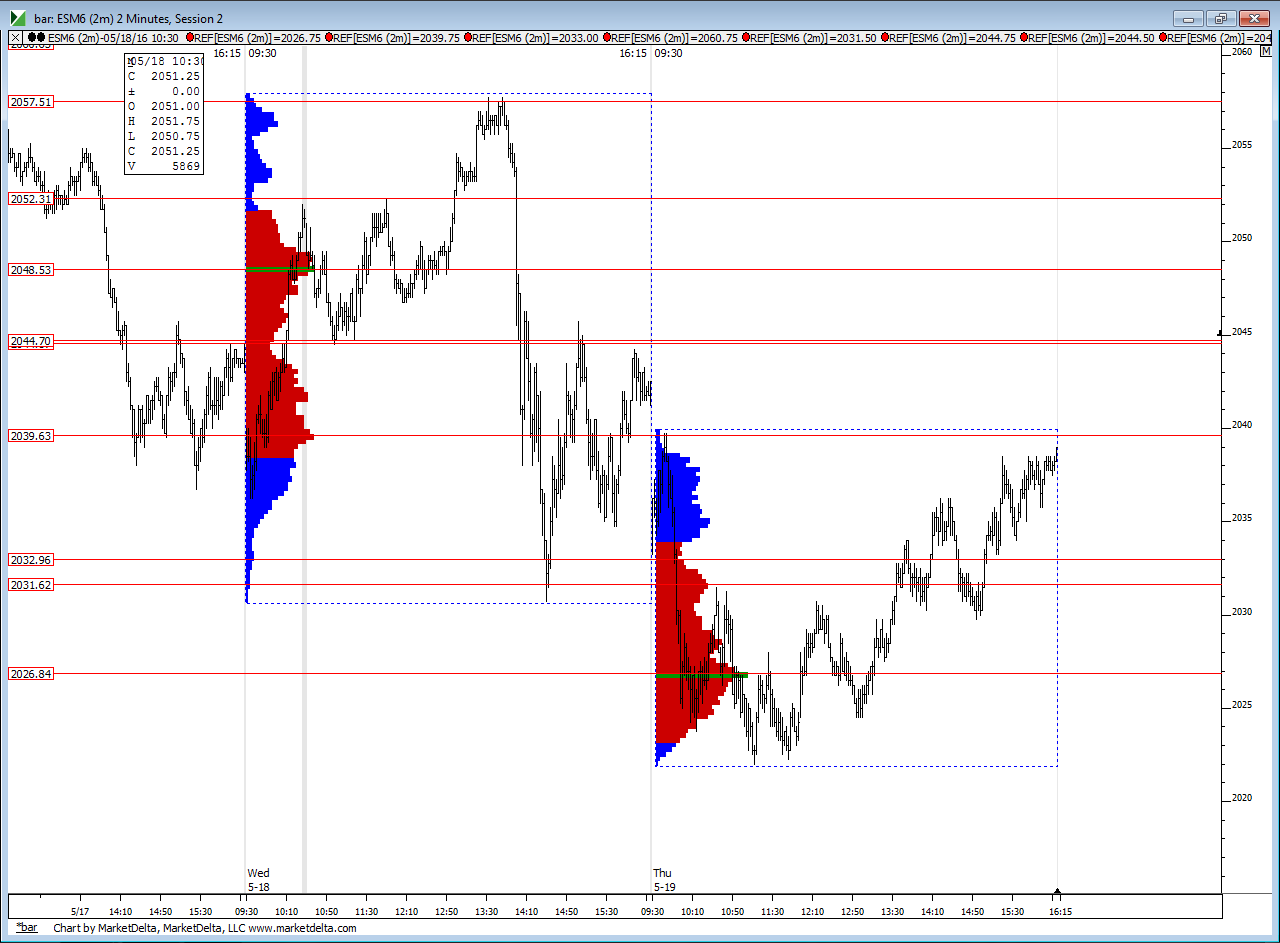 bands
1/2
SD
up ( The SITYS #) comes in at 45 area too
Click image for original size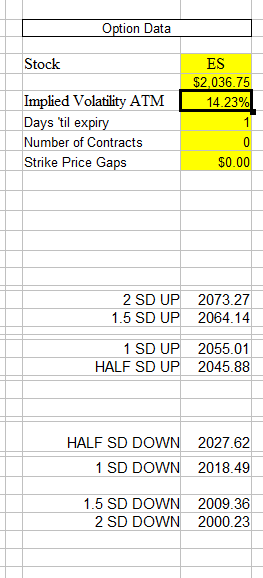 I refined my lines a bit
because I had a chart setting wrong...video covers that quickly and then goes over the weekly concept.....I'm basically asking the question "How many
tpo
's can we expect at prior weeks low or highs...not just the previous weeks but any weekly range we pass through.....? Would make for an interesting study
absolutely. it is just the very short time frame traders. feels like building a house of cards.... hopefully it crashes soon. i cringed as i wrote the word "hopefully"
Originally posted by BruceM

what kind of traders are in here if they can stop it to the exact tic of a zone like that 49.25 ? Just us small frys again I think

i got 4 out 6 question yes.so i say the day finished..have good weekend
i'm working overtime to make up for loss of trading yesterday...had another kind or torture....ROOT CANALl !! I will continue to look for sells at the 52 .25 but if we come out of
IB
high then I will stop looking until we get back under the 52 ...I'll set an alarm in case it happens later in the day
can't remember where this stat came from but somebody once said that we only close beyond R2 ...5 % of the time ...with one
SD
band at 55 area this is still a good zone...Ym not on Board with this move....so we can still look for sells but stop looking if
YM
decides to get in synch ...so last try for me is going to be above
IB
high....more conservative would wait until ( if ) we get back below that 52.25 ..and try to get that damned 49 number
My trading plans are changing as I bring in more information and that isn't usually a good thing...becoming too fixated and my bias may bite me up here
yeah this just keeps drifting in the wrong direction for me.... sucks to end the week this way
I'm only trying to get to 52.25.....as first target...then will either be stopped out on runners or will try to hold for that 49...this is small as it is beyond my time zone for good trades
ym hit is
Ib
high and back to R2 and is trying to sell off hard...so there is still hope that we can catch a bigger piece of this move...sorry it's not going well newkid....they are making us work hard today for sure...but in my mind I am "The
Pitbull
" !!
look at that, they even got the 30 minute
VPOC
...without me but hopefully someone got to tag that probability...ended up being an ok day but challenging...I thought it was cool how the 30 minute
vpoc
went well with the overnight high...that volume confirmed that area....interesting to me as a technical trader...this would be a dangerous place to trade now ,,,the buyers tried many times to get back out of the upper Low time areas from Wednesday and have failed only to fall back to the high time from that day.... I think if 51 - 52.50 can hold back buyers then we still have a chance to get back to the 2044.50 and lower......we'd also wantto see a weak
low volume
bounce off the R2 level that the
NQ
hit into...that would help
I'm not trading so this is all easy to say....hope all have a great weekend