ES Friday 6-24-16
lines I am using...zones are bigger and so will be volatility so it's not the day to average in..best to take multiple tries in your zones..for example if the breakdown point is 45 - 49 then look for entries at 45 and also at 49 ...Ideally I'd like to see a push away from the magnet zone that starts running out of steam ( volume) and then take a trade back towards magnet zone..these aren't the only line but they are the ones I am using early on.....it's friday and we don't want to get stuck in a plunge and have a big losing day today
Click image for original size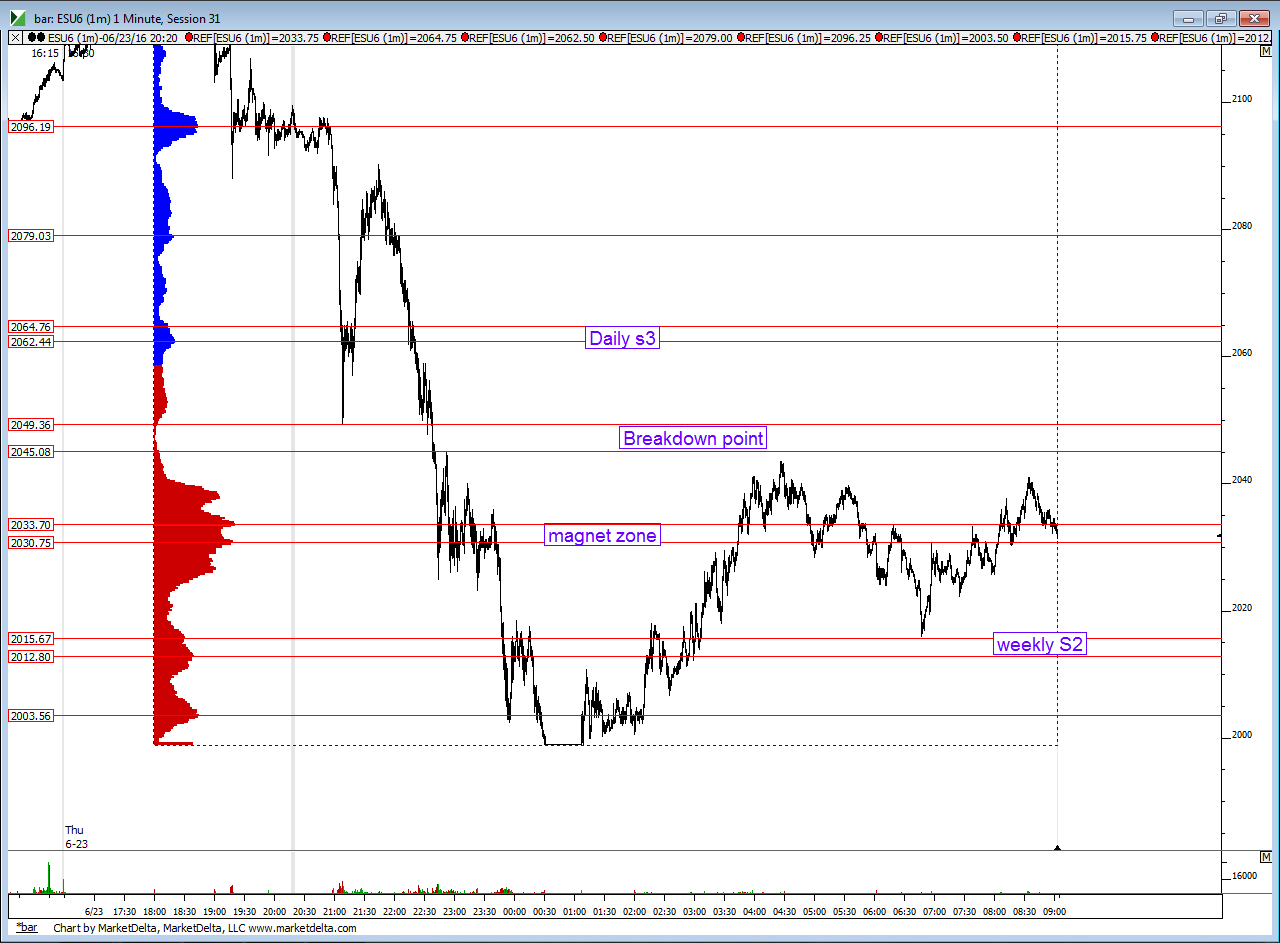 interesting that "magnet zone" is a
VA low
from back in May and with that weeks lows at 2022 and the one standard deviation down off the weekly at
2022 I would also add that number into the mix today...not shown as marked on my chart
.....it also helps break up these bigger areas and gives us some ideas to trade from
i be buying the
rat
at 2025 with stop at 2012..and target will be on midpoint at 2059..wow those are big numbers swings.
I am not sure if I will be trading early today. i think a lot of people are going to be adjusting their positions at the open and things could get pretty wild. i was monitoring stuff last night and saw a lot of people trading and making money, but you never hear from those that lost money. good luck guys and hopefully i join in soon too!
I'd like to see some dry up in volume as we push up to come back down and test 33.75..ideally from as close to 2045 as possible and if wrong there will try at 2049...those are my first 2 areas to try
fades
from...but gonna have to be more selective this morning due to increase in Volatility...I will not take stupid trades today ! That is my mantra !!!!
no trades yet for me.....low from 6-17 will probably be my first try ...that is at 2053 .....not shown on my chart..if wrong there then 2062 will be their magnet
i see a naked
VPOC
at 62.75 from 6/17. I am not trading it but just putting it out there for someone who might be interested
coming out heavy at 2046.50..this is back in breakdown zone and if support is gonna show up it will be in the 45 - 49 zone I think........
big areas...harder to pinpoint.......one mistake I made ( and it is a big one ) is that I didn't match up overnight to day session data....as a rule it is better to mark lines on day session first and then use overnight to confirm those lines... I believe that todays chart posted needs lots of fine tunning and with the news we shouldn't expect our areas to work that great in general.....I prefer to trade on non news related days
anyway , watch 46 - 48 carefully for clues..... that is an anomolly and a
VA low
from 6- 16 ...so I am also trying to fine tune now with just day session ranges and value.........always learning !!! can't trust just the overnight data on it's own
yesterday and today I marked off overnight lines but should have concentrated more on day session..at least yesterday I confirmed my overnight lines with day session...today I didn't put in the effort to really take a good look at day session areas.....
look how market is trying to get into
VA low
from 6-17 now...I am trying to get long now to go get that 62 and midpoint of overnight....small size on all
I believe I could have done better work today but here is summary of today against lines posted.......not perfect and as mentioned looking at day session first would have been a good help at fine tuning the areas
Click image for original size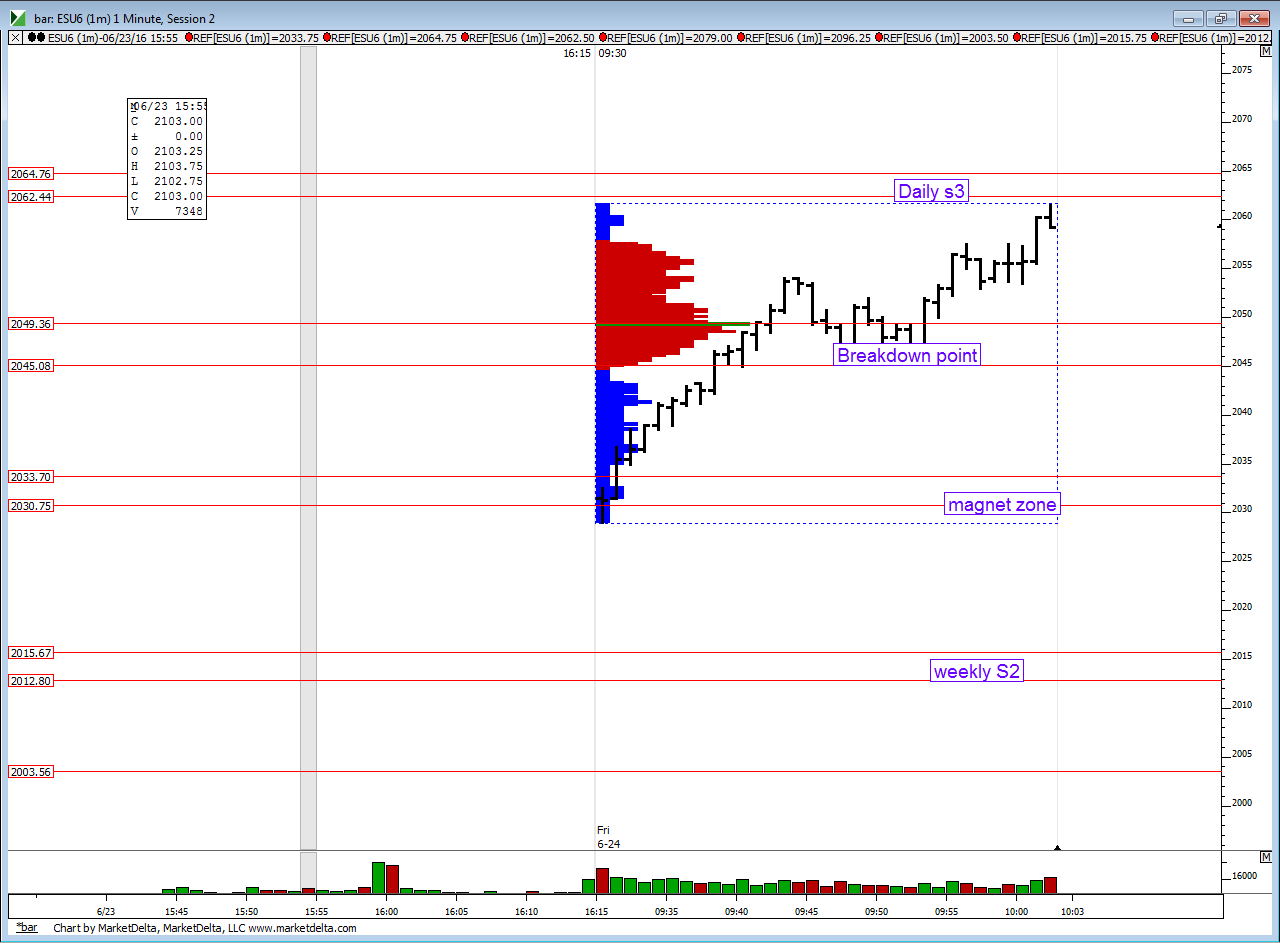 hope all have a good weekend...you may pay if you stay and play........
good trading as always Bruce. you did great today. have a good weekend