ES Wednesday 10-12-16
28 - 30 is first support ....for early trade and the daring....making a video now of numbers I think will be in play..so I'll edit this post ...no midpoint for two days in a row....will this be a third day ? I'm not betting on it...
EDIT :I needed to make some revisions after firing up my profile charts and my
Market delta
.....key one being that I think 26 - 28 is a better zone then the 28 - 30.......a problem area and a real pain is that 32.50 - 36.50...a big zone and lots of mess and numbers in there...best to use the 32 as a first target ...video explains the rest...yesterdays profile is real ugly and Dalton would probably say that it needs to be repaired....so expecting some upside especially if they can firm up above 36.50 and build support...
hoping to make this a short day and don't expect any opens and drives to last in the market...meaning that often after an open like yesterday they will give the illusion that the same thing is going to happen....but that usually just sucks in the wrong side traders....so should be a good day for faders....
and a hard copy of the lines I think are most important for those who don't want to hear me ramble and want to match up their numbers....keep in mind we have a 96 % chance of getting to 36.50, the pivot or the S1 at 19.50....
Click image for original size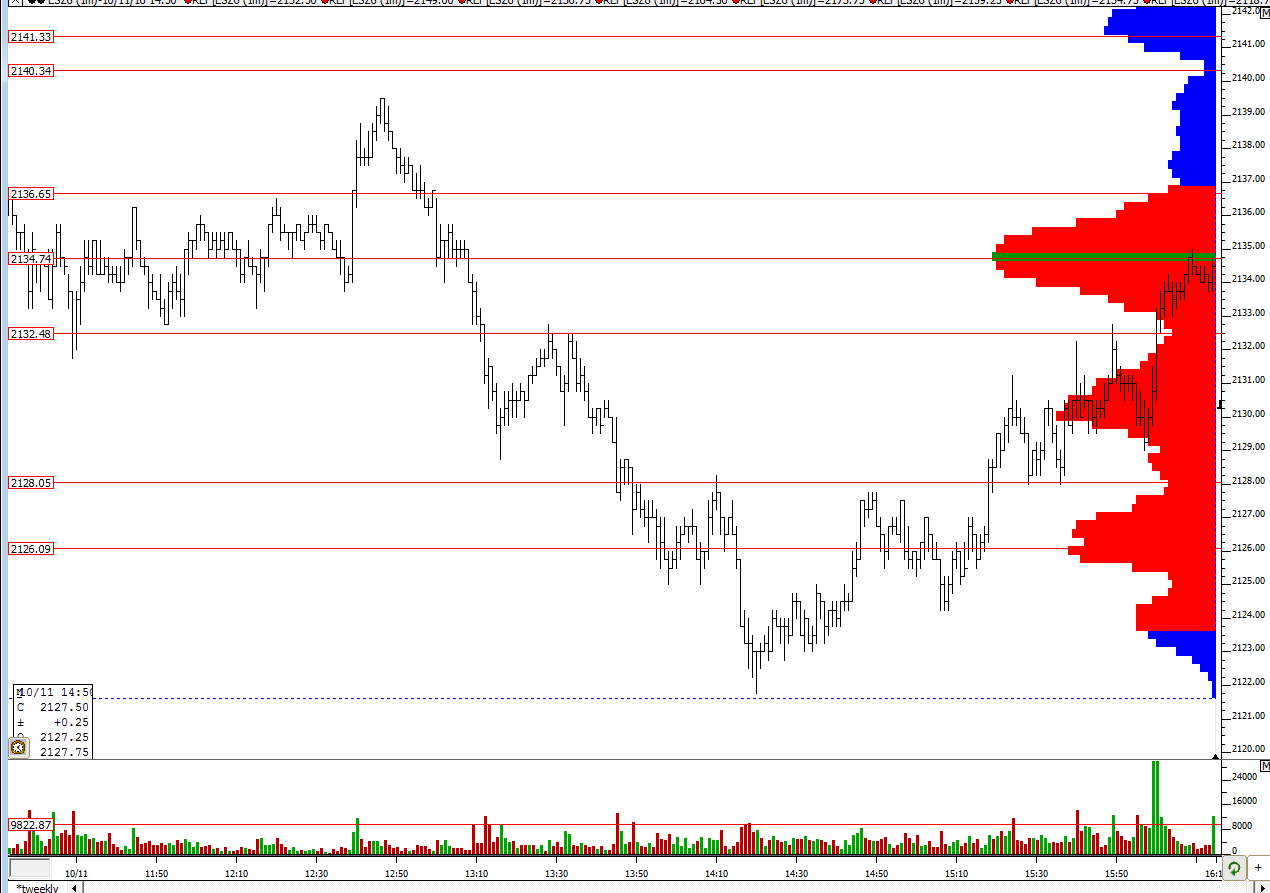 Currently weekly
VWAP
is at 41.5 and the ONH was just short of it.
Single prints
at 43 and 43.25. YD's lows were tapered well on the profile and the highs had good excess too.
FOMC
minutes release at 2pm EST today. I am going to be spending some portion of the day today doing research. Good luck to all. Sorry no charts today from me.
many have read this from me many times over the years but it is always worth repeating....at least in my opinion....


the day following a challenging for faders provides some of the best trades - it's as if the faders want to get even for trend traders giving them a hard time the day before


my runners are trying to get to 36 but we know tons of stuff might get in the way and we have a very poor low - 4 one minute bars with the same low....but ya never know....we still have our probabilities for the pivot or the S1
best fill so far is the new high into the one minute
poc
from YD..now we really will see if any buyers are in here or this is just fluff
flat at 34...didn't see
gap
in the data down at 28.50 and I am satisfied for today.. also
gap
at 32.500...I'll let others try for pivot...I'm done and if I do take a trade it will be to the short side and will be small !!!......I hate that 32.50 - 36.50 with good reason
going to try to short the 36.50....keeping this small and try to target 34 and then
gap
in data at 32.50.......very small tries here....I'm ok with giving back a very small fraction of first campaign wins but not gonna be an ass about it
well, a very cool day..gonna either get stopped at 34.25 or get that 29 target......that's it for me...c ya tomorrow...no volume now...may need to just close it out and forget that
gap
......
just exited at 31 even......not waiting around and since I came within one tic of target I would be risking like 5 points to get that extra tic...that is just plain stupid
thanks new kid....I should probably just trade days after trend or big days and then days that show two failures of midpoints......now if only somebody could tell me I was a good options buyer.....LOL....my 78 cent options are worth 79 cents as I type.........lets party !!........
Originally posted by NewKid

great trading Bruce

I'm still holding my 30.50 short but the bigger plan was to give this plenty of room due to the fact that I was hedged with my long options......this was an experiment for me that didn't really work very well and it seemed a bit confusing to me ( I also had a big
drawdown
on the short side even though I had those calls).....my
ES
contracts were losing more then the
spy
long options were making........so I'm leaving the
ES
shorts on for that 28.50 target in the overnight now
this is not an idea I was very comfortable with and don't think I would do it again....I'm just a grunt trader and my mind doesn't handle complex ideas well....and this wasn't really that complex....bottom line is that I didn't enjoy this......luckily my wife watched most of it as I was painting.....that was no fun either ....LOL... c ya in the morning...hoping to see 28.50 target in overnight and the sooner the better