ES Friday 10-28-16
Not much for me to look at today...My plan is to try sells at the pivot of 29.50 but more important would be trade that blows through the pivot and goes up to the
POC
at 31.50...if I get the 29.5 short then first target is
single prints
from yesterday at 26.50...If I get the 31.50 short then first target is the 29.50 pivot and then runners try for 26.50...other area I like for a
fade
is 35.50 - 36.50...we have price swings and R1 is up there...It's friday and will trade lighter....nothing worse to me then being wrong on a Friday AND trading with too much size...I'd rathers have a smaller win day ( if given the chance) at the expense of risking more for bigger profits....
If we drop down first then I have two areas I would look for a possible long reaction...that would be 2120 and then 2117 - 2118.....so we could consider that two small zones close by......watch for your volume and
tick
divergences at the key areas
26.50 is my key magnet price...just not sure we will be able to use it
6th one minute bar was inside after volume at YD low...break of high sent me long...trying for 26.50 and then pivot test....revised plan
this is how that trade looked.....note the volume spike and then the inside bar...this was mostly a
price action
trade.... a subtle help was that the 6th one minute $
tick
bar was trading above the 5th bars high at the time the
ES
was forming this inside bar...
Click image for original size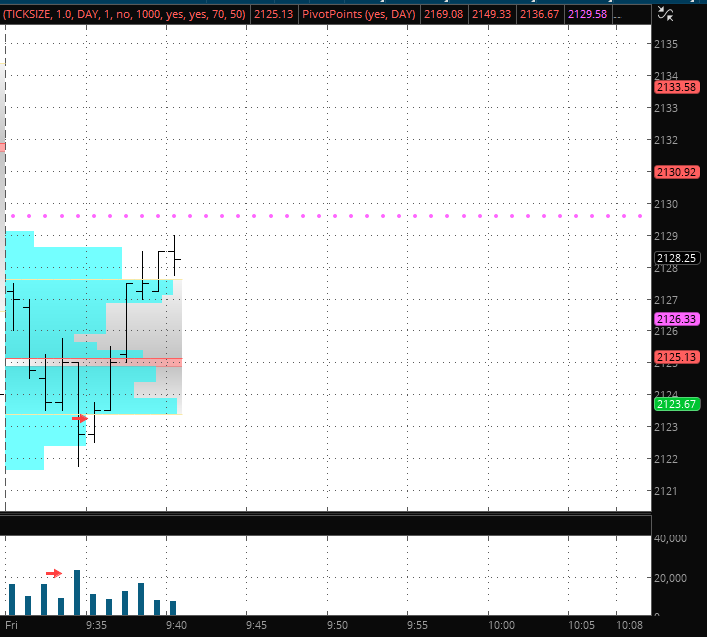 flat at 30.5 as I am making this post....that's it for me.....may try one short if I see a volume
tick
divergence
up here but that would be very small
so u can use volume/
tick
divergence
to cover longs.....as we DID have one as we pushed through the pivot...I think we are gonna drop back to 26.50 - 27.50 again...and will watch to see if we get another
divergence
if they push it into the 31.75 number but otherwise I'm trying the small short
flat on all 3 at 27.50...not waiting for 26.50 ...that was classic
divergence
into a key level...the pivot ....see yesterdays thread for chart examples...will try to get a vid posted in a bit
ok....I hope these help with entries......we can spend years ( and I have) discussing numbers and levels and of course those are important but It's a good idea to get back to posting some classic things that work........this video basically shows the dry up in
Ticks
and Volume as we pushed into the pivot....the
divergence
setup that happens again and again....I think most of these things work best on the first tests of the day and that is just one of many reasons I prefer to trade early
my comment about the daily high or lows is not meant to be insulting...I just think that certain levels are a given and I don't mention them...even the standard
RTH
pivots should be a given but I know many are using all session pivots which I feel are NOT as accurate as just the day session...to me the cash session isn't open over night and many traders key off cash markets....so why would I use all session ? To me that doesn't work....ok...nuff said...enjoy the weekend ......
I also didn't have my profile up on the one minute when I made the video but at the time the
divergence
happened the
POC
of one minute time sat down at 27.50.. hence my target
heading out to my local library now to go pick this up .....believe it or not my 14 year old son has never seen a horror movie...so in honor of Halloween I'm going to have him watch this classic...
https://www.youtube.com/watch?v=NG3-GlvKPcg
If current
$tick
/ volume
divergence
plays out then the retest of 31.75 is what I think most would try for off the 34-35 area highs......not taking it but just pointing out this current
divergence
...naturally they don't all play out as planned so it will be important for those watching these to see the failures....it's always best to take the trades at a reference point....taking them all over the place will put you on a fast trip to the poor house !!
I think it would be ok at the 34 - 35 level because we had some swing highs there yesterday...good luck
edit...and let me
add
that they blew right through the one minute
POC
...so odds favor a retest to come back down to it from above...just saying it and not playing it
here is a screen shot for those interested.....
Click image for original size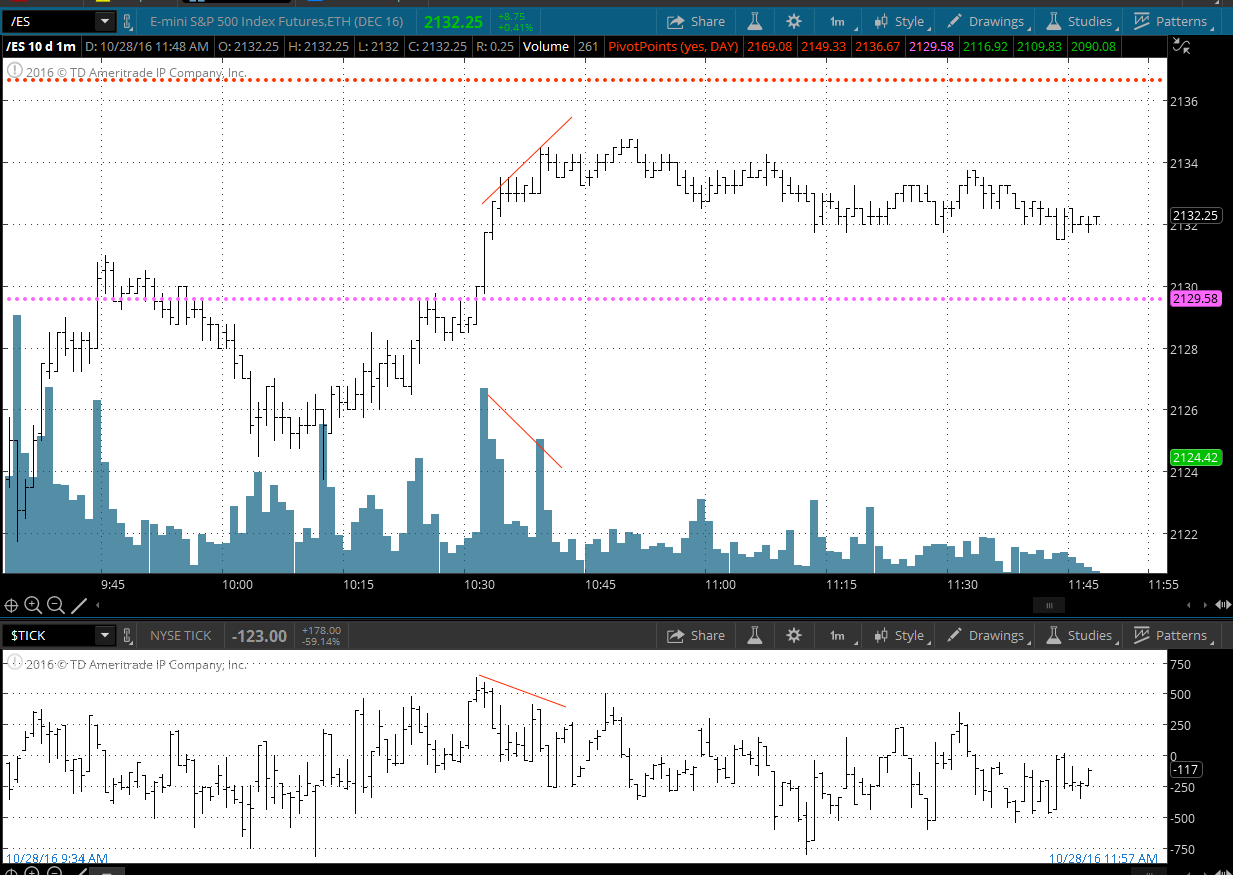 Originally posted by BruceM

If current $tick / volume divergence plays out then the retest of 31.75 is what I think most would try for off the 34-35 area highs......not taking it but just pointing out this current divergence...naturally they don't all play out as planned so it will be important for those watching these to see the failures....it's always best to take the trades at a reference point....taking them all over the place will put you on a fast trip to the poor house !!


I think it would be ok at the 34 - 35 level because we had some swing highs there yesterday...good luck

edit...and let me add that they blew right through the one minute POC...so odds favor a retest to come back down to it from above...just saying it and not playing it