ES 5-17-17
I forgot to mention that last WEEKs
VA low
is at 2388 so that adds more confluence to that area and buyers will really need to hold above there in
RTH
to have any shot at recovering from this news related selling. Here are the key areas I will be using today. I've also included a hard copy which includes most but not all the key areas for those who don't have time or don't care to hear me ramble. the hard copy is the weekly chart. It also includes the 2396 number not shown on the video. Really should be a zone between 96 - 98.
Click image for original size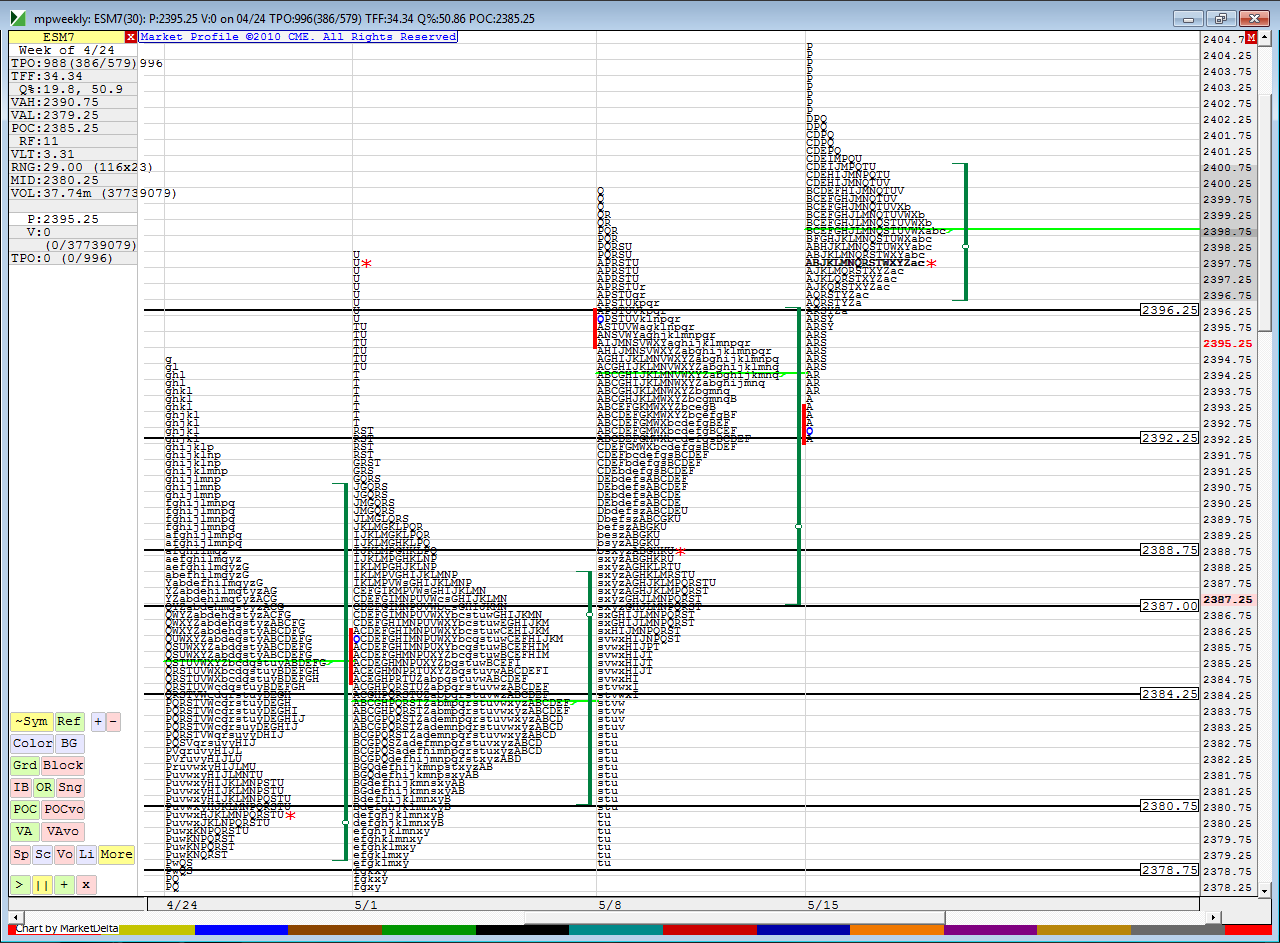 edit : adding a new video in 9:25 a.m
starting longs off s3 this morning......
I'm using entire range of 2373 - 2376 as a possible support zone in early trade....this is key
gap
zone....if we can get above 80 and firm up then 84 would be a great target but that might take some real work...be careful on
fades
on this opening
gap
in the data from the overnight at 86.25......this is an untested idea...I have looked at these in the past but with crappy data...in this case big volume came in to form that
gap
in the data...will show when I have a chance
75 % of the time they will hit two floor trader numbers...they already took the S3 so I am hoping they can push it to that 2388 ulitmately but still will be concerned about that 84 number on my chart....that is critical line today I think
let me
add
that it is a real pain in the ass and frustrating some days to get information out that is usable in a timely fashion....focus on the concepts and if there are any questions then please ask...a subtle distinction about multiple time periods at weekly highs or lows and other ramble
Love the vids Bruce!!!!
Thanks!
taking new small longs under overnight low...this is very small and risky...
I think the best way to play the possible return to last weeks low from down here is to either buy calls or sell puts......just too volatile for most traders so be careful if you want to trade for the 79 retest from down here.......
first 30 minute
vpoc
is up at 81.75 FWIW....I took small loss at 74.25 and am trying again from 72.50 with the plan to
add
to this in the 69 - 71 area....target is now a weekly low at 75.50 first if they will give it ...I also sold puts down here,,,69 - 71 is now my next and last key area but going in ahead of that...ideal target is still the 79 but we have that other low to use as a target first
the afternoon traders who are bold will be buying or trying to buy the 57 - 58 area looking to see if they can get price to probe up and out of the 62 - 63.50 highs...todays selling structure isn't that "pretty" meaning it has some spike and edges above......but those could take a few days to fill in