ES Friday 6-23-17
very poor environment for trading and it's Friday...first chart shows the breakdown point from yesterday in "M" period...( I
split
it out)..so that 36 - 37 is the price sellers want to see it stay under in order to get poor lows mentioned yesterday ( R1 is at 2437 too) ...so we have some confluence there
Click image for original size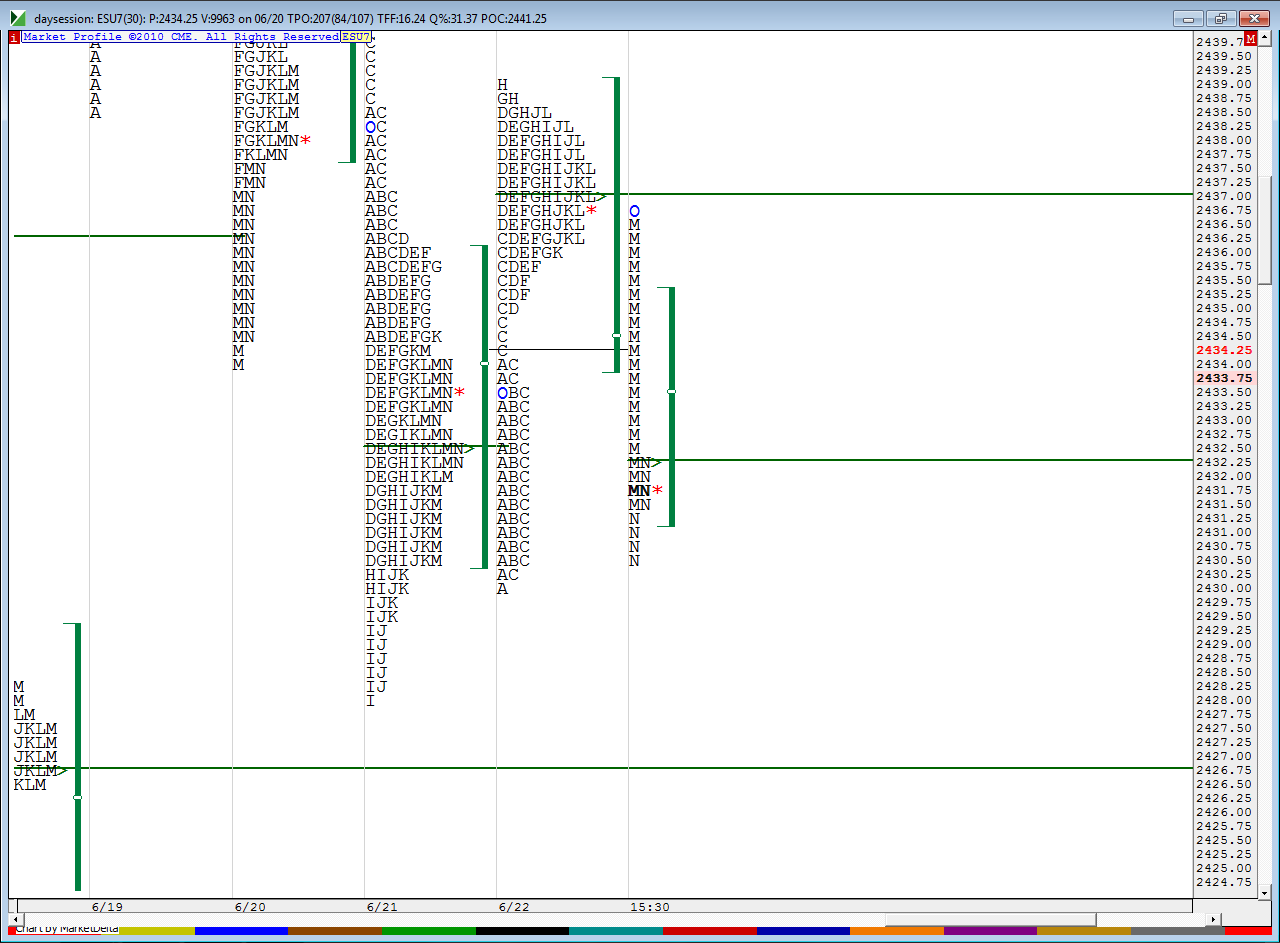 second chart is my favorite and shows how we had two bell curves yesterday separated by a low time spot at 33- 34.....Pivot number today is 33.50 for more confluence.
Click image for original size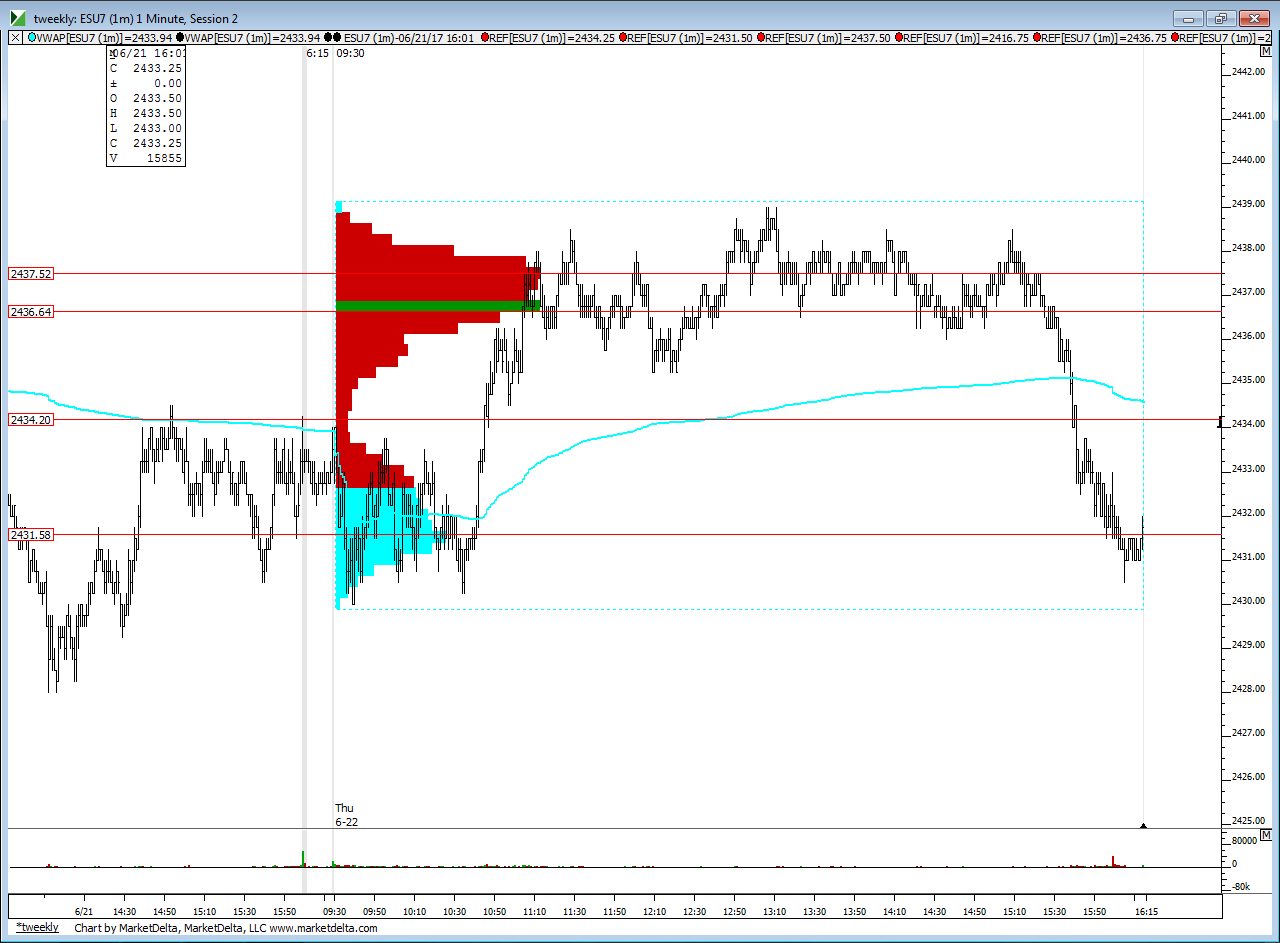 we also had the close right near center of lower bell at 31.50 and that is only two points away from the pivot/ low time area above...so that makes things more difficult when we have numbers close by
S1 sits down at 2428 which is right near wednesdays poor low and the
poc
from last week at 2427..........we also have a poor high from yesterday so we can't get too bearish with that sitting up there.......good luck today...I think we will need it...my plan is to trade for 33.25 test from 2435 and above here in Overnight session...not very grand byt that will have us hitting back to current overnight midpoint which happens to be the
VA low
from yesterday too
that Johnny Walker red I had for breakfast is really helping me stay calm....almost to the point of being dead...it comes through on the video.....
Hope all know that I am just joking....we need to keep all tests down near 2430 to a minimum if we are to have any chance at getting that pivot number...this could just as easily roll over ...
YM
is at it's S1 now....so if we are to turn back down then this could be the area
yeah...u and Avid are correct...I can't read charts today either.....
Originally posted by apk781

s1 at 28.25 hit to the tick on that dip low fwiw

Good call Bruce to the upside, I am actually 1.5 pt to the positive.. Keep the Johnny Walker Red comin', we got a long drive ahead of us!
On my
TOS
data they have not officially touched an S1 or Pivot number on the chart as the software paints it ..so even though they came down to that 2428 the software does NOT show it as being traded through or touched....an interesting and subtle concept...and to be honest I am not exactly sure what to make of that today......
so far we have had a breakout from yesterdays
inside day
that seems to have failed...at least that is the illusion so far...after 10:30 if my theory is correct we will need to come back to 2432 to shift weekly
poc
down.........but that could happen at any time between 10;30 and the days close ...LOL !
I'm looking to exit finals at prints above 33 and will probably not hang on for any official pivot number print
I pulled off everything at 33.. I am all out
Ym will very soon be hitting up a two day bracket low....so i would not trust any rally up here and would not be expecting too much...Es at the same time will be hitting into the low time spot that separates the two distributions from yesterday.....I'm done and glad to be ...Hope all enjoy the weekend
Just noting the PD high and
O/N
high held up at 38.50-39, looks like we're getting a nice reaction off this level