ES Tuesday 8-22-17
Lines as I see them and a hard copy who don't want to hear me ramble but second video...( Which I will make now and
add
to this post) may be helpful to some
the below chart doesn't show yesterdays trade...
Click image for original size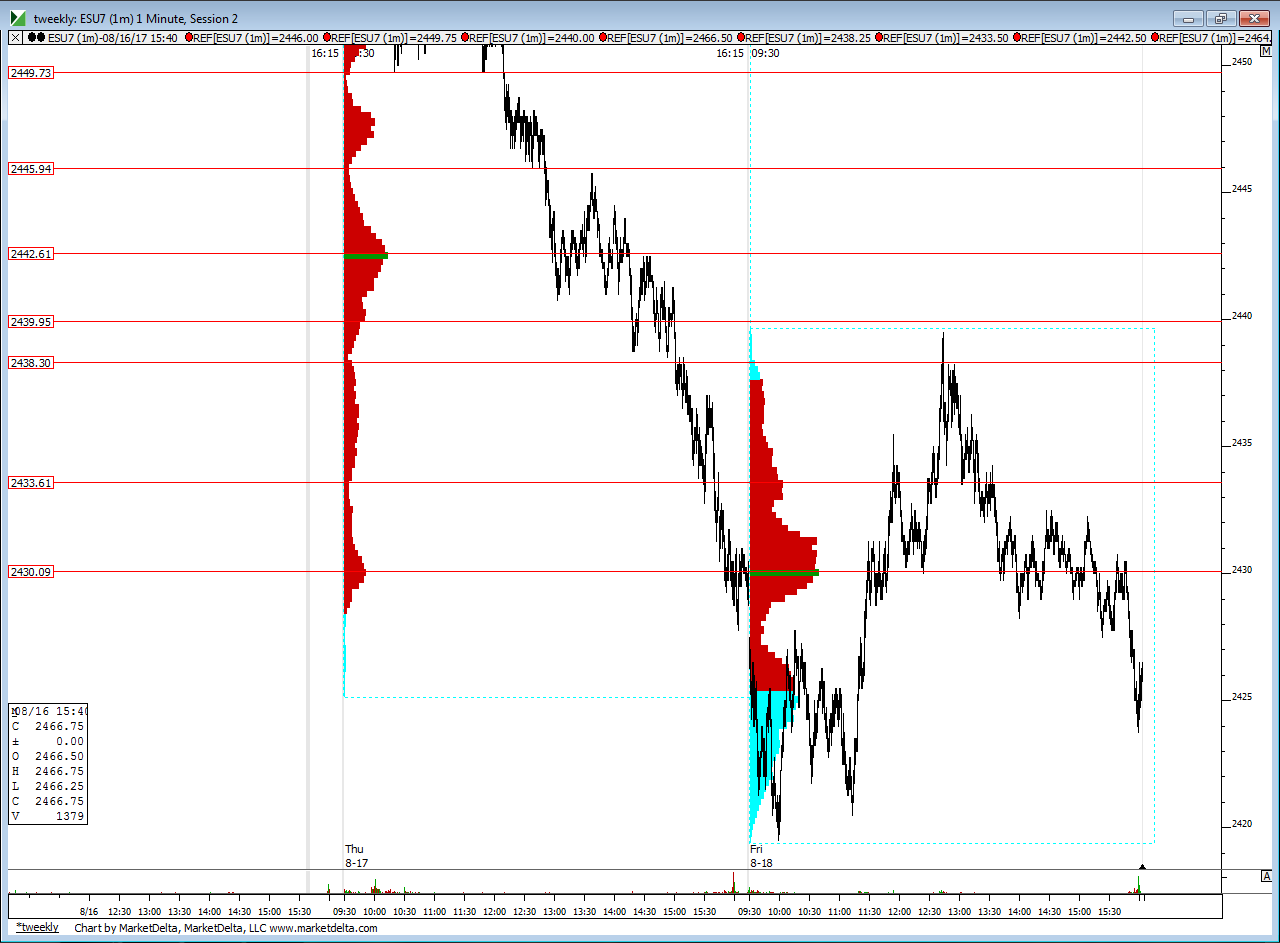 EDIT : The options and the correct way to look at the standard deviations and my mistake of using the Expected move in
TOS
....also why today has a one
SD
move up or down of 16 points
no reports so overnight shorts are on 2 points above current midpoint expecting 32.25 to print in
RTH
....we have the R1 at 33.50 so we should get that as a magnet....to help pull price back if we open above the 33.50 and run up first
working the 38 - 40 heavy on short side today...Overnight short got crushed.....no midpoint test yet....critical zone up here now
my plan is to scale something on Overnight high retest.....if wrong here then we need to watch that 42 - 43....nice bell curve center and one
SD
up will be there...this is surprising me today..attempt to break out of last thursdays highs .....I think will ultimately fail
due to
add
ons i am looking to scale now at last thursdays highs and the 38.25 retest if it comes...but mostly I really need the 38.25
I have a lot of reasons to expect a downside retrace but until that happens I am obviously on the wrong side so far.....they blew right through the weekly
VA low
as if it wasn't there....that's a no-no
they also blew through the R2 on daily....I couldn't be long up here....so close to that 42 - 43 one sd move up...perfect test of Thursdays highs that held to the tic...just who are these people?? seems too exact...and no reports to inspire this...suspicious to me
adding in at 42.25 now......now I need 39.75 retest to make money today .....open and drive so far but this is in a place it just shouldn't be..
in theory they should come back to test the 38.25 and also last weeks
VA low
...so holding runners for that....hopefully !!....said this many times...."failures out our keys areas get retested" So if you don't get a reaction then we look to next key area and trade for the retest...so the 38 - 40 saw nothing happen but the 42 reacted well and then they came back to test the 38 - 40 spot....a critical viewpoint of how this fader trades
we really have to get this back under last Thursdays highs at 39.50 if our downside is gonna have any chance...always less hopeful when we hold above a range extreme and I am short on runners...that was a big first period of 10 points almost straight up....they may need to dip outside that high again.....my bias will still be short in the 42 - 43 area.......above there I'd be watching 46.50 if this really gets some power...bu we went one sd up in the first half hour can they really have that much energy today ??
I sold short term spx 2440 calls....I will exit these at a loss if we close today above there...I figure if they can break and hold above one sd band then they deserve to take my money today
thanks sharks my 2440 call lost 900 bucks today....I also sold the wednesday expiry of 2445 and the friday expiry of 2445......weekly one sd move comes in at 2460...so we'll see what tomorrow brings ...I'm surprised by a lot today but the afternoon has a ledge at 2445 on
ES
and that is daily pivot tomorrow....I'm hoping for a dip down there to cover other options sold sometime tomorrow
Originally posted by sharks57

Nice Options Explanation Bruce