ES Wednesday 9-6-17
getting this out early...2464 - 2466 is key area in order for them to try and retest down towards 2459......but let me
add
, if this area holds then up to 72 should be the magnet
this video goes over how you can confirm
volume profile
areas ( low and high time areas) with the vertical volume histogram and then we can see overnight and standard
MP
chart
will edit with the 86 % numbers and more video ramble
more video ramble and a hard copy from my favorite chart
Click image for original size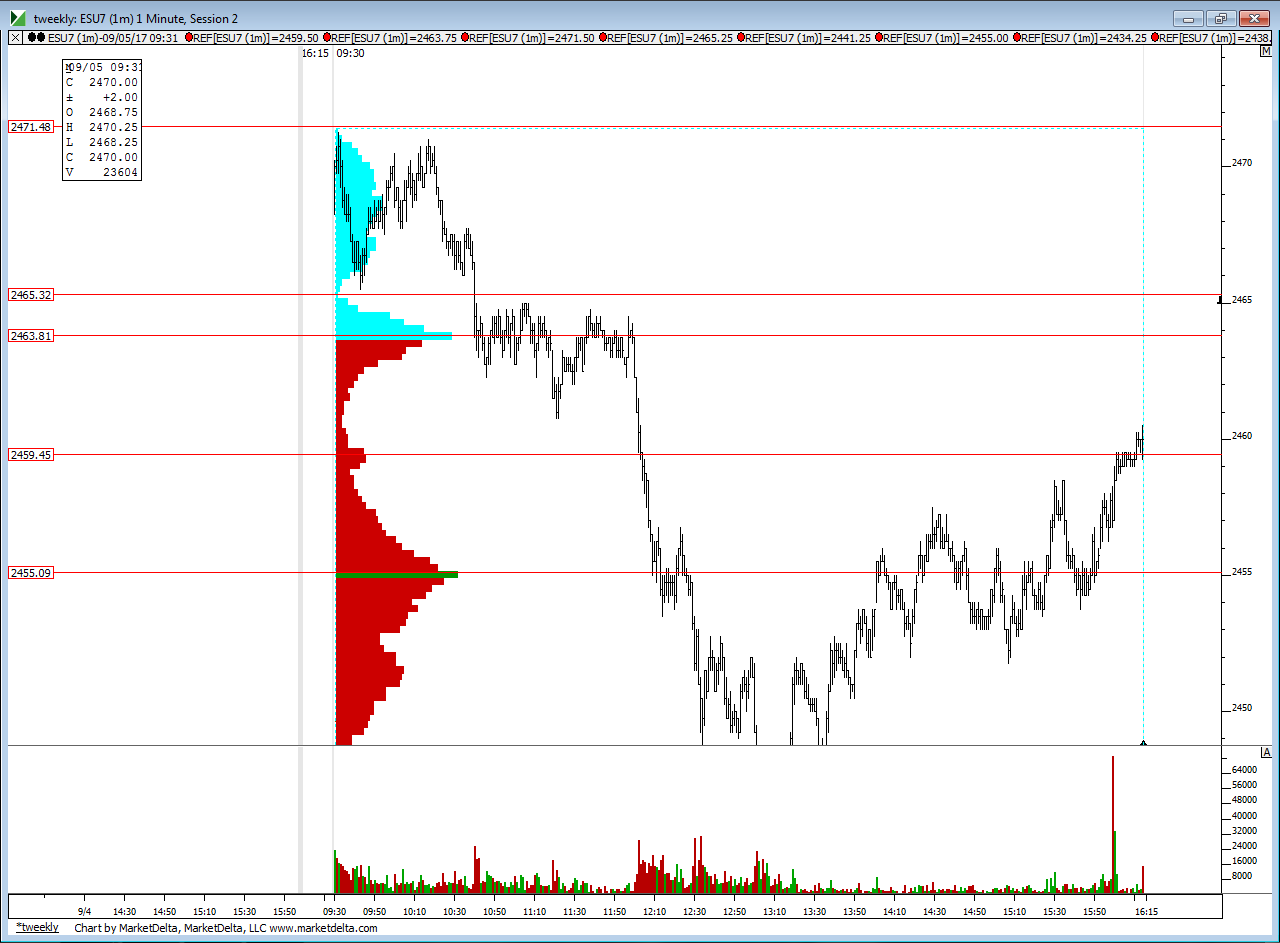 overnight midpoint sits at 61 ....we can expect about one midpoint failure per week......I'm not saying that will happen today but certainly always something to keep in mind...that
VA high
is more powerful then I was expecting so far.....we need another test down to break through that to have runners work some magic...so basically we need
low volume
pushes up to help give a possible clue to a
rollover
back down now
so will they print R1 today or the Pivot...? the 2466 holds the key and notice how this key area number splits the r1 and pivot...
two winning campaigns today ....hoping this second campaign can get back to 2460.50......scaled right in front of midpoint on first runners but core came off at 63.50 from up in that 66 area....
done on all at 59.75........hope all have a good day...for anyone new to all this please look at video 1 above and make note of where the volume came in yesterday...those players wanted to get rewarded again and did today from the same basic area.....or else they just protected their shorts.......we don't really need to know the reason we just need the areas ....
pivot was at 2459 today !!
Your vids are always great Bruce!!!
But today they were extra great.
Thanks!!!
my favorite chart from post one above with todays
price action
on it.....not perfect but nothing ever is.....think about this...we were 1/2 Sd up into a key area, we had overnight midpoint and a floor number below....we couldn't hold above the overnight highs........easy in hindsight but this was the way I was thinking.......certainly doesn't work like this everyday but as long as we can avoid those nasty trend days and keep losses small we come out doing very well
Click image for original size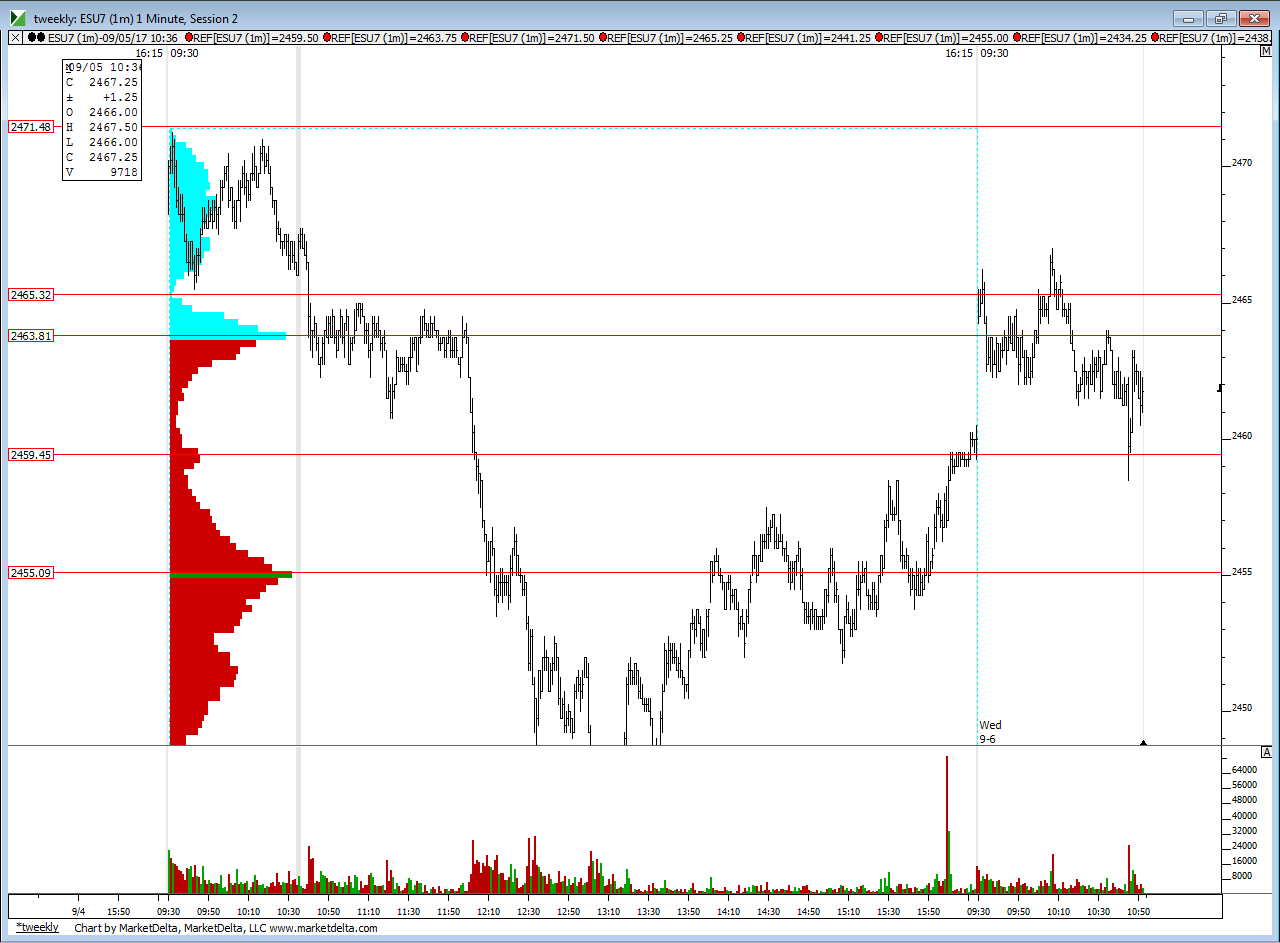 thanks for the feedback...I'm glad you enjoy them ...now I am getting out my Les Paul goldtop , which I never get to play through the
amp
and rocking out.......so this is my last acoustic numbers until later tonight when the whole family comes back and dad- the rock in roller has to get stuffed back inside and put away the electric
here's some music.....LOL ! I know I'm losing it when I start posting
SH
* T like this......!
Originally posted by nolt

Your vids are always great Bruce!!!
But today they were extra great.
Thanks!!!

wow...sounds like I'm playing in a metal box.....I guess that's what happens when I try to record with the mike I use for the daily trading videos....
we have a winner...good ear...considering I can't play it well in standard tuning.....the story goes that Jimmy Page heard that George Harrison said that Zeppelin could never write any ballads....so Page took the first two chords to " Something" as the opening to the "Rain Song"...to write a ballad.......we'll put that in the "
useless stuff normal people don't need to know
" category.....
Originally posted by nolt

Bruce has skillz...love the needle and the damage done...I don't play but it seems like it would be hard to learn?
My guess...the rain song