ES Monday 10-2-17
No longs for me today.....blinded by short side this morning....here are areas I am watching ...expecting a test of 2514.50 as long as we can keep price under that 2521.50 number this morning.......I will post hard copy of my favorite chart in a few minutes but for now here is video ramble
only areas that really interest me off my favorite chart
Click image for original size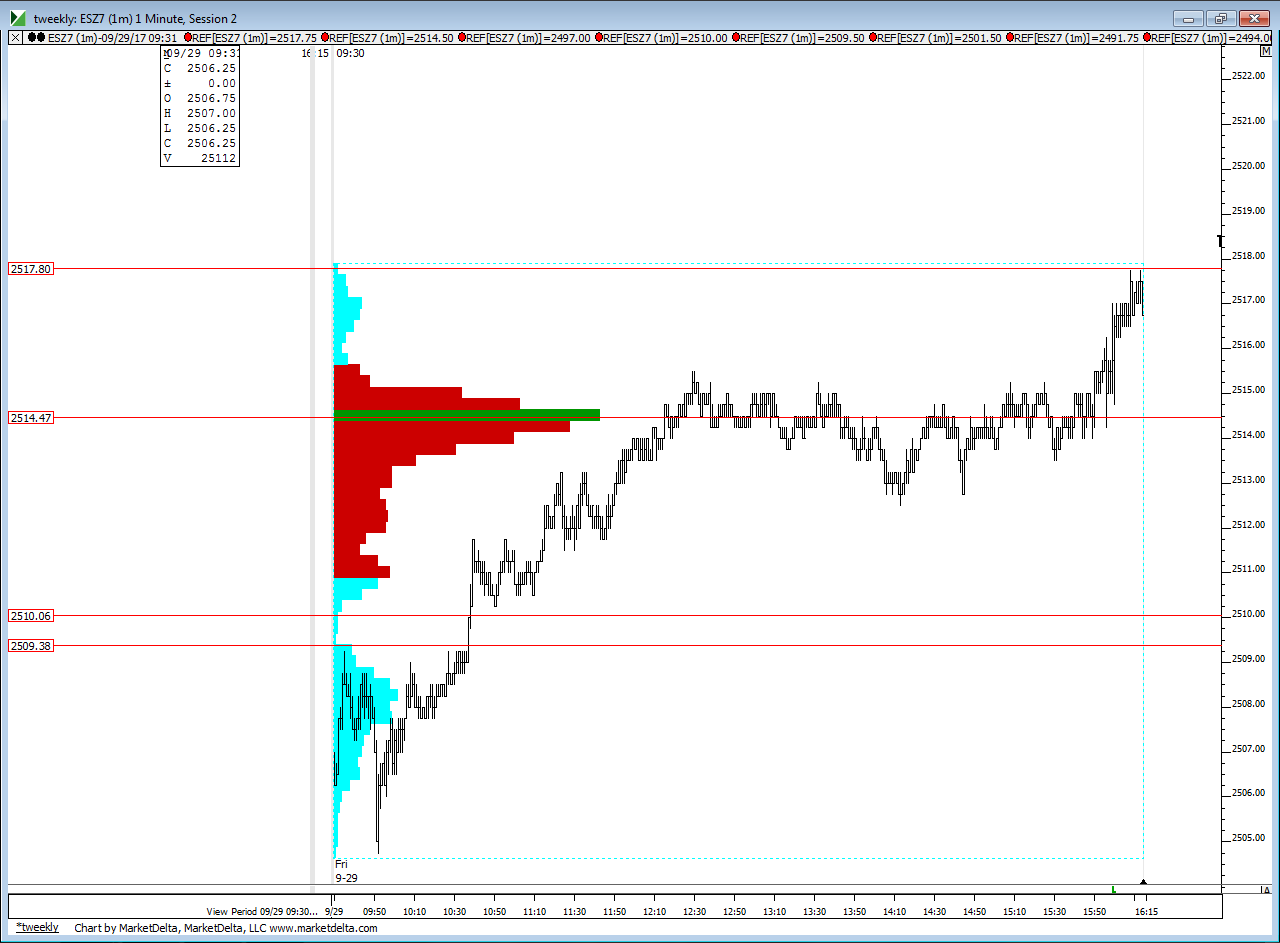 my plan now is to trade the 21 - 23.50 area as that will also put cash at it's 1/2 sd band and i will use 2518.50 as a target...I see no good volume spikes yet except some near that 18 area
volume is here now so I am averaged in at 22.50....concern about the volume that has emerged at 21....so will probably have to take something off if we get a retest there.....buyers will be watching to see if they can sustain trade outside of the On high
was hoping to have bigger targets then 1.5 points on initial scale out but I just don't trust that 21.....lets see if we can even get back to that...gheesh !...then may be runners could go for last weeks highs again...only one
tpo
print there currently
just sold calls...we may be early or even wrong with day trades but I do not think our weekly probabilities will fail us this week...so expecting multiple
tpo
's and 4 points below open this week
I'm trading as if 21.50 is now the magnet / retrace price....I will only be adding if they print 2525.50...r2 is at 26....if
add
on happens then I will take something off at overnight high retrace first
this seems like too much too soon and lots of single
tpo
's on the chart....I think 21 - 22 is going start building
poc
and the only way to do that is to return to that area in different 30 minute periods...
I have no choice but to take something off at overnight high test...I need to bank some profit and if we start making new highs again then losses won't be as big......so this overnight high is the test I had to revise for...now I would like to still see the 21-22 area and then the 2518......the 21 - 22 is where the volume is today....at least so far....
follow up, volume and why I was scaling where I did...also what I would like to see from here

Did that 1/2
SD
off the Cash close from Friday help in making the short decision today Bruce. Wasn't sure where the 2525 in the Daily cash S&P equates to the futures...
Just listened to your second video
my biggest mistake today.........I had a target at 2518.50 but should have used the OR high as it was closer and it's always best to exit sooner then later.....runner got stopped at 2522.25.....
gap
in the data at 21.75....require price to be at least 2 points above that and maybe near the swing high at 2524.25 if u feel like you need to be trading over lunch