ES VAH
Hi Steve,
Just checked what you're saying and the
VAH
value for
ES
on the
MP
chart from yesterday matches the day before. Below is the
MP
graphic that I currently see on
eSignal
and the
Tick
Increment settings on it. Also check that the time frame on the chart that you are looking at is set to 09:30 to 16:15
ET
. This could also be a discrepancy between
eSignal
servers that might resolve itself just before the open.
Perhaps you can upload the chart that you're seeing and we can compare them?
Regards,
Guy
Click image for original size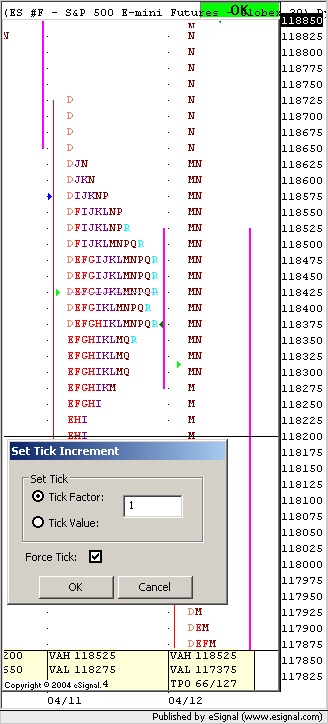 Guy,
here's my
MP
chart as it's currently showing.
All the settings appear to be ok. I've had no differences with your own levels over the past month, so it's strange it's happened today.
As you say, it might right itself later on.
Steve.
Click image for original size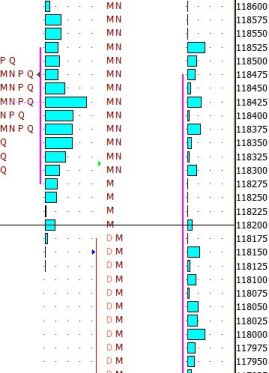 Well the market's open now and I've refreshed a couple of times but no change here. Still same values for
MP
as they were yesterday. Any change at your end?
Sorry, I was called away.
Yesterday's
VAH
stayed at 84.75. - I'll let you know if it all corrects itself again tomorrow.
Thanks,
Steve.
I checked with a bunch of other traders in JP's room and everyone had the same
VAH
as I did. Not sure if you managed to get confirmation from anybody else?
No, the only other person I know who trades with
MP
, uses SirTrade - and he frequently has different levels to those given by
eSignal
.
Steve.
Thanks Steve,
I've started another topic so that people can
add
the
MP
packages that they've heard of:
MP Software
I wonder if there is a definitive list of
MP
providers out there? I suppose they all have to be registered with CBOT so they must have a list...
Hi,
I cannot get my
eSignal
ES
Market Profile
to match that shown in your Daily Notes today.
Mine is at 1184.75, whilst yours is 1185.25 (yesterday's level).
I have my
Tick
factor set to 1 and it usually lines up ok.
Any ideas?
Steve.
I'm itching to write a little utility like the
pivot point
calculator that will allow you to load a series of highs and lows (in a file or by hand) onto a page on the web and have it do an
MP
chart for you. It would solve so many of the inconsistencies that we see in these charting programs. I was toying with creating something like that in Excel but was trying to do it just with functions and without using macros but I found that the functions weren't powerful enough and decided that if I was going to do it with macros then I might as well write the code in C# and put it in a web page to give it to more people to use. I need more time...