Friday -12-07-2007
Overnight range not taken out yet...sell day in force so far..with prices at 1508 we are close to midpoint ( 1515 to 1501)...seems like the hour breakdown may work today so thoughts are to downside for the 1501 retest ( overnight low)
here is the chart with the triangle I had drawn..I tried selling into that retrace up hoping to get the double 5 minute matching lows, those
triples
that sat below....and then the new lows on the day...the
low volume
made this interesting....and the data problems I had made this more stressful...I mention this for any new traders that think this can't happen to them...just another issue to deal with...sometimes
Click image for original size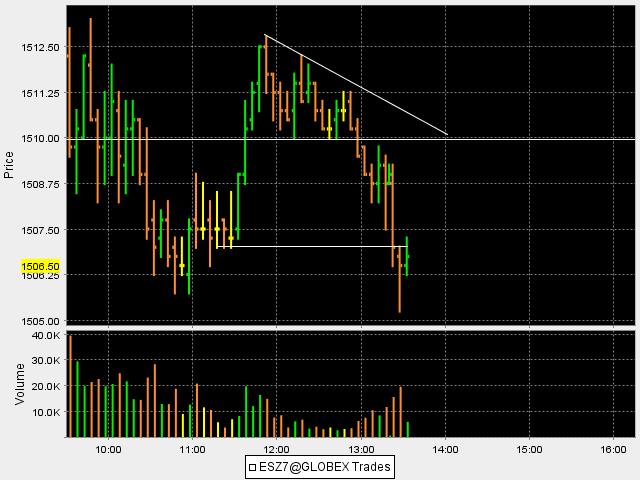 no more trades for me...I'm just watching to see if they break 05 then the 02.50 comes into the "window" for support above the key 1500 round number
agreed, when things are not running smoothly, it's best to step aside, work the issues at hand, and get everything back in balance. Distractions and short term trading usually do not work to our benefit.
interesting how dow is not making new lows when
S&P
did..implies dow is trying to lead...like the attempt at the dow futures making new highs before while
S&P
futures did not...I usually assume the strength of the bigger market ( s&p) or lack of will rule short term direction...this is not always correct...then I lose...plain and simple
this may be of some value..doesn't happen often but in
low volume
...note how the green 5 minute bar close is t 08.75 and the next bar opens lower at 08.50...this creates what I call a mini
gap
........and they get filled in a lot on the same day....here is the chart
Click image for original size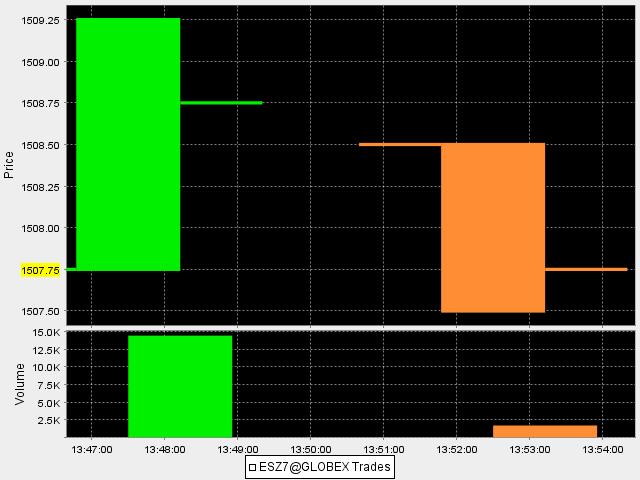 here is a chart of that mini
gap
being filled in..notice we traded down to 07.50 and then came back up to fill in the chart/
gap
...perhaps this can save someone or give you a better entry in the future...doesn't happen often...took 15 minutes to fill in...
Click image for original size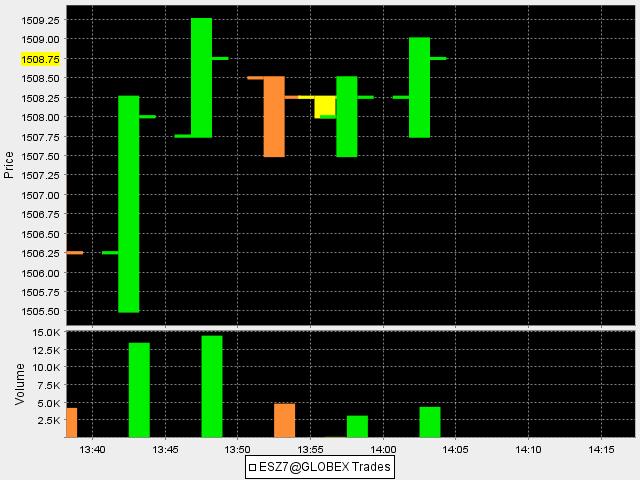 nice call
PT
quote:

---

Originally posted by pt_emini

My guess is ES will end up building a POC at the 1510 level when this is all said and done today.


---
interesting how dow trying to lead out higher and
S&P
making lower highs..now
triples
exist at 07.25 with dow hitting new highs,,,,
S&P
at 1511..so this is good short area...gheesh this is hard to post at the same time...only 45 minutes left for cash markets to be open...will they get the
triples
or will dows lead pull
S&P
to new highs for the session..? I'll go with the
triples
...
the weakness in
S&P
overcame the dows strength...
triples
where taken out to downside......I keep the Dow futures up and synch it to the 9:30 E's't opening..this way I can see what the two are doing together..or in this case apart....very cool if you watch it over time...ok..I'm talking to myself again....