Anyone have a forecast for today?
Anyone have a forecast for today?
2008/01/18 Friday
FWIW, my forecast is: day's high 10:50, low 16:00 EST.
my system's intraday squiggles were "right on" yesterday's tracing out
SP
index's big drop. (broke 18 month low)
Dave
OK, I found the control to see my profile which allowed me to delete sp20080117.gif, (impressive set of options provided within mypivots.com)
Dave


day trading,
> great that you have figured it out
Well I wouldnt go that far, but thanks.
I think its best I bite the bullet and maintain my own DAILY archive of charts that are apriori viewable MOST days. However a post here with a hi/lo time, allows that day to be included in any future statistics study.
http://home.earthlink.net/~dave_gemini/2008/
above link currently has gifs for jan18-22 for those wishing to view current day's predicts and historical results.
In answer to a question, I hope to get 1 chart/week that approaches jan18.gif chart, but time will tell, my system is in a continual flux (its this retired programmer's hobby)..
BTW,
I just looked at the
globex
emini sp quotes and they are -35 pts this morning and its a holiday, thats probably a early hours/holiday drop record, WOW!
Dave
Great posting Dave, thanks for explaining your program and getting the chart images viewable. (Would have responded sooner, but was sans computer this weekend and today.) Will be back tomorrow to watch the craziness, can't believe the
ES
plummetted to the 1260 area already. Good (and safe) trading everyone!
There are MANY reasons I ought not post a L (long) day trade for Tuesday Jan 22:
1. No
SP
index data preceding day effects predicts.
2. The
delta
predicted long points isnt > 10
3. Its going long in a BRAND NEW BEAR MARKET.
4. Etc.
Reasons why I am posting a Long 11:10 -> 13:50 EST trade:
1. I guess I cant stand having a perfect W/L record = 1/0
2. Its time readers see how a poet would rate my system.
"When shes good shes very very good, and when shes bad shes HORRID" (Emerson)
Dave
http://home.earthlink.net/~dave_gemini/2008/
With yesterday's loss my Win/Loss is now 1/1, so much for my 1/0 record.
Actual for 1/22/08
Click image for original size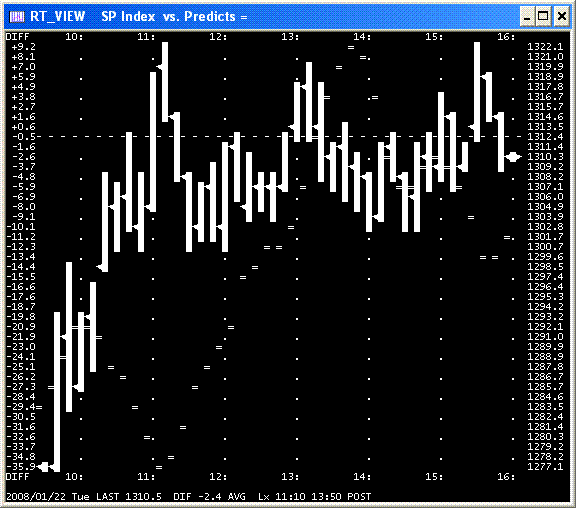 Predict for 1/23/08
Click image for original size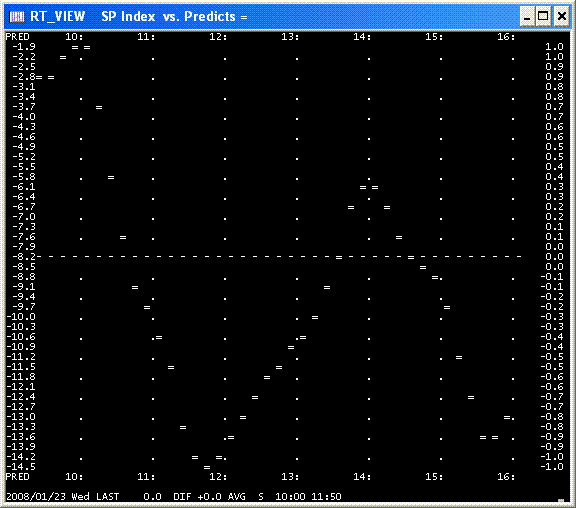 note: values are added to left column for predict gifs only, showing my predicted +-points, but its the hi/lo times that decide if day is a winner or loser.
Wednesday Jan23: Short 10:00 -> 11:50 EST
Dave
ZOWEE! a 68 point range in the
SP
today.
My 2hour Short trade extracted a 5 point gain making win/loss = 2/1
Click image for original size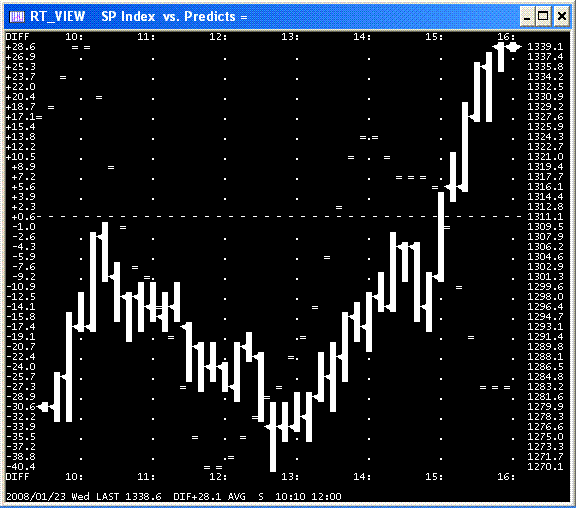 If it's a lil too tuff to follow Dave's great trades you could always do the 'Gann for Dummies' trade. Whereas, you follow the green or red tri-lines.


gio the Gann-Meister



[file]ES.jpg,126,,0[/file]








Thursday Jan 24 Short 12:10 -> 15:20 EST
Despite the chaotic market conditions last few days I am proceding.
I have posted a link below to jan24.gif in my archive. Day-Trading will probably choose to replace it later with his uploaded image. (ok with me) Dave
Click image for original size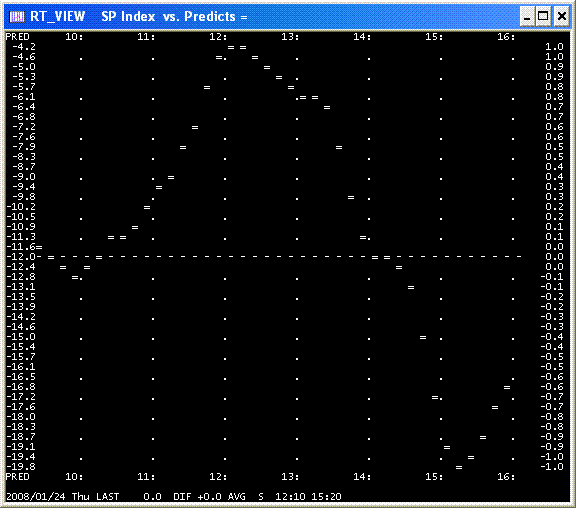 That 10:30am low forecast was impressive Dave.

Thanks for sharing your work with us here, hope to see you return again soon !