Anyone have a forecast for today?
Anyone have a forecast for today?
2008/01/18 Friday
FWIW, my forecast is: day's high 10:50, low 16:00 EST.
my system's intraday squiggles were "right on" yesterday's tracing out
SP
index's big drop. (broke 18 month low)
Dave
Another solid prediction Dave !
Fed/
FOMC
the next two days, what sort of track record does the model have against
Fed day
's &
FOMC
announcements ?
Tuesday 29 Jan Short 13:10 -> 16:00EST
re: performance vs. Fed
there are insufficient examples to flat rule out trading on a "fed announcement day"
Its interesting to note that if short today is a winner thats dropping at the close, a weak opening is forecast for wednesday. so one could take a chance and hold overnite and do a reverse position trade at 10:10
(just a thought)..
Dave
Click image for original size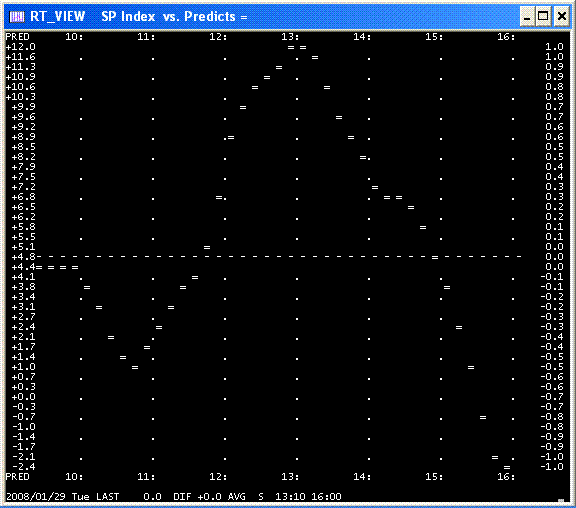 Market has built a nice
value area
since around 10am this morning.
Sometimes the market will choose a direction and break out of developing value in the last hour or two of the trading session and drive prices away from the
POC
.
Something to watch for given Dave's prediction of a weak close and weak opening tomorrow.
ok i put on a little short in the
NQ
's up here at 1813.00 stop 1814.50
target if not stopped out will be to evaluate the trade at the close, as a hold into
AH
or exit.
market is acting like it wants to go higher into the close, let's see how this plays out...
also note
ES
is being pressed up against 1362.00 resistance.
ok trying one more time here on this 2T setup (
ES
1366)...
now short
ER2
at 707.5 and
NQ
at 1817.75.... usual stops in place... target close or
AH
hold...
need to see the
ES
reject 1366 and trade back down to support at 1362
ER2
stopped at b/e - 2
ticks
slippage on the way out... lol
NQ
still rolling sideways along with the
ES
at nearby support
not sure we will even close inside developing value...much less below it (the original goal of this exercise)... lol
That 10:30am low forecast was impressive Dave.

Thanks for sharing your work with us here, hope to see you return again soon !