Anyone have a forecast for today?
Anyone have a forecast for today?
2008/01/18 Friday
FWIW, my forecast is: day's high 10:50, low 16:00 EST.
my system's intraday squiggles were "right on" yesterday's tracing out
SP
index's big drop. (broke 18 month low)
Dave
Dave, just to get some clarification. Even though the pattern isn't playing out as you expected it to you still took a short at around 12:10pm and trailed a stop to get those points?
Let me guess, this isnt confirmed by your futures data?
I have no futures data..
I have stated that my hi/lo times decide whether the trade is a winner or loser.
Its a theoretical trade using the
SP
index for today..
short at 12:10 = 1346.08
exit short 15:20 = 1344.56
-------
1.52 points
see below open,hi,lo,last 10min data...
01/24/2008,12:10,1346.08,1346.4,1344.55,1345.74,0
01/24/2008,12:20,1345.38,1345.91,1341.11,1342.11,0
01/24/2008,12:30,1342.2,1342.78,1337.17,1337.17,0
01/24/2008,12:40,1337.0,1340.59,1337.0,1340.29,0
01/24/2008,12:50,1340.52,1344.62,1339.87,1344.26,0
01/24/2008,13:00,1344.93,1344.93,1338.4,1339.08,0
01/24/2008,13:10,1338.83,1344.34,1338.63,1342.88,0
01/24/2008,13:20,1342.45,1344.6,1340.42,1340.42,0
01/24/2008,13:30,1341.31,1342.23,1339.46,1341.57,0
01/24/2008,13:40,1341.75,1347.0,1341.75,1346.44,0
01/24/2008,13:50,1346.49,1349.5,1346.19,1346.71,0
01/24/2008,14:00,1346.8,1350.59,1345.01,1349.7,0
01/24/2008,14:10,1349.95,1350.46,1346.69,1347.02,0
01/24/2008,14:20,1347.28,1353.19,1347.28,1351.99,0
01/24/2008,14:30,1352.27,1354.09,1350.83,1354.09,0
01/24/2008,14:40,1354.66,1355.15,1348.85,1349.13,0
01/24/2008,14:50,1349.38,1349.6,1341.91,1344.54,0
01/24/2008,15:00,1344.44,1346.95,1343.11,1346.38,0
01/24/2008,15:10,1346.15,1347.02,1342.93,1344.75,0
01/24/2008,15:20,1344.56,1346.48,1344.31,1345.21,0
No, my data doesn't confirm or refute anything. I was just trying to understand what you were doing. My thought process went along these lines: If I had a market map like you did before the market opened and it said that the high of the day was going to be at 12:10 and I watched the day unfold and the pattern up to 12:10 looked nothing like the map then I would have said "hey, this is one of the days that the map isn't working so I'm not going to trade it." Instead you stuck to the map and the rules (if you call these your trading rules) and you entered the trade at the specified time. In fact, sticking to your trading rules shows remarkable trading maturity because that is where most traders go astray.
Day-trader,
My view is that if one cant stick with a day-trading system thru the trading window without entry/exit rules, its because the trading size is TOO
BIG
. What analysis I have done (and its not extensive) indicate any entry/exit rules (like stops) applied to my system only degrade the Win/Loss and/or NET $$$ of the system.
I wish
GLOBEX
would accept market orders valid at a specified time allowing more of us to be day-traders.
e.g. my short trade for today:
Friday Jan 25 Short 11:30 -> 15:20 EST could be simply specified:
sell/buy 1 ESH08 11:30:00/15:20:00 EST
Dave
Click image for original size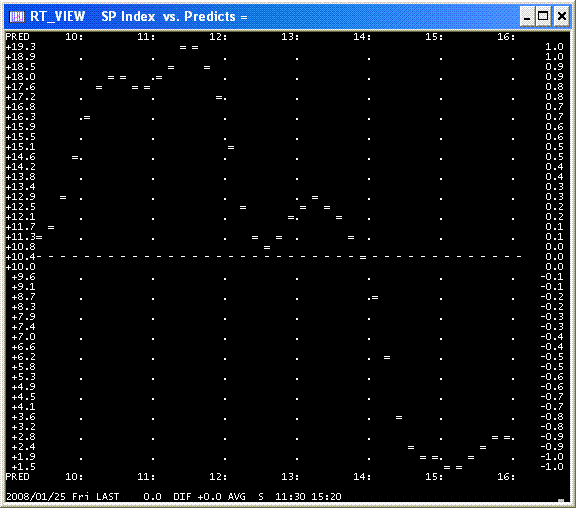 re: stops
Like I said in my previous message, my system shud be evaluated with NO extra rules. WYSIWUG..
Hope to do as well next week, Win/Loss = 4/1
Click image for original size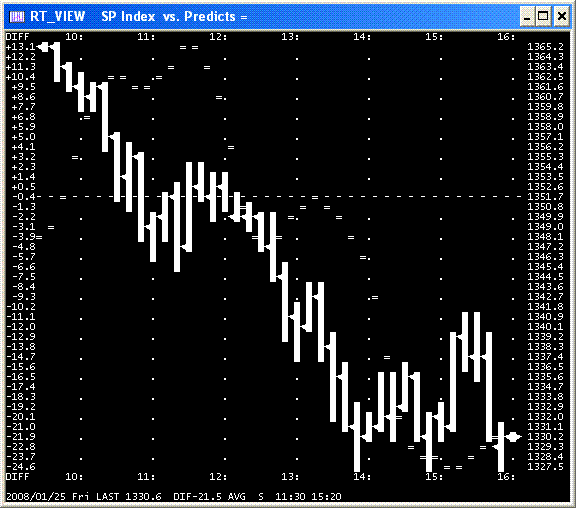 Very impressive market map today. Have you ever heard of Tom Hougaard? He has a web site called Trader Tom:
http://www.tradertom.com
and has been creating a "Market Map" for many years which is see is now at this web site:
http://www.themarketmap.com/tutorial1.htm
I did a 1 week or 1 month trial of his map about 4 or 5 years ago but it wasn't accurate enough to trade. I have no idea how good it is now or if he's improved it at all.
re: trader tom
I hadnt heard of him, went to sign up for a week
FREE
trial but got disgusted with the pay-pal shenanigans involved in getting the free trial and abandoned the effort.
Maybe a reader of this topic will "hold their nose" and volunteer to sign up and report back daily in this topic (if you are allowed).
Monday Jan28 Long 10:10 -> 13:40
Click image for original size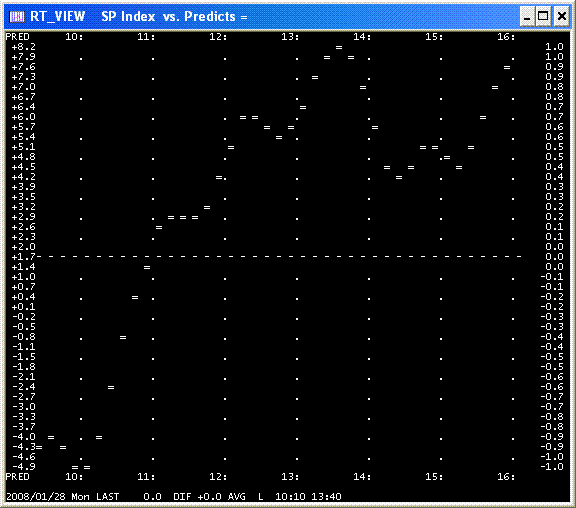 Another amazing predict day, Win/Loss = 5/1
1. Hit the 10:10 low on the money
2. Good agreement rising up to near high.
3. Hit the 15:20 start of rebound -> close on the money.
Click image for original size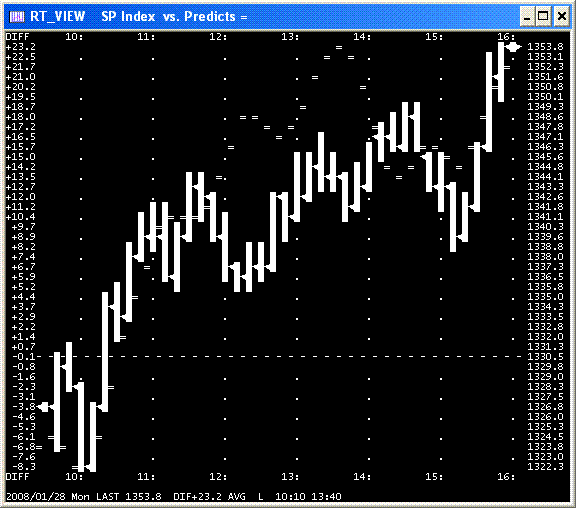 That 10:30am low forecast was impressive Dave.

Thanks for sharing your work with us here, hope to see you return again soon !