Advanced Trading Workshop (ATW)
Advanced Trading Workshop (ATW)
OK then, I'll answer my own question. You'll learn something but you won't make any money by following their systems. There's lots of "you can do this - you can do that" and pointing out the winners after the event (assuming of course that you saw it in time, took the trade AND got filled). I have never known anyone who has made anything with ATW consistently.
Thanks for the feedback MPUser - hopefully that will help other traders who are looking at that and other courses.
I have visited Advanced Trading Workshop's website. I think that if U desire 2 B taught how 2 B an independent trader then U should visit this site and form you own opinion.
If U want 2 B spoon fed trade signals and B dependent on them 4 life then U probably don't want 2 visit their site.
Just jump in to share about ATW.
I joined them since July 08 as paying client, started learning and watching their videos and tools for 2mths and started trading SIM then LIVE in Sep 08, the Live trade room commendary is very active and it provides detail commentary to potential setups, few times aday, market entries will be called out but the objective in that website is to provide an education so that students can learn how to trade any markets. A true trader is one who can trade any market, not just specific market or a black box trader so I really benefited in joining ATW.
I have loosing days off course, but my winning days with ATW tools far out numbered my loosing days. What is important to me is at every end of the month, I am consistently profitable and achieve my weekly goals.

I wonder how long have you try ATW? They give 30days free trial. May be you have not join the trial long enough to know the people there who are really successful? :-)

Good Luck!
What is all this bull**** with 1st time posters (alerted by someeone) to come in and spew their douche-testimonial, right on cue?

Bugger off. I tend to think ATW is a miss--a jumbled mess; but a miss nonetheless.

peace

r247
Once they have your money you can forget about customer service..they are more interest in recruiting new members
quote:

---

Originally posted by MPUser

Anyone know anything, good or bad, about this outfit?

http://www.advancedtradingworkshop.com/


---
I have to agree with some of the last reviewers. I've been a member of the ATW 101A course for about a year now. When I was in the free trial room before signing up, all they talked about was how much they would help you and that they would always answer all your questions, all traders where different, no one style would work for all, they teach several approaches to the markets, etc. I can tell you that most of that is lies. While it is true everyone is different and no one is the same, once they get your money they couldn't care less about you. I have asked for help several times to both Andy and Brian (ATW Help), through both private message and email and was always ignored when I was a member, but when I was a free trial member I always got a fast response, especially when you showed some interest in buying something. All they teach is there systems, the so called AC300 which is just a Bollinger,
EMA
, and colors based on the
MACD
, and the
MACD
(4,5,13) on the bottom. Nothing that you need and more than likely will hurt you in the long run. If they say everyone is different why only focus their systems. The whole library archive that they have of videos is just a repeat of the same thing over and over again, and again, and again. The content of the free videos that they have is as much as you will get out of it. Don't waste your money on the ATW. I feel sorry for the world because Andy is a youth pastor but will still lie to your face to get your money (what the world is going to). Andy even asked people to come to this site and post positive reviews about the ATW, that is truly sad.
My advice it to not waste time or money on the ATW. I traded their systems and approaches and lost money, but when I dumped their stuff and just traded off of a 5 min naked chart I started making consistnat money. Haven't had a losing day on over a year and a half now. Maybe I should thank the ATW on showing how not to trade and you just do the opposite and become successful.
The initial guy behind the ATW Farce is Jerry Simmons. I've posted under another thread/topic. I know this fellow ... very well! And he takes the definition of "charlatan" to a whole new level. And to borrow (and mangle) a political exchange: I know Jerry Simmons ... I've traded with Jerry Simmons ... and you are not (NOR
DO
YOU WANT TO TRADE LIKE) Jerry Simmons!
As to the "students" and/or associates that are offering some schooling ... well, the fruit ain't gonna fall far from the tree. The guy's virtually a thief - period. Any students/associates wanna go head to head here ... please, please, please counter me with something real and decent.
I'm doing this for the benefit of all who might fall into this web ... very high-priced web!
Just calling it as it is.
Love, Peace and Wild Monkey Flips!
The Monkey
Wow, just watched (and listened to) the vid from the link and didn't know they'd rooked Kermit The Frog into their promo. Kinda cool! Ya gotta hear it!
Click image for original size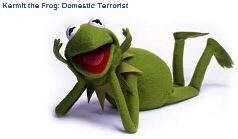 I couldn't find the earlier post of yours, MonkeyMeat. Could you say here what your thoughts were on Simmons, bec. I've been impressed with his analysis of the markets (mainly longer-term). Thanks.
I have spent some time with ATW. I agree Andy is quite a sales man but if you get hood winked into buying somthing you should look at your self for being a sucker as much as the guy who is doing the sucking. They give a 30 day free trial take the free trial and pass at the rest. I personally believe that Jerry is telling the truth in whatever he states. I am not saying his level of accuracey is 100% but I have found him to be fairly correct on most occassions.
The big thing that I noticed was the level of greed involved in the trading. There is a lot of flashing lights and bells and sounds that would want to get you into a trade before you knew what happened. Bad move for over trading. The indicator packages are a bit overpriced for what they are and the instructions on how to use them don't seem to exist. But you have to think about this if an indicator existed that made millions it has been flogged to death on it's first outing. I personally spent over $5000 and have no regrets. I found Jerry's level of accuracey and honesty to be of a high standard. Andy is a salesman and my credit card is still getting over the trauma.
In my opinion the biggest problem is the amount of money that you start trading with. The guys encourage $10,000 per futures contract which is the correct amount. That means you are starting out with a $30,000 acc as a begginner. You are dreaming if you think you can get through your trading career without blowing up your acc. Livermore went broke how many times. Gann just got sick of losing and stopped trading, then went and got an education. If you truly are a begginner then start small. You may only be making $30 or $40 dollars a day and you will only be losing $30 or $40 a day. When your consisitencey gets up there your account will grow and when you get out of bed one day and find your account has had no draw downs in 3 months then start adding extra funds.
I personally have taken a liking to Jerrys Edge Trading system. I took the methodology Jerry has taught and have been trading it for over 6 months. I can say for sure we have more up days then down but how it goes into the future is anybodies guess. I don't trade a black box or indicator system blindly so I get better tyhen the system. If you don't take the time to check out ATW you could be doing your self out of a good education. My trading account has done nothing but grow since I got into the ATW. I had a high level of experience before but getting the help to automate my trading has made my life so much easier. I don't get flogged like the good old days. The Edge signals the trades and I
add
to the position or cancel it out. i had built a very similar system before going to the ATW but Jerrys level of programming experience really paid off.
To summerize watch your credit card but don't be ignorant, these guys have some good education and trading techniques. Just don't be a mug. Pay your money and demand the service. Get onto Andy at the begining and make him work for his money.
Raef Mackay.
Australia.