Chart Requested !!
Does anyone who has "real" charts have a lower time frame chart of this spike high at yesterdays high? I'm looking for something like a 10 second chart which would show volume.
My el-cheapo free
IB
charts just don't go lower than one minute and I'm too frugal ( It's my scottish heritage) to pay for more charts....
Thanks....
A failure at this spike high will target the 90 area again and then the 81 area....so far the overnight seems to be pointing to the 90 retest
No rush on this as the market opens in 15 minutes but I'd appreciate it when someone has time.
Bruce
Click image for original size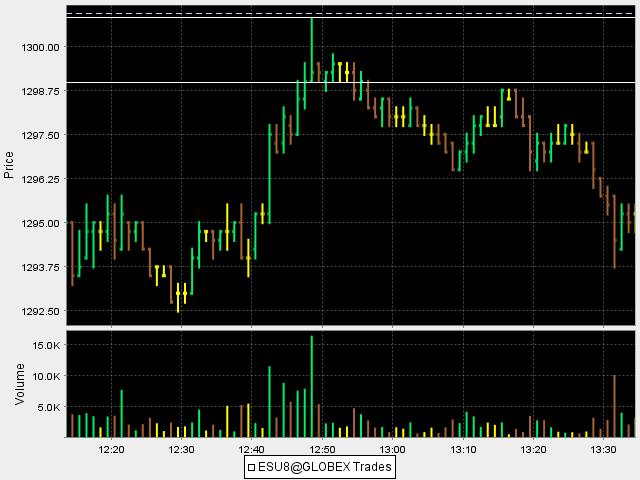 Like a giant pinball machine....tried to snap out of the high volume spike and rolled down to 90 area....the
Ticks
are doing an exact opposite of yesterday...so for me selling into the rallies is the way to go....up near this 98 area
Bruce - here is the
tick
file for the
ES
for that time period yesterday. I'm guessing that this has all the info you need?
Here is the key to the columns in the file:
T - Trade
080814 - Date: 08/14/08
000027 - time: 00:00:27
1286.75 - Price at which trade took place
1 - Number of contracts traded
BruceM is this what you looking?
Quote Tracker has nice charts and they're
FREE
Click image for original size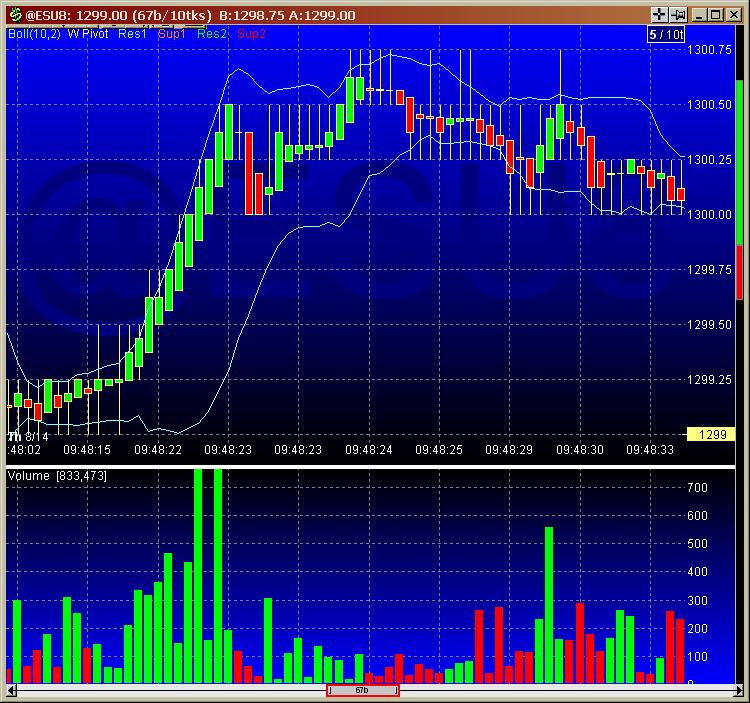 Ideally I'd like to have a visual as I am in the process of refining some entries to limit risk.......My thoughts are this:
If the one minute is showing these nice spikes then it makes sense to dial down to see where and at what specific price the big volume surge comes in at. Since I
fade
moves then taking breaks of these spikes on the shorter time frame ( even shorter then the minute I watch) may help me reduce my initial risk . I now have some free time so I'll check out the zip file to see if I can spot anything but If someone can
ZOOM
in on that spike on a lower time frame with volume below it then that would be great....perhaps I should get motivated and learn some new software..thanks for the suggestion.
I have a "complimentary" version of I/RT but it gets messed up with lower time frame data and real time
MP
. Works great on
MP
after the close though
Can't open it Inventor...
quote:

---

Originally posted by inventor

BruceM is this what you looking?
Quote Tracker has nice charts and their FREE



[file]005--08-15-2008,_08_24_02.jpg,432,,[/file]



---
Click image for original size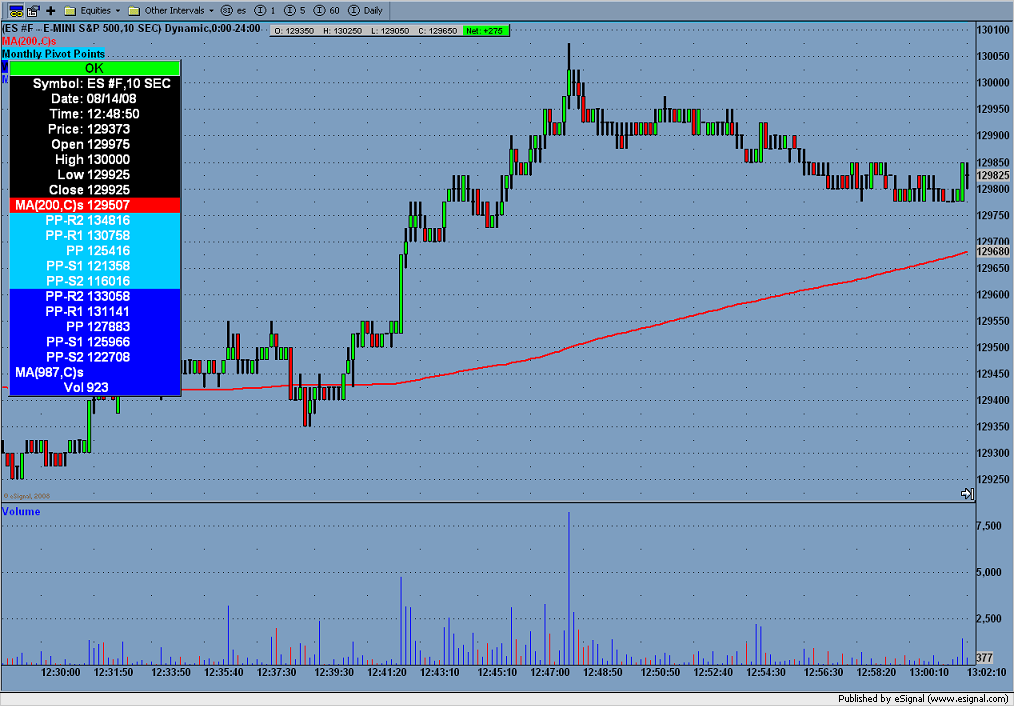 Bruce here's a 10
sec
of yesterdays high. If you really want to look into volme I recommend
www.MarketDelta.com
they have a free trai. 5 stars for volume analysis.
quote:

---

Originally posted by inventor

BruceM I have it but maybe daytrade can tell me how to attach?????


---
inventor, the file name had a comma in it which is why it wouldn't display. I've fixed it now so you should see it now.
now I know who is taking all my money when I lose....It's you folks with the great charts....cool stuff.....LOL

I like the way the Ask Volume is so strong at the tops compared to sell Bid Volume......that makes sense...lots of promise there......

I would assume on key lows with high volume thrusts we will see the BId volume over powering the ASk...I've been around a long time and this is a path I seem to shy away from.....probably time for me to make a chart upgrade...thanks again

Bruce