ES 11-21-08
I posted this yesterday, but thought it was worth posting again. Is this a descending triangle or just a downtrend channel? If in fact, this is a triangle, we can find our way down to the 591 area via scenario #1 or we can find our way up to the breakdown area, which would present a hell of a shorting opportunity as in scenario #2. We could also bounce off the lower channel and make our way back to the upside channel. As always, thoughts and comments are welcomed. GL traders.
Click image for original size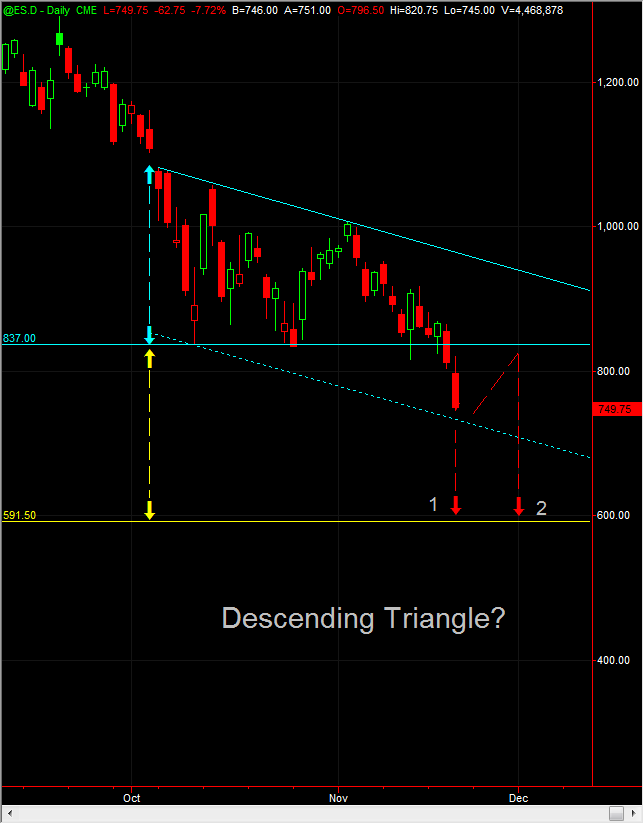 thanks Vo....sure hope that doesn't work out like that...I'd like to see some closes back in side of that 837 to start testing your downtrend line......wishful thinking perhaps
bruce did you happen to notice where the biggest volume came in last night?...FWIW I went to bed last night with an open order to sell @ 74 with a 4 pt stop and 10 target. Had about 3 or 4 numbers there...didnt quite work out
yes I did
VO
...that should be the key zone especially with that pivot number there and the 75 expiration number......My first trade will hopefully be to sell into the first rally if we open and run up first...so the 71-75 and then that 85 - 90 will hopefully coincide with a plus 4 - 5.5 or a plus 8- 10 point extension from the open print....
the fact that the dow tried to lead up yesterday has me thinking that they will fill the close
gap
on weakness in
S&P
this A.M
My best trading day in a long time. 52 handles. I road the climb up to the close, from 787.75 70 799.00. Nice way to start the weekend. Thanks to all who participate in this forum, and take the time to help others.