ES 11-25-08
daily: 1073 / 736.25
60m: 910.75, 899.50
15m: 916, 884
5m: 875.50,

need to retrace a bit before we get any downside projections
you can see a perfect 61.8 retrace to the
tick
...my buy was the first higher high on CLOSE, which was 45.50
Click image for original size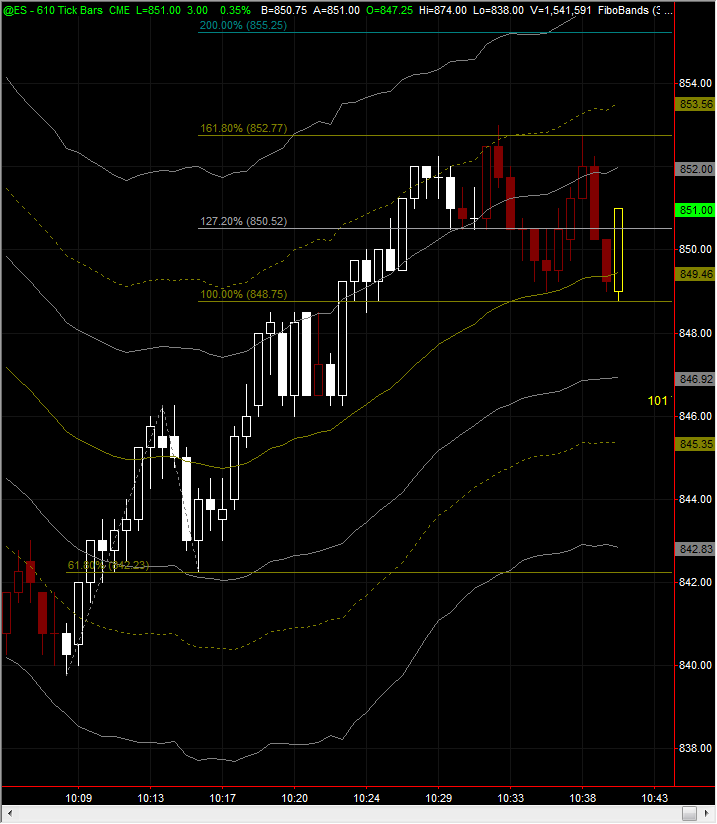 jack it appears that you used a 5m bar...you want to use the H and L not the close, with that said, you want to wait until you have a decent retrace before taking a proj. we dont have one yet imho
I say that jack because we keep making lower lows and lower highs. this 5m bar here so far has a higher low so it could be used, but by all means use what has worked for you
It was not off a 5 min but a range chart & I did use the high & low, however thanks for the info re the retrace. Jack.
ok jack...thats why our numbers were not in sync...by the way what range do you use for es?
Hey gang , sorry im so late!, family commitments. Have to leave in a hour or so , same reason. Looks like your aware of the closing
ticks
,in excess of 800! Remember it doesnt mean we cant still go up today, tho. Just means a wicked decline starts soon! (if it hasnt started already! The 845.50 low appears to have temp. satisfied the price pro down from 858 area. ...watching
However the 'deadly' 15 min chart from 874 projects to 837 minimum and probably more like 825
Thanks
VO
. I haven't been working with Kool's cycle projection tool much and was experimenting this
PM
. I was using the cycle highs and lows and using 1.618 from the end of the cycle. In my notes I had Kool saying to use 2.618 from the beginning of the cycle. Using the 1.618 I had a cycle H to L of 17.5 when fibbed by 1.612 gave me a 28.25 point expectation which added to the cycle low of 833.5 gave me a 61.75 target. For that second cycle projection that negated I had 61.5 - 47.25 = 14.25 * 1.618 = 23 + 847.5 (cycle low)= 870.5 target. That's the one that didn't hit at the end of the session. Maybe I am oversimplifying it.