Globex 12-18-08
My 908 to 910 2 points.
EMA3 above EMA9 with
MACD
pointing up
Click image for original size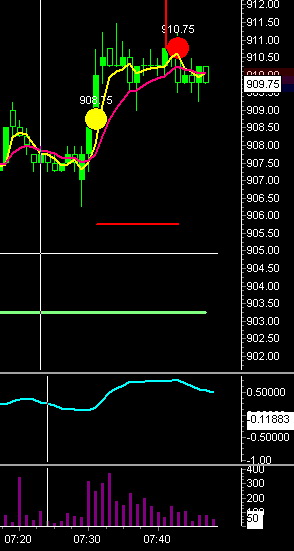 Don't be alarm. I think Bush doesn't want to do anything and leaving it to Obama. He has only less than 15 days to vacate the White House. News of automakers cutting costs and delaying products is received in half-hearted.
Up down up down up down up down 908 909. Its like watching a my plants grow. OK Done. Let me get a 2215h snack here and come back in 30 min.
It was a little late to try 2 targets scaled out at 2 and 4. EMA3 is still below EMA9.
MACD
was still downtrending.
Realised 2. 4 was a long shot. So I moved my stop closer to the short
tick
to protect my 2 point lead.
Click image for original size