Mini I.B.
Set-up is VERY simple take the first 1/2 hour of
RTH
and if price trades above buy, and if it goes below sell short.
For mini Russell 2000 use targets of 2 points and a stop of 2 points.
For mini
S&P500
use targets of 2.5 points and a stop of 2.5 points.
So far this March the
ES
has triggered 4 profits and 2 lossers or a gain of +$896.00 trading 4 contracts. It tends to perform better over a longer period. But the
TF
continues to outperform the
ES
month after month.
And trading 4 contracts in the past month would have yielded +$3150.00 on the
ES
The
TF
on the other hand trading in the past month has yeilded +$6400.00 via trading 4 contracts
*these are actual results that counted my slippage but not comm.
Originally posted by SNP

WHAT IS RTH? CAN SOME ONE EXPLAIN PLEASE, APPRECIATED.

regular trading hours (the day session from 8:30 to 15:15 CT for
ES
)
Today was a good example of why I look at a
tick
chart before taking the 5
IB
trade, the first 2 candles on the 5 minuite had the same low 1081.75 thus a double bottom, that low was violated, without looking at over night trading it looked like a good setup, but if you look at prior highs & lows on the
tick
chart you would have known the trade was only good for a scalp, especially given how positive market internals were at the open.
Click image for original size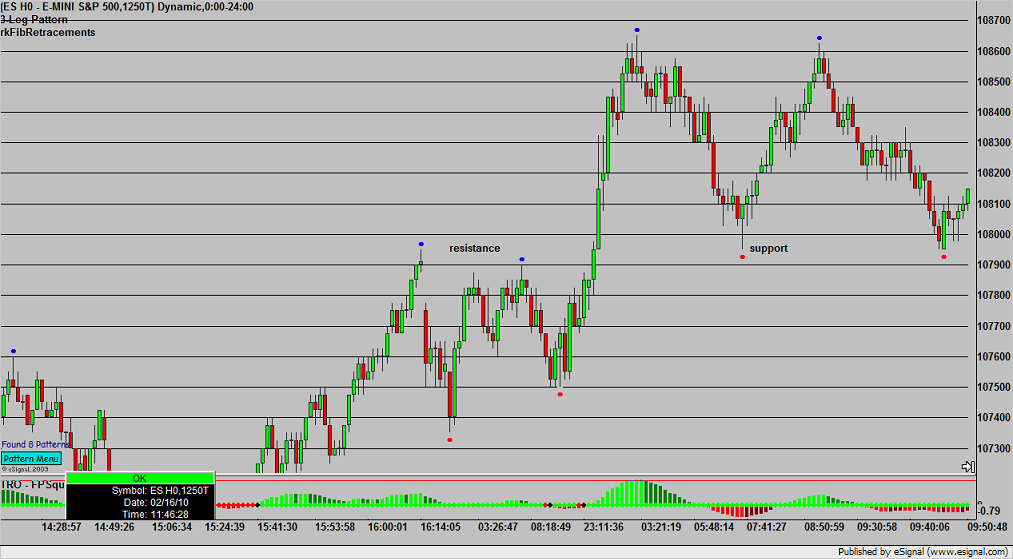 I have been putting a fib on the
globex
hi & low, before the open. The 50% retracment in overnight & pre-market trading has been support or resistance when trading the
RTH
open lately, I don't have any back test data or records to say, this will be supp or resis X percent of the time, but I'm finding it to be a useful tool when trading the 5 or 15
IB
.
(duplicate post in "Mini I.B. vs 7am-9am Breakout" thread)
I have been a member of mypivots for a little over a year now, using the posts as a springboard for learning about the futures and currency markets – I've really appreciated the research and insight of so many of the contributors.
I'm now at the point where I'd like to begin systematically back testing one or two strategies for potential trading. I like the concept of breakouts (just finished Fisher, currently reading Crabel) – this thread and Charter Joe's 7am-9am GBP/
USD
Breakout thread are especially interesting in this regard.
I'd appreciate some advice from the folks here. The
IB
and 7-9 threads are now over a year old: do both concepts still perform reasonably well in live trading? If so, which of these would you recommend that I begin my back testing with:
1. The 30B
2. The 5B
3. The 7-9 currency breakout
I have a full time job so I need a scheduled window of time to trade in. I plan to trade single lots, primarily intraday. I am methodical by nature and prefer smaller, steady gains to wild gains… and wild losses.
Any thoughts gratefully received! Thanks.
Isaac